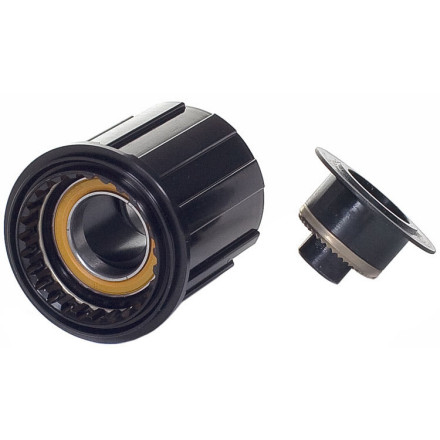 One of the reasons many stick with their component maker "of choice" for so many years is that the thought of having to not only buy a new group but several sets of new wheels is just too much to stomach; the innocent choice seemingly locks you into a component world forever. That's why we're offering the DT Swiss 190 Ceramic Freehub Body Kit. Cheaper, easier, and simpler than buying new wheels; the old cog sets don't take up too much room and they're easy to eBay.
This kit works with both DT Swiss 190 and 240s rear hubs. Currently, DT Swiss only offers the 190 Ceramic body kit in Shimano/SRAM splines. DT Swiss calls it HWYCBX00S1239S. The Campagnolo-spline version should be available soon.
When you buy the 190 Ceramic body, you're actually buying a kit. That is, both the Campagnolo and Shimano/SRAM bodies come with a drive side axle end cap that is specific to the body. The bearings in this freehub body are ceramic hybrids, ceramic balls on steel races.
Conversion is easy. All you need to do is pull or unsnap off the end cap slide off the old body, slide in the new, press in the appropriate end cap. If you want to make it a bit easier, leave the cassette on when you pull off the end cap; wrap it in a rag and hold onto the DT Swiss 190 Ceramic Freehub body with the cassette as you're pulling.