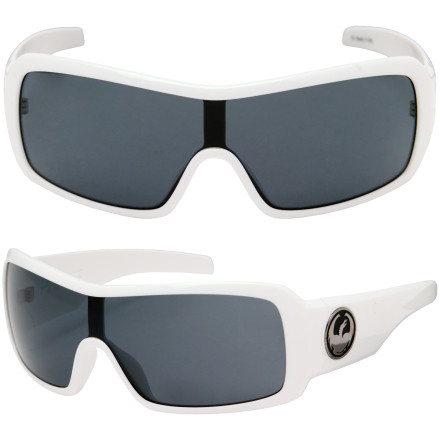 Detail Images

Community Images
In paying homage to the best card game of all time, the Dragon Phase Sunglasses, with their fashion-of-the-future design, make other people think you can see through their cards. Whether you play Phase Ten or throw down at a high-stakes poker game with Mr. Pitt himself, the Phase Sunglasses nail calm cool on the head. The Phase's polycarbonate lens provides crystal clear vision and long-term durability. With 100% UV protection and their mono-lens design, these Dragon shades take you straight to the VIP room.
I have a bigger head and they fit perfect with out being too tight on my head...i don't like when light can get in between your face and glasses and these don't let any in. But as other have said they look awesome and i have alot of people ask me about them...they are also really durable I had my last pair for 2 years before someone stole them...as mitch said they will try to slide off you face if you are bending over and doing stuff which is my only complaint..
These things are huge, blockin out the sun and the haters at the same time. I had these in all black with Polarized lenses until someone snagged em at a party. I love the way Dragon sunglasses sit on my face, I also have 2 other pairs of the Transit which are also great glasses. They're a bit large for people with small heads, they will fall off during exercise. But like all Dragon glasses I never had a problem with the hinges. A good buy for people lookin to make a statement.
They are sick.. Everywhere i go people ask where i got them and how much? They fit perfect and i love them.
Just got these last night...and they are Awesome! I wasn't sure about the Mocha/Brown color while I was shopping but took a chance on it. Besides, the deal is too good to pass. Man..I'm glad I did. These fit nicely around my face. The look and feel is top quality. The color/ shade is crystal clear and can hardly notice the transparent frame once you put them on. Excellent deal.
I got These shades in the Olive colour, and for a rippin deal.
I dont regret a single penny that I put into these shades. I get compliments left right and centre, they go great with everything that I wear, and they fit my head very well (sz. 7 1/4 ish or bigger)
I find myself wishing for sunny days so I can rock these bad boys. puts on a layer of steez along with sun protection.