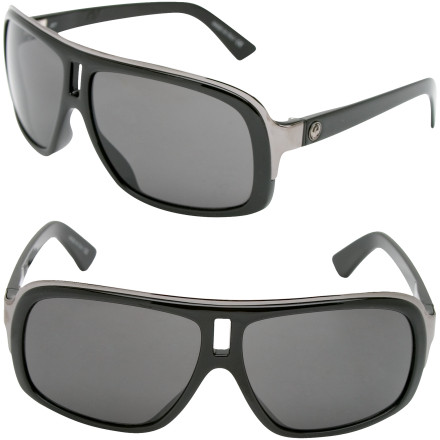 Detail Images

Community Images
After an epic night, throw on the Dragon GG Sunglasses, and make the walk-o-shame. These oversized shades have an 80s-esque rocker look that gives you plenty of coverage to hide your bloodshot eyes. Dragon made the frames out of lightweight propionate material so the GG Sunglasses won't get thrashed, and used 6.0 base curve polycarbonate lenses for distortion-free vision.
i got the Hamptons Blue/Grey Gradient from whiskey. They look so chic...i love em!! ill definitely get another color when they come up on whiskey again
This glasses are so sick, got them on whiskey for $30, however I'm returning them. I got the Ivory with Bronze and they are a little too femmy for me, trading them in for the Neon Blue.
Unanswered Question
On the neon blue with ionized grey, how...
On the neon blue with ionized grey, how dark are the lenses they look nearly transparent.
These shades are tight! I have a pair with the rose lens and it is great! You can pretty much wear them any time you want- even at night and still be able see- but why would you wear them at night? For the ladies, or course! If they see you wearing these, they WILL come over and talk to you!
I've got to say before I bought these CGs in red I unknowingly made fun of my friend for wearing the white ones calling him out for wearing 'Hollywood stunner shades' on an overcast day.

Although these are a little blingy with the gold trim. They're in your face, bright and I love that.

I get compliments daily in my CGs
These shades are sick! Nuff said!
Pretty sick glasses. There the kinda shades that you can where early in the mornin, and right after dusk. The only downfall is that they scratch maddd easy..
Where could I try them on first? I live...
Where could I try them on first? I live in the DC area. I just want to try them on before I buy from dogfunk. Let me know, long time customer
I would go to Dragon's website and they will have a list of dealers across the U.S. That will give you a good read of where to start looking.
I just snagged these off of whiskey for 50 bucks, but now that I have them I feel like I din't pay enough. I got the neapolitan rose ones and they are sick!
These are sick, i get compliments everywhere i go.