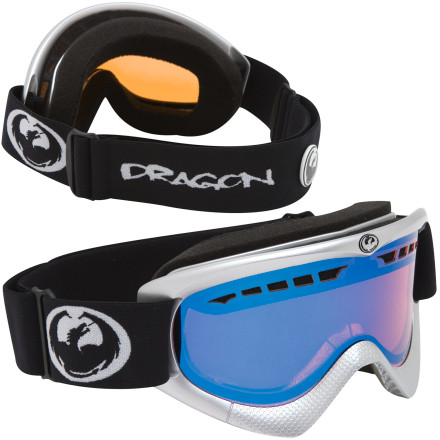 Detail Images
The DXS are great for the price and for seeing during the day and pretty good night vision as well. The only kick back was the foam inside by the eyes I had to cut back because they were all up in my shizzy. after I used the gymstar razor I was official status.
great deal- I saw these exact goggles in a local optics store for over $80. They come with 2 lenses- one for low light and one for bright. They are compatible with my helmet, very comfortable, and crystal clear, and didn't fog on me once. They aren't polarized but I didn't want to spend the extra $$ for that. I would highly recommend.
The goggles look pretty sick. But it does fog a little. and the moisture that builds on the inside is annoying. But goggles are goggles. I prefer not to wear them but in some cases its a must. If you're into style these are pretty good... peripheral vision is alright. get them if they're on sale.
, ☃bcs_badge_alumni_label☃
Wow
What a great deal! These goggles look great, fit comfortably, and get the job done. They have fogged up on me a couple of times, but other than that, they're a great value.
Hey, what else do you need? One lens for flat light, one lens for the sun. These fit great, nice foam padding, slim fit, good price. Just like that.
I didn't believe the price when I saw it. It is a great deal, very nice goggles. And it was delivered very fast, and the best thing, shipping was free!