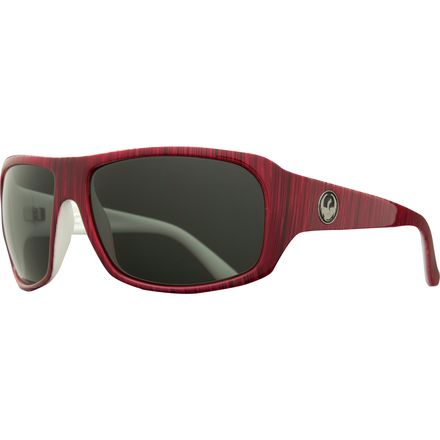 Colors
Description
Benevolent leader or megalomaniac? You decide your role in the Dragon Brigade.
Join the legion of the strong and stick it to the Man in the oversized Dragon Brigade Sunglasses. After all, it's your movie. Protecting your eyes from 100% of solar radiation allows you to see all forms of conservative oppression, and with Dragon's legendary clarity, you'll never lose focus on your goal. Liberating the masses is easy when you're flossing the Brigade's 8-base curved polycarbonate lens and polished Grilamid frames.
Do you have any sunglasses with polarised...
Do you have any sunglasses with polarised lenses?
No polarized options in the Brigade unfortunately. Check out the Dragon Calavera, Vantage, Shield, or Calaca - all three have pretty dope polarized options. Of those, the Dragon Shield is my personal fav.
Having large lenses these glasses fit over my nose bridge and cover down to the cheeks. The lenses handle bright sunlight even when looked at directly. My wife tried these out just after I bought them,by looking directly into the sun and pronouncing them brilliant. The plastic moulding is comfortable and smooth no flash present
Are there replacement lens available? I've...
Are there replacement lens available? I've scratched mine
Hey Robert,

Contact Dragon, they may be able to help you out.
My girlfriend LOVES these, got them for her and she wears them whenever she needs a good blocking of the sun
Are these sunglasses polarized???
Are these sunglasses polarized???
The other guy is right. They are a great pair of glasses, as long as they fit you correctly. This goes for all sunglasses. I tried on the Brigades, Havana, Riff, Pinup, Stocker, Calavera, Faction, etc. and none of them fit me except the Brigades. He is right, if you have a narrow face these will wrap around nicely. If you have a wider face you might not like these. I don't know if i tried on the Repo but they seem to wrap about the same I want to try those too :P
These are a great pair of sunglasses except for the fact that they do not fit that well. I normally wear medium to large sized sunglasses and these do not fit in that sizing range. If you are a large sized face I would highly recommend rethinking these sunglasses.