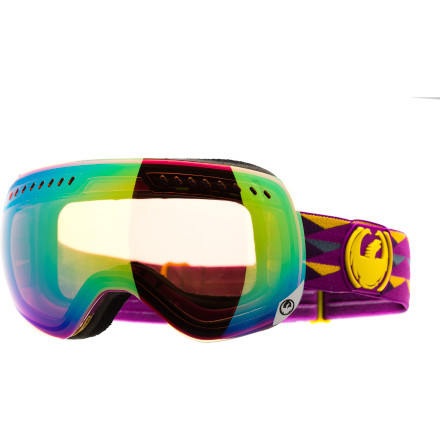 Detail Images

Videos

Community Images
Endless peripheral vision—that's what you get when you pull on the APXs Goggle. Dragon took its wildly popular APX goggle, sized it down for medium-sized faces, and the APXs was born. In case you're not familiar with the APX platform, it's like the luxury SUV of Dragon's winter goggles. There's insane comfort, ultra-wide lens coverage, distortion-crushing and fog-busting optical technology, and helmet compatibility—no missile launcher though, maybe next year.
Lens is crafted with injection-molded polycarbonate to make it highly resistant to impact and scratches
Super Anti-Fog lens design uses a moisture-repellent coating to keep sweaty vapors from building up on the inside of the lens
Uni-directional venting pulls cool air in through the top of the lens and through dual vents in the top of the goggle frame
Triple-layer face foam and a microfleece lining put a soft layer of padding between your face and the highly durable polyurethane frame
Numbered lenses installation system uses etched numbers on the frame that line up with numbers etched into the lens so you know exactly how to align the lens to get the fit right the first time
Hardcase included with goggle
Love em
Familiarity:

I've used it several times
Had them out all season. Never fogged up on me. Some say they are too big for helmets, I used my nrs kayak helmet worked like a charm! Good peripheral vision, reading snow in sunny, foggy, whiteout conditions all very well.... well whiteout speaks for it self! On top of all that, they look really cool and perform well. Didnt have fog issues like many say.. I would recommend them...
Lots of fog issues
Gender:

Male

Familiarity:

I've used it several times
Bought these because of the frameless lens design and because they weren't as massive as some other frameless designs. They did look cool and fit perfectly with my helmet, but I couldn't get over the fog issues I was having. I skied a storm day on my home mountain in super demanding conditions (they reported 26
Cool goggles
Familiarity:

I gave it as a gift but have feedback to share
I splurged and decided to get these for my friend's birthday. Needless to say they look dope! and she's super stoked to try them out. I'll probably end up buying a pair for myself in the near future since they look so rad
Fogggs!
Familiarity:

I've used it several times
These are nice set of goggles but they fog like crazy. Is it the pacific northwest where the air is more humid??? I could be just breathing and can see the fog coming and going on my goggles (without facemask) and if I'm not going fast the fog freezes over on my lens. I thought this was the issue of the past....Non other goggs of mine does that. I bought the GIGI signature edition, you're telling me GIGI uses this POS?
Best Goggles I've owned
Familiarity:

I've put it through the wringer
I've owned a couple pairs of goggles during my times as a boarder (a whole six years whoa!) from Smith to Oakley and these are by far my favorite in terms of both style and performance. Ordered these just before the season started, and here in Ontario we've it all possible snow conditions already. My APXs have gone through all of them already and held up surprisingly well. Rainy? No problem. Chilly? No problem. Blizzarding? No problem. No foggy issues well through their 7th run of the season although I've heard of several people having issues with that. The frameless look is a very nice touch to the APXs' design. Replacing the lenses in the goggle is super simple and quick if you happen to be in a rush (wouldn't want to waste that precious shred time). Couldn't tell ya what they're like with a helmet though I go helmetless on the slopes.



Overall: 10/10

Dragon Alliance you've outdone yourselves
Great Goggles but scratch easy
Familiarity:

I've put it through the wringer
I love the wide vision on these goggles. I did have a few issues with them fogging up on me. The lenses scratch super easy too which sucks because they are so expensive to replace. I loved how fast the lenses could be changed out but decided to get a Smith Goggle for this season, it was cheaper to get brand new goggles with extra lens than trying to buy more replacement lenses for these. But they are a great goggle.
Are these mirrored lens's? I'm looking to...
Are these mirrored lens's? I'm looking to buy a pair with either red or blue lens and I'm looking for the most mirrored. Sorry if this doesn't make much sense, I'm a rookie skier! In some pictures you can see their eye's, in others you just see the reflection of the snow, hopefully that helps.


Best Answer
Most of them are, if you look if with the name of the goggle, it might say ion, or ionized, those are usually the reflective ones. Hopes that helps dude.
Fore-bare it a bit.
Familiarity:

I've put it through the wringer
These things are great... In every way, except when it comes to comparability with a poc helmet. I've tried adjusting them every imaginable way (moving the straps up and down on my helmet, tightening, lossening, etc). One time I was fidgeting with my goggles at the base and somehow managed to slice my thumb open with them.. Blood everywhere. It took 3 lift rides before I found a ski patroller with a bandaid... But I did not return them! And yet I still find myself constantly adjusting them, and without fail there is a gap. The tragedy. Just be fore warned (ha! foreheads).



That being said, these google are amazing. I bought them at the beginning of the season and have used them for everything: skiing, hiking, mountaineering, backcountry skiing, snowshoeing, etc etc etc.

In the variable winter lighting that prevails in northern New England during the winter these have provided ample definition and visibility; making that flat-light hidden ice a little more visible. They are also incredible at the whole antifogging thing, no matter how you tuck/cover/manipulate your neck guard around them. They only fogged up on me once, and I had just covered the vents on top with my hat, instant fix.

I'd highly recommend them, so long as you don't wear a poc helmet, or atleast don't really care about having a minute gap. But if you ask me, the positives of these goggles definitely out way the negatives, hence why I never returned them.


Digging it!
Familiarity:

I've used it once or twice and have initial impressions
I just got this item and was so pleased to see that it isn't AS MASSIVE as i thought. A lot of pictures i've seen it eats people's faces. It actually fits really nicely and nice in snug in my Bern Hard Hat.



Plastic on the frame isn't my favorite but definitely won't break. Lens is definitely nice.



Will have to put them to the test this week and see if they fog up or not. Fog can be managed if you know how to coordinate your gear, air circ, and heat so I generally disregard those in reviews... Plus i'm pretty thin on layers. Work some Cat Crap into new goggles usually does the trick if issues arise.



i'm pumped. will buy more lenses if these work out. pic to follow.
Fogging Problem
Gender:

Male

Familiarity:

I've used it several times
These goggles look, are extremely comfortable, and allow for amazing peripheral vision; however, I'm not sure why they say "fog-busting optical technology." I couldn't get half way through a run without having to stop and wipe down the inside of the lens. They were fogging up from the first run.
Nice, but.....
Familiarity:

I gave it as a gift but have feedback to share
I got these goggles for my girlfriend and she seems to like them. the only thing that i was disappointed about was that they didn't come with an extra lens for night riding? every pair of goggles I've purchased weather cheap or expensive, came with an extra lens. Goggles in this price range should definitely include an extra lens. very disappointed.
Foggy
Familiarity:

I've used it once or twice and have initial impressions
Bought these cause they looked cool but fogged up first time I used them. Not impressed with these.
Great goggles
Familiarity:

I've used it several times
I have a small to medium sized face and have had to return other goggles due to fit. These fit perfectly and sealed my (Asian) face. Used them in single-digit to negative temps without fogging. Peripheral vision is wide enough that you don't notice the frame.



Love the color I ordered. I even got a compliment on the goggles from the ski lift guy. Highly recommend.
Sweet
Familiarity:

I've used it several times
These goggles rock! Not only do they look amazing, but the vision quality is superb. Both the red ion and blue/yellow lens work great in their respective conditions. These goggles vent really well, too. I tried this on and compared them to the Oakley Airbrakes. I just happened to like the fit of these best for my face.
Good Until.....
Familiarity:

I've used it several times
Dragon has good quality but I must tell everyone that the dual lense is NOT reliable. If you get snow/moisture between the lenses by either riding on a heavy snow day or by falling, you will not dry these out without coming off the mountain. Possibly I started with a faulty pair of lenses (not fully sealed) but very disappointed for $140.
Do the goggles, lenses, and case come with...
Do the goggles, lenses, and case come with some kind of warranty, and if so what kind.
Jax,

Dragon goggles come with a 2 year manufacturers warranty. All warranty inquiries or claims can be submitted here:



http://www.dragonalliance.com/en-us/Contact-Dragon
Really like the goggles so far
Familiarity:

I've used it once or twice and have initial impressions
These have great unobstructed vision and I like the look of the frameless goggle. It is very nice they come with low and high light lenses to change depending on the weather. There has been no problem with fogging thus far. They also come with a nice case which is great to put your goggles in after a day on the mountain to make sure they stay like new.