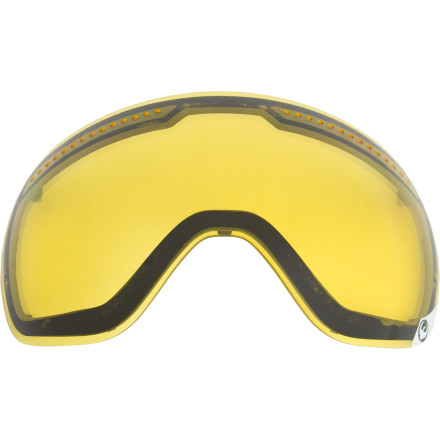 The weather-dude said it was going to be sunny, so of course it's cloudy and snowy, and you're rocking your darkest lens to protect you from the non-existent sun. It's a good thing you brought a Dragon APX Goggle Replacement Lens so you're ready for unexpected changes in the weather and the light.
Anti-fog treatment helps keep your view clear
Optically correct shape matches the shape of your eye for distortion-free vision
UV-blocking tech protects your eyes from the sun's harmful radiation
What do you think about this product?
Have questions about this product?
Gold Ionized Lens
Familiarity:

I've put it through the wringer
I purchased the Gold Ionized Lens to be my low light lens. So far it has been great. Took it out on a couple storm days, visibility was awesome and there were no issues with fogging lenses.
Night Riding
Familiarity:

I've put it through the wringer
Blue Ionized Lense actually work really good at night time in my opinion they worked better than yellow. For sunny days blue ionized is a bit too bright specially if you have sensitive eyes, I used that lense all last season in all kinds of conditions & they worked fine if you are not picky. This lense color works great for cloudy, snowy & night time.

The only down side to these lenses is that you have to be extra careful since they scratch really easily (more than other brands or other dragon models) & are real expensive to replace.
APX lenses
Familiarity:

I've used it several times
Blue Ionized Lens

25%-35% Light Transmission

Best for variable cloudy to bright conditions by adding definiton and cutting glare



Clear Lens

85%-95% Light Transmission

Best for light to night light conditions



Gold Ionized Lens

20%-25% Light Transmission

Best for bright sunny conditions by adding definition and cutting glare



Green Ionized Lens

Feature light transmission 20%-25%

Best for bright sunny conditions by adding definition and cutting glare.



Red Ionized Lens

Feature light transmission 20%-25%

Best for bright sunny conditions by adding definition and cutting glare.



Eclipse Lens

Feature light transmission 6%-15%

Eliminates the harshest of sun conditions and reflective glare.



Jet Polar Lens

25-30% Light Transmission

Best for bright sunny conditions by adding definition and cutting glare



Rose Lens

35%-40% Light Transmission

Best for variable cloudy to bright conditions by adding definition and cutting glare



Yellow Lens

75%-80% Light Transmission

Best for low light to night light conditions