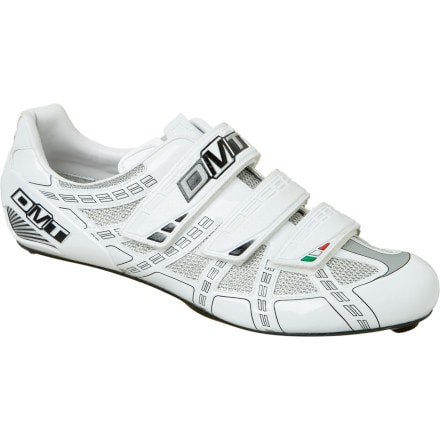 Detail Images
Description
Italian comfort and performance so you can pedal faster.
Speedplay is our best-selling brand of pedals by a ratio of 3:1. And that's 3:1 over all other pedal brands combined. With that thought in mind, we're excited about this Speedplay-specific version of the DMT Radial Shoe. The Radial is DMT's top of the line shoe for riders who eschew mechanical buckles, and this version of the Radial's CX carbon sole is specific to Speedplay cleats. That means no more 3-bolt to 4-bolt adapters! This lowers your stack height and gets your feet closer to the pedal spindle -- giving you better pedaling efficiency and a lower likelihood for hot spots.
Please Note: When mounting Speedplay cleats directly on these shoes it is imperative to use Speedplay's Carbon Sole Wear Protector Shim. Failure to do so may damage the sole and will void the warranty. We also recommend using Speedplay's Long Cleat Screw Kit to ensure that your thread interface is sufficient to keep the cleats attached to the shoes during hard efforts.
Like the Look version, the Radial 's CX carbon sole is made from Toray MR60, which is a 40 Ton high modulus carbon fiber. That means it has a tensile strength of 40 tons per square cm. In other words, it's got stiffness in spades. Toray is one of the top manufacturers of carbon fiber world-wide -- it's the same stuff used by Pinarello in the Prince Carbon and Montello FP8. The lay-up of the carbon and the shape of the sole are exclusive to DMT.
The soles are made from 9 layers of carbon fiber molded at 0-degree, 45-degree, and 90-degree angles. Of course the sole must be looked at as a whole, but each angle in the carbon lay-up will offer strength in different ways:
0-degree: Maximum stiffness and responsiveness. This carbon fiber runs the length of the sole providing the stiffness overall for the entire sole.
45-degree: Torsional rigidity allowing a responsive and firm steering feel. It provides stiffness to prevent twisting of the sole due to pronation or supination. During the typical pedal stroke your foot will exert different forces at different vector angles to the sole. Without the torsional rigidity afforded by this layer, the sole would be able to twist along its axis leading to a loss of efficiency.
90-degree: Strength and durability for long life and consistent high performance. This layer of carbon fiber helps strengthen the overall form of the sole. Without it the sole wouldn't have the strength to withstand lateral forces. It also helps in increasing the torsional rigidity.
Another area where these soles excel is in their thickness - or in this case thinness. Keeping the distance between the bottom of the foot and the pedal interface as thin as possible increases the maximum transfer of power to the pedals through more of the stroke. The DMT CX carbon sole uses varying thicknesses in different places. But at the critical cleat interface it is a wispy-thin 3.5 mm allowing for an optimum foot to pedal distance.
The DMT Radial Shoe keeps the uppers wonderfully light and fairly traditional with a three strap system. The upper's microfiber combined with the soft mesh guarantees a comfy fit with a maximum amount of circulation. The bonded toe and heel protectors guard against those nasty scuffs that can result from a bit of clopping around the coffee shop parking lot. The Radial weighs 255g in size 41.
Toray MR60 carbon fiber sole has a tensile strength of 40 tons per square centimeter for maximum stiffness
Nine layers of carbon fiber molded at 0, 45, and 90 degree orientation offer strength and response in all directions
Microfiber upper combines with mesh for airy weight and exceptional breathability
Thin soles (3.5mm at critical cleat interface) minimizes stack height for a better fit
Traditional three strap hook- and- loop closure let you customize your fit
Bonded toe and heel protectors guard against scuffs when you put your foot down at stop lights
Use Speedplay's Carbon Sole Wear Protector Shim to protect the deformation of the carbon sole
Speedplay's Long Cleat Screw Kit is necessary to attach the protective shim to the bottom of your shoe
Share your thoughts
What do you think of the
DMT Radial Speedplay Shoes
? Share a...
Love them
Member since
Posted on
I replaced a pair of Sidi Genius 5 Pros with these DMT Radials. Reason: the Radial is available with a Speedplay sole. With my Sidi's, I had to use an adapter plate, which raises the stack height quite a bit. Size-wise, the DMT Radials in size 44 are slightly larger than size 44 Sidi's. I was able to use a Superfeet insole, and thicker socks. The size 43.5 DMT was too tight. I go back and forth between the DMTs and the Sidis, and I have to say I like the fit of the DMTs better. And I have to use only one wedge under the cleat with the DMT.

Quality/fit/finish of the Sidis seems better, and I miss the ratchet buckle, but the DMTs are comfortable and much lighter than the Sidis. And they also let much more air flow thru, which is nice for those hot summer rides. I do wish they came in black....

One other thing: If I had waited another month or so, I could have purchased Sidis with a Speedplay sole. They are announcing in September.

Also: Tremendous service from Realcyclist. I ordered both size 43.5 and size 44. Sent the 43.5s back, very easy, and terrific response from Realcyclist. I'll keep buying from them due to their terrific customer service. Thanks guys.
Is the Long Cleat Screw Kit included with...
Member since
Posted on
Is the Long Cleat Screw Kit included with the purchase of the shoe?
Member since
Responded on
it doesn't come with it. but, i have the speedplay set up and i don't find it necessary
Unanswered Question
When will you have 48's on DMT speedplay
Member since
Posted on
When will you have 48's on DMT speedplay