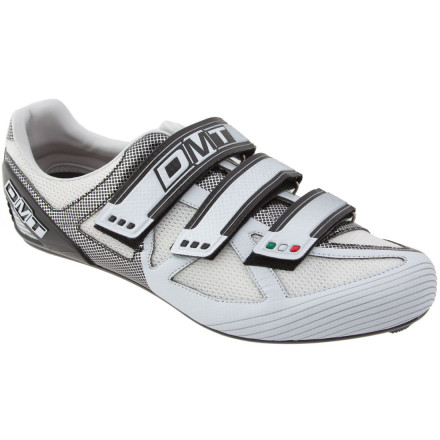 Detail Images

Videos

Community Images
DMT has a long history of making custom shoes. When some of their sponsored riders asked for Speedplay-specific soles so they could have lighter shoes and get closer to the pedal spindle for improved aerodynamics and pedaling efficiency. Once they started producing these shoes in small batches for Pros, an inquisitive public started asking. And that's how the DMT Radial 2 Shoe with Speedplay Sole was born.
The Radial 2 is an updated version of the popular Radial, with the main change being more exposed mesh in the upper. The upper is built on a 'slip last' meaning that it's constructed from one piece of nylon mesh reinforced with microfiber and wrapped around the last before being secured below the board. The upper, thanks to the mesh and microfiber combination, doesn't stretch, which helps keep your foot in place. There are no seams to rub against your foot, and slip-lasting allows the upper to conform to your foot easily. The end result is much greater comfort. At the back of the shoe, the external heel cup is deep and soft and holds your heel securely.
They have also upgraded the insole this year to their heat-moldable ASL model. It looks like the standard foam insole on top, but when you take it out of the shoe and flip it over, you can see that there is rigid EVA foam in the plantar and heel areas of the foot. It's designed so that when you heat the insole up in the oven, place it in your shoe, stand in the shoe and tighten the upper, the insole will mold around your foot. This increases the contact between your foot and the shoe and reducing pressure on any single spot on the foot. You'll get better stability and a reduced likelihood of hot spots. All add up to greater comfort when riding.
The Radial's CX carbon sole is made from Toray MR60, which is a 40 ton high modulus carbon fiber. That means it has a tensile strength of 40 tons per square cm. In other words, it's got stiffness in spades. Toray is one of the top manufacturers of carbon fiber world-wide; it's the same stuff used by Pinarello in their frames. The lay-up of the carbon and the shape of the sole are exclusive to DMT.
This version of the Prisma's CX carbon sole has a bolt pattern specific to Speedplay cleats. That means no more 3-bolt to 4-bolt adapters -- savings of 24 g per pedal. Without the adapter plate, you're lowering your stack height by 3mm -- giving you better pedaling efficiency and a lower likelihood for hot spots. It's also more aerodynamic. The DMT CX Speedplay carbon sole uses varying thicknesses in different places. But at the critical cleat interface it is a wispy-thin 3.5 mm allowing for an optimum foot to pedal distance.
Please Note: When mounting Speedplay cleats directly on these shoes it is imperative to use Speedplay's Carbon Sole Wear Protector Shim. Failure to do so may damage the sole and will void the warranty. We also recommend using Speedplay's Long Cleat Screw Kit to ensure that your thread interface is sufficient to keep the cleats attached to the shoes during hard efforts.
The DMT Radial 2 Shoe with Speedplay Sole is available in White/Black. It comes in most full and half sizes from 38 to 48 European. The Velcro straps are pulled against stainless steel D-rings.
Can you use other cleats besides the...
Can you use other cleats besides the speedplay?
Nope. These are speedplay specific. I'll post a pic of the bottom of the shoe.
Radial 2.0 speedplay, sitff as Fcuk!
Familiarity:

I've put it through the wringer

Fit:

Runs large
I am new to road biking. I wanted these shoes to for triathlon training. Since these are my 1st pair of shoes it is hard to know what to expect. I have the yellow and black and I get lots of compliments. the color on the website is wrong. It is less of a yellow and more of a green.

I wear a 8.5 running shoes and got these in a 41. It's a good fit but the heel does not lock down completely. The inside of the shoe has a soft and smooth feeling. Those sole is definitely stiff!

I use these to commute to work and training. Ride about 60 miles a week. My big toes does get numb sometimes but I think that has to do with being a masher and jamming the toes to the front of the shoe. I just changed cleat position and I'll see how that helps. Rode to Mt. Baldy ski lifts. No problems going up, but descending made my toes numb probably from jamming my toes while cornering.
DMT Radial 2 Speedplay Shoes - Men's
Is the toe box wide or narrrow?
Is the toe box wide or narrrow?
I have a medium width foot and I find it fits well. The toe box is actually reasonably rounded. If you get these and have a narrow front of the foot - maybe get a shoe liner. That would take up some space and should be comfortable.
I wear "mega" in Sidi and found the DMT Radial 2 to be a bit too narrow in the forefoot. They are wider than the Giro Factor and regular Sidi (both are pretty narrow), but slightly narrower than the 2013+ S-Works. (My width in dress shoes is E.) Hope this helps.
Are there any differences between Radial...
Are there any differences between Radial 2 and Prism 2 other than the buckle system? Thanks
I have both and with my foot the Radial is best on centuries. The Prisma is a bit narrow at my foot's widest point and will be snug after long distance + warm weather. I am 8.5-9.0 US and have the 42.5.