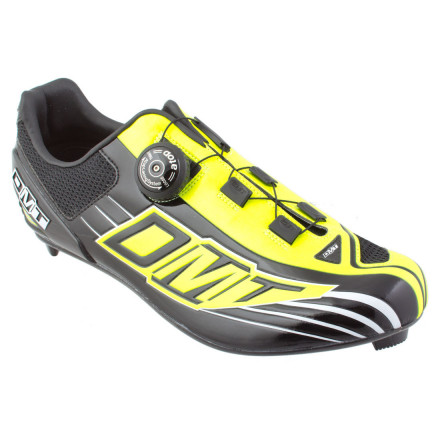 Detail Images

Videos

Community Images
The DMT Prisma 2 comes in two different sole styles. One has four-hole mounting for Speedplay cleats; the version we have here has a three-hole mounting for Look-style cleats. This is undoubtedly the more popular style, as even Speedplay users can utilize this mounting pattern with an adapter plate.
The Prisma uses a dial system to hold the foot in the shoe. There's a lot to love in the dial. One adjustment per shoe is easy and fast. Also, with one adjustment, the entire upper is tightened equally at the same time; better for evenly distributing pressure. Turn the rotor clockwise, it tightens. Turn it counter-clockwise by 45-degrees, and the cable releases. There are three sectors that the cable wraps around: the upper, middle, and lower foot.
DMT wraps your feet in other ways as well. The upper is made from what's called a 'slip last' meaning the upper is effectively constructed from one piece of mesh and wrapped around the last before being secured below the board. There are no seams to rub against your foot, and it allows the upper to conform very easily. Both mean greater comfort. There's microfiber on top of the mesh in places to reduce stretch to zero, but even with the microfiber on top of the mesh, the shoe breathes very well. At the back of the shoe, the external heel cup is deep and soft and holds your heel securely. The tongue is made of microfiber and is padded to better disperse any pressure that might come from the cable lace.
They have also upgraded the insole this year to their heat-moldable ASL model. It looks like the standard foam insole on top, but when you take it out of the shoe and flip it over, you can see that there is rigid EVA foam in the plantar and heel areas of the foot. It's designed so that when you heat the insole up in the oven, place it in your shoe, stand in the shoe and tighten the upper, the insole will mold around your foot. This increases the contact between your foot and the shoe and reducing pressure on any single spot on the foot. You'll get better stability and a reduced likelihood of hot spots. All add up to greater comfort when riding.
The Prisma's CX carbon sole is made from Toray MR60, which is a 40 ton high modulus carbon fiber. That means it has a tensile strength of 40 tons per square cm. In other words, it's got stiffness in spades. Toray is one of the top manufacturers of carbon fiber worldwide; it's the same stuff used by Pinarello in their frames. The lay-up of the carbon and the shape of the sole are exclusive to DMT. The soles are made from nine layers of carbon fiber woven at 0 deg, 45 deg and 90 deg angles. Of course the sole must be looked at as a whole, but each angle in the carbon lay-up will offer strength in different ways. The woven exterior is for great looks and adds durability for cruising across the parking lot from your car to the start line.
The CX sole has been upgraded with a replaceable heel pad. It's bigger than the older pad as well, making it easier to walk on and longer-lasting. No cyclist likes to admit they walk in their cycling shoes, but we all do; this new pad makes it easier.
The DMT Prisma 2 Shoe with Look Sole is available in a Black/fluorescent yellow or Silver/white. It comes in most full and half sizes from 39 to 48 European. It has a 250g claimed weight per shoe in size 41.
Nice Shoe
Familiarity:

I returned this product before using it
These are a very nice shoe. I sent them back as I have owned so many different brands and models, I can often sense fit and comort, as well as quality of materials and closer systems right off the bat. The only issue I found with this model, as I really like the brand maker, is the Boa closer system. I have fundamentally never got on with the Boa well, as is most cases just like this shoe, it produces an uneven pressure across the lacing system. The only Boa system I liked fairly well was the Specialized S-Works top shoe which has two Boa ratchets and a toe strap, which even out the pressure very well, but I still found that I am a fan of Velcro and Buckles! All this being said I have worn this shoe, but in a different model which only had Velcro much like the Giro top shoe, and i found it to be fantastic. Hope this helps.
I *almost* love these shoes
Familiarity:

I've put it through the wringer
I've used them for 3000+ km this season. Stiffness is fantastic, reasonably lightweight (618g for pair size 44) they look sharp when kept clean, cleat installation was straightforward, fit is similar to Sidi (size 44 in both. Sidi has a more narrow midfoot while DMT feels more narrow in the toe box - see below). The highlight is probably the insole; I use these instead of the stock insoles in all of my cycling cleats now and they've significantly improved comfort across multiple shoe types. I used to get serious hot spots in my older Sidis & Northwaves, but no longer!



However a major negative for me is the toe box. It feels too narrow/shallow and isn't pliable to allow wiggle room, resulting in painful pressure building up at my big toes on longer rides. I need to constantly slide my feet back a few mm in the shoes after every few pedal strokes, like Contador's TT seat shuffle! I don't think this is a sizing issue since the rest of the shoe feels perfect. Maybe it's just a sign I need to engage more hamstrings :P 3-stars for quality, but 4-stars for the price and because this issue is probably just an individual quirk of anatomy.
Great Shoe
Familiarity:

I've used it several times
The shoes are very comfortable. I felt like I had much more power while climbing than with my previous shoes. They are very light and stylish, too.
Love these (so far)
Familiarity:

I've used it several times
I really like the way these shoes feel. I purchased a pair of DMT Radial 2 (velcro), size 43 and never quite felt comfortable in them. I decided to try a size up and bought the Prisma 2s. I was worried about the seemingly narrow gap in the closure and limited range with the closure wire but they wrap around my foot like a glove. So far, a very good shoe.
DMT Prisma 2 Shoes - DMT Prisma 2 Shoes
Currently using Giro Factor in 48 that is...
Currently using Giro Factor in 48 that is too narrow. Had the same problem with Bontrager. What size is recommended?
Go find a DMT dealer by you and try them on. Unfortunately shoes have no standard conversion
I really like the user friendliness of these DMT shoes, particularly with the one dial opening and closure mechanism. Really easy getting into and out of them. Black / fluo yellow finish is a shiny patent leather type material, which cleans easy when spashed with chain lubricant, street dirt, etc. Great look, quality construction and extremely easy to use.