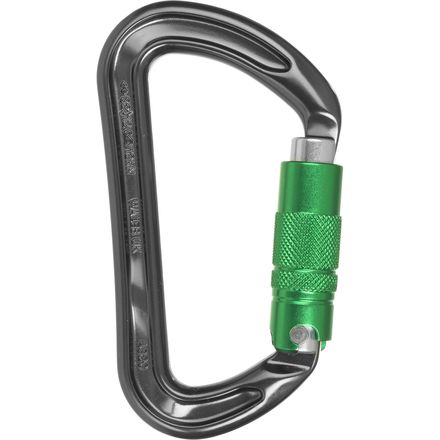 Detail Images
Description
A biner with a twist of awesomeness.
From short sport routes to long hauls, climbers dig the easy twist-lock of the DMM Zodiac I Beam Keylock Carabiner. The mechanism is solid and never feels loose or rattle-y. And with 32kN of major axis strength, you can rest assured that your setup is bombproof (well, the biner part is ... double-check everything else, of course). To boost burly points, DMM fully anodized this carabiner for corrosion-resistance too.
Sturdy, light, bomber
Familiarity:

I've used it once or twice and have initial impressions
Belay, top, bottom, rescue anchors. You will need a couple extra lockers for the trad rack. Solid and lightweight, a welcome complement.
Best Answer
The weight is 75g on the screw gate and 78g for the other two according to dmm's site.


What's the difference between quick lock...
What's the difference between quick lock and lock safe? right now I only use screw gates
Best Answer
The quick lock can be opened with just a twisting motion, but you have to pull the sheath up and then twist to open the lock safe.

Personally I'm a fan of good old screw gates. Or maybe I'm just a starving college student.
I have a few screw gates but haven't used them since getting the Locksafe version. And I won't go back.

This is a Definite buy.
Most locking biners these days aren't much stronger than a quickdraw, but I'm old fashioned and feel quite reassured by the 32kn rating. I also like that they're a decent size. They are pretty light for the strength and beautifully made. The screwgate is smooth and much tighter than my BDs - which rattles a bit. I carry a lot of old DMM gear that still in great nick and it's always been a joy to use.
I bought two of these with the twist lock gate and they are sweet! These are my first auto locking carabiners and they make me wish I had forked out the extra cash earlier. I bought them to try and make roping up with gloves on easier. Rope goes in and out easily, great product that simply works.