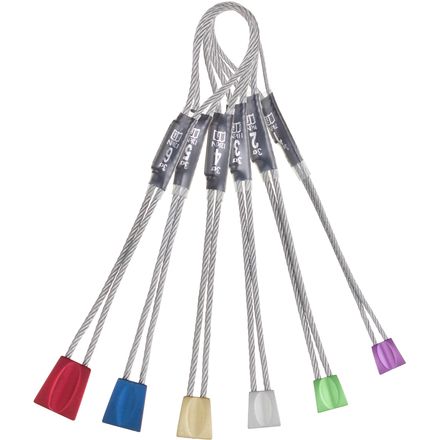 Colors
Description
The DMM Wallnut Set is the bread and butter of your trad rack.
Rack up with the DMM Wallnut Set on your next trad climbing trip, and they'll amaze you with their easy selection and solid placement. Their color-coded anodized heads help you pick the right size the first time, so you can quickly slot the nut in a bomber constriction and move on before the pump clock starts ticking. Wallnuts also have a curved taper with a vertical concave slot to help them seat solidly in strangely shaped cracks.
Share your thoughts
What do you think of the
DMM
Wallnuts Sets
? Share a...
Nice Nuts!
Gender:

Male

Familiarity:

I've used it once or twice and have initial impressions
I picked these as they were the top rated stoppers in every review I'd read. I now see why. Their design is brilliant as they will self-cam into even the most parallel of cracks and they hold well. I haven't taken a fall on one yet, but I trust that they'll hold.

Tip: If you are buying a full set, it is about $7 cheaper to but the small set (1-6) and the big set (7-11) separate as opposed to the full set (1-11]. It's not just BC either. Everyone prices them this way.
They hold!
Familiarity:

I've put it through the wringer
These nuts are great. I have not used any other nuts but have had friends use them and they say they just fit a little better than other nuts they have used. That being said I have only taken one small fall on them and they held. They are super easy to place and they just fit the wall really nice!


Comparison of BD Nuts to Wallnuts
Familiarity:

I've used it once or twice and have initial impressions
I just got my first set of Wallnuts today. I've climbed using BD nuts for long time and after reading tons of stellar reviews for these I wanted to see what the difference is. Being day 1 I haven't had a chance to use them yet but when I do I'll try to update this review. But here is a desktop comparison:

My Standard rack of BD nuts comes with 13 nuts, these Wallnuts come in a set of 11. Essentially, BD's 1, 2, and 3 are all smaller than the Wallnut 1. On the other end the BD 13 is slightly smaller than the Wallnut 11.

Weight:
This was some what disappointing. I was hoping the Wallnuts would come in lighter than the BD's, (better materials, less nuts should save some weight right?) Well, the full set of BD's come in at 14.6 oz while the full set of Wallnuts weigh in at 15 oz. So slightly more weight, less nuts.

However, after reading how easy they are to place with that unique geometry I'm exciting to give these nuts a try. (For some reason this discussion always cracks me up...)
MMMMMMazing!
Gender:

Male

Familiarity:

I've used it several times
These are lightweight and we haven't had any problems with them getting stuck thus far...

They are highly recommended by nearly all the gear heads and I concur, these are the best nuts on the market.


As others have mentioned they are color coded for easy identification.

While they are a little more expensive than the competition the extra money is well spent. Why you ask?

They are easy to identify, easy to place, easy to clean, bomb proof and lightweight.

Well done DMM!

Thank you!

(Pic-Racking up for another cold weather send here in the East!)
Why does the 1-11 set cost more than the 1-6 and 7-11 sets combined? Shouldn't it cost the same or less, since we're buying more?
Hey Catherine,

I can't answer as to the pricing on the item, but I can definitely tell you that I absolutely *love* these pieces! They're great.

Shoot me an e-mail or give me a call if you have any other questions.

Ben

801-746-7564
brabinowitz@backcountry.com
What more is there to say?
Familiarity:

I've put it through the wringer
These things are bomber, light and easy to clean. Compared to any other nut I've used when climbing with someone else's rack, I always wish I had my DMMs.
Best nuts a climber could ask for.
Familiarity:

I've put it through the wringer
The DMM Wallnuts are the only cajones you need for scary trad climbs. The shape, design, and color-coded scheme make it fast-and-easy to place-and-go, and cleaning these beauties hasn't been a pain yet. These things feel lighter than the competition, and they definitely aspire confidence while climbing. Ditch the cams and sew up cracks with just these wallnuts; I'll buy you a beer if you do.
Great Nuts
Familiarity:

I've put it through the wringer
I don't think I can say much that hasn't already been mentioned in other reviews, or the DMM Video, so I'll just say these are very good nuts.

I will add that I use my DMM offset nuts more often, even though it's a smaller set. But both are excellent and unique nuts and one type will work better depending on the situation. I carry both sets on my rack, because they're both so useful, versatile, bomber, and light compared to other gear. The full Wallnut set is probably more versatile than the offsets, and it covers a greater range, so that's a great foundation for your rack. But I highly recommend picking up the offsets also.
Last set of stoppers you'll ever buy.
Familiarity:

I've put it through the wringer
The shape on these things is tops. They sit so well when placed correctly in pods and constrictions. They have a bit longer head, with more surface area, which allows for more contact with the rock. The contoured shape allows for a tight placement and a slight cam when engaged. Great sizing range as well for the price!
Great Nuts
Familiarity:

I've used it several times
These seem to always fit well, and come out quickly. The well-proportioned design makes any one size fit a good variety of cracks. The solid and well disigned feel of the nuts give you the confidence you need for that run out to the next good placement. I highly recommend these nuts over a comprable BD set.
Bomber
Familiarity:

I've used it several times
I just bought these (7-11) as the first part of my trad rack. I spent a week in Joshua Tree using them to fill out my partner's rack. I was climbing "Orphan"(5.9, F.A. 1954) and hitting a harder section when I saw a charming constriction at face level. I threw in the #11 and it looked bomber. Then I flipped it 180 degrees and I could tell that the gods themselves has blessed this placement. I continued my struggle upwards until I took a fall about 8 feet above the nut. My partner of course sunk his ass to the ground, offering me literally the least dynamic catch of all time. As I regained composure, I complained that my balls had been squashed by the harness, but from that moment on, I knew that my nuts were indestructible.

In summary, I think a dirtbag I met said it the best. "Man, I really hate brand loyalty... BUT DMM NUTS ARE THE BEST ****ING NUTS."
Now I look at BD nuts like, "Bro, do you even lift?"
When will the 1-11 set be available for...
When will the 1-11 set be available for purchase?
Hi,
We do currently have one set for purchase, and we have a whole bunch more coming into stock- hopefully by early-mid November!
I have set of these, and a set of BD nuts. Holding them side by side they are pretty much identical in size with the difference being the BD nuts are not as tall as the DMM. The BD's are stubbier. I prefer the DMM in the larger sizes (~7-10) because there is more of a sideways taper making a sideways placement much better. Keep in mind that placing small nuts sideways is usually not recommended but placing large nuts sideways is a good bomber trick I've learned recently. Also, in the larger sizes they seem to be a tad lighter as well.

For the smaller sizes I reach for the BD's out of habit and familiarity. The plus for the DMM's are the grooves them which makes placing them on/around little crystals possible, and a little more secure. More noticeable in places like Jtree, and less noticeable in smooth granite like in the Sierra. Hard to clean? in theory yes... but in practice I've never placed one that didn't come out. Usually if a nut is stuck it would be stuck regardless of having little notches in them.
i like these things a ton. can't say they're really all that different from other nuts i've used. without using them side-by-side it's hard to say which ones work "better." if i don't fall and get hurt, i'd consider these things to be doing their job. so far the'yre a-OK!
Easy to place, stays put. Everyone has their favorite set, and these are mine. The groove makes a tangible, positive difference occasionally, and is inconsequential at other times. Wallnuts don't make every other set obsolete, but the groove is a nice touch. I climb primarily on southeastern sandstone and when positioned carefully the groove seems to make it stick on the knobbly bits in cracks and move around less while the rope slides through. I have the habit of giving it two or three good tugs to set the piece and I haven't had any special trouble removing them, nor has my climbing partner. Even so, buy a nut tool. You'll need it now and again for any brand.
I bought a full set of these recently and have had ample time to use them. I had a set of BD stoppers and after using these don't find myself taking the BD set anymore. The groove down the center allows for more placements and more surface area on placements. They do seem to wedge themselves in securely with little force, haven't had an issue removing them yet, but haven't fallen on one either. All in all this would be my recommendation for stopper set. If you feel like you need more pieces I suggest you get the DMM Offsets to fill out your rack.
Nothing too special to note, but was trying to decide between these and the standard BD stoppers. Happy I went with the DMM Wallnuts. I think their shape allows for better (easier) placements. Only downside is fewer total stoppers, but still plenty in my opinion assuming you have a full rack of cams.
If it doesn't hold well on the first try, after I turn it around it seems to stick every time. Some of the reviews say they're more likely to get stuck. I'd agree that sometimes they stick a bit too well, but I'm more comfortable with the fact that I've only lost one versus the alternative of one that doesn't stick well enough. Invest in a good nut tool and it's rarely an issue and if it is, ohh well, the argument that your life is worth more than 8 dollars justifies if you have to leave one behind every now and then.
Good stuff... but perform similarly to other manufacturers
Nuts are bread and butter for trad climbing. I've got a set myself and am very happy with them.

However, when I fell on my No.3 nut, it vanished. Whether the wire snapped and spun off into the sea or was abducted by aliens, I'll never know.

To be honest, I'm of the opinion that most brands of nuts perform equally well. I never have any problems with my DMM ones, and I don't have problems when I use my mate's BD ones. He also got a set of WC ones for anchoring and they seem to perform well too.

Regarding removal, I've had to hack away with all the diff manufacturers nuts. That's just life. Not left a DMM nut behind yet, although my friend recently had to admit defeat when trying to retrieve one of his BD ones.