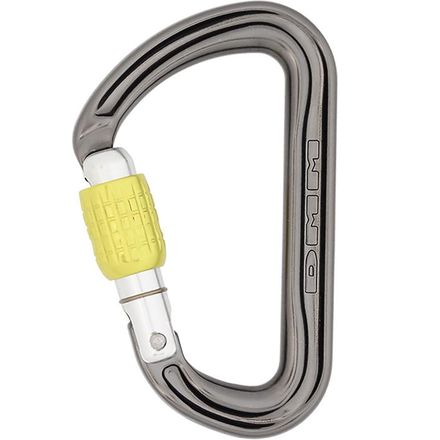 Detail Images
DMM's I-beam construction gives the Shadow Locking Carabiner a burly 24kN of strength. The Shadow comes with a standard screwgate, a speedy auto-locking quicklock gate, or a super secure locksafe gate. All Shadow carabiners have keylock noses to prevent snagging.

I-beam construction
Screwgate, quicklock, or locksafe gates
Keylock nose
Great Lightweight locker for multipitch
Familiarity:

I've put it through the wringer
This is a great lightweight biner for long routes, alpine routes and anywhere you want to keep the weight down. This is the qualify folks expect from DMM.
Sweet
Familiarity:

I've put it through the wringer
Great Locking biner to use on an anchoring system. The movement of opening is ergonomical sound. Simple twist, don't have to fight it, and fits well in the hand. You need to physically try this biner to love it's functioning.
The perfect lightweight locking biner!
Gender:

Female

Familiarity:

I've put it through the wringer
I bought this biner for using on my PAS for clipping myself to the chains. It is my favorite biner I have found yet for this purpose! It is incredibly lightweight, and is small enough that you can clip through any link on the chain. :) As always, DMM delivers a super smooth screwgate that glides more smoothly than any other carabiner I've tried. (P.S. Also, DMM products are made in Whales, not sweat shops, so you can feel good about buying their product).
Ultralight and solid. With an issue
Gender:

Male

Familiarity:

I've put it through the wringer
Grab couple of these screw locks to trad or sport multi-pitch.



I use one to clove hitch myself and another to belay my second off an anchor. I prefer something bigger (e.g. Petzl Attach 3D or Mad Rock Tech HMS) as a belay binner due to a high friction between my ropes and DMM Shadow.



It's a solid ultralight binner with common ultralight binner issues - high friction and gets only one clove hitch. Also I wouldn't take it to alpine climb because it's too small to be handy when wearing gloves.



Gate action and screw lock is very smooth (like any other DMM binner).



For summer trad or sport multipitch climbs it's hard to get something better.



Updated on Tue Apr, 9th 2013 after approx 1 year of use. This binner paints rope badly. Do not use it for TR setup.
5 Star ratings are over used IMHO
..but these bad boys truly deserve it. They really are a joy to use, the gate action is so smooth and the biner is so nice and light, but it also feels strong and reliable. I have owned a few of the screw gates for a few years now (they are my de-facto biner for anchors). I have only just ordered a locksafe one now so comment on that one but the screwgates at $13.90 are good value I would say, based on the quality of the product.

If people are wondering what the difference is between the Zodiac and the Shadows, the Zodiac is slightly bigger, a bit heavier and a bit stronger (32Kn major axis versus 24Kn on the Shadows per Backcountry specs). The two are very similar and the size differential is not that noticeable, both are excellent and you can decide which one is more suitable for your own use but I think both of them are top of their game.
I love these lockers. They're pretty light and the screw and gate action is very smooth. This is all I pack now when I head out to the crags or ice climbing.
I need a carabiner for boats lifting. The...
I need a carabiner for boats lifting. The boat (j/24) weight will be 1500 kg. So need to be a carabiner that takes at least 15KN of working load. This one says that it will hold 24KN at the direction that I need. Since it is made for climbing. The project idea is for impact. Not exactly a working load idea ... But can I trust it for the need I have?
Pretty much all of the climbing biners are rated really high to handle an impact fall, which generates way more stress than holding a weight. Do what the others said and get some cheap steel locking carabiners. They'll be plenty strong and save you some $$.
While I own a good deal of BD biners, I have two DMM lockers, and the gate action always feels smoother than the BDs. Just an observation. Maybe it's all in my head. Regardless, BD and DMM both make awesome gear.
I need a carabiner for use in a hunting...
I need a carabiner for use in a hunting tree stand. The biner will be fastened to a harness in case of a fall. I assume the biner should withstand the force of a body falling 4 feet because it was make for rock climbing, but the specs do not list a maximum working weight. I am not familiar with how the specs provided correlate to maximum working weight. Will this product do the job?
These climbing biners are rated for climbing falls, I'm sure they'll work. 24kN translates to 4800 pounds of dead weight, so as long as you use a dynamic line (which you need to anyway), then you'll be perfectly fine. I've only seen a carabiner break once in a real world situation, and that was trying to tighten a slackline with a car.
DMM - Best Biners In the World, Hands Down
Without question, DMM manufactures the finest carabiners made anywhere in the world today, and these are no exception. I use these for general rigging and for locking draws, and they are awesome. Silky smooth lock and gate action for easy clipping, keyhole notch-less gate closure for snag free operation (great when trying to unclip a draw from a crowded gear sling), and almost unimaginably light weight make these the best general purpose lockers you'll find anywhere. Plus, they're drop dead sexy! Sure, you can get three BD quicksilvers for the same price, but you'll die a little inside every time you try and use one of them. These will set you right! Totally worth the price.
This carabiner is super! I won't be buying any other locking biners from now on.
DMM biners are great! The locking part always works smoothly and easy to lock with 1 hand. I would love to have only DMM biners from now on!