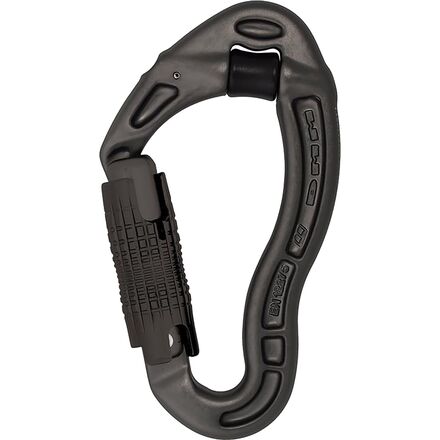 Detail Images

Community Images
Description
Friction isn't always your friend.
The DMM Revolver Locking Carabiner features an integrated pulley to reduce rope drag on a meandering rock pitch or reduce friction from your crevasse rescue system. Popular among search and rescue personal, this unique carabiner reduces the number of pulleys needed in complicated hauling and lowering systems. You can also use this DMM carabiner to take the sting out of that one mandatory piece of protection that's five feet outside the rope line.
I want to use two of these just for top rope application at the master point. Would that be a good application for these?
Best Answer
Are you just trying to reduce friction in your top rope setup? This carabiner is probably way overkill for that. I'd suggest one or two big, round-stock screw locking carabiners which can be had for 10-15 dollars like the BD Rocklock or Petzl William.



There really shouldn't be too much friction with any normal locker, and the friction at the top helps hold your climber. Short answer, no, this would not be good to use as part of a top rope anchor.
I think 2 of these are great for toproping. I use 2 of the Locksafe carabiners for my toprope anchor because it is easier on the rope and the carabiner to slide over the pulleys than the slide over the carabiner. Any rolling action is better than a sliding action, once I crossed a tyrolean steel cable with a steel carabiner and the cable wore the carabiner down, while with a pulley the sheaves did not wear down.

I use the locksafe because there is no one there to monitor what the rope is doing to the gate.
Great for what it is supposed to do
Familiarity:

I've put it through the wringer
This is very much a niche product. You can't really belay with it or use it as a dedicated pulley. It fits somewhere in the middle, acting as a sliding biner along you system. I have found two places where it really excels: on a chest harness and on a traveling anchor. Putting this on a climber's chest harness really helps to reduce drag when rappelling. I also like using it on traveling anchors at the top of multi-route walls because I don't have to stop every few steps to pull on it and it will catch me if I fall. Great product, just don't expect it to replace your existing biners or pulleys.
Great for Swiftwater Rescue Applications
Familiarity:

I've put it through the wringer
When used for tether Zip Line / Tension Diagonals across swiftwater missions, the built in pulley reduces friction allowing faster line times, therefor increasing safety of rescuers by reducing the amount of time in debris filled. moving water. Model with larger Gate opening would be nice
Great binder but expen$ive
Familiarity:

I've used it several times
I bought a couple of locking revolvers for a trip to the gunks where there are a lot of traversing routes and overhangs. These worked out perfectly. Strung together three pitches and literally no rope drag after 200 ft of couple 30 foot traverses, roofs, etc. Gray Dick said use double ropes. This was a less expensive and lighter way to to deal with rope drag. I bought mine on sale for $25. I really like them but not for $50. I think it will help next time I do cat in the hat at red rocks when you run the traverse and the last pitch together.
Does this site have the screw gate version...
Does this site have the screw gate version of this ?


Backcountry does carry it, but it's not in stock right now.
I use these for my toprope setup, and they are fantastic. They lock super smoothly, and belaying on them is a dream. They look pretty cool too.
How about as a toprope biner? I am a guide...
How about as a toprope biner? I am a guide and maybe this would save the wear of other lockers, last longer and give a smoother toprope? Anyone tried it in this capacity??
These is a great carabiner for top roping i had used for the last month and i think you can trust it like any other locking biner. when putting it on your station, the little pulley really reduces the friction and will prevent it to wear out and also helps to reduce a lot of friction on the rope.
Best Answer
This carabiner is NOT repeat NOT to be used at the anchor for top roping!!!!!!



Please read the instructions, they are quite clear on that.
coldfinger, where does it say that? Why on earth wouldn't they work for top roping?


DMM clearly instructs that the revolver isn't meant for top roping. Also, logically, one shouldn't be using a pulley system for top roping setups. http://dmmclimbing.com/instructions/NonLockingConnectors.pdf
This carabiner does not work with the tibloc for a rope grab as well as this pulley is not as efficient as some other pullies you can get for around the same price range, for instance the rock exotica pulley. Overall, the idea was good but the product is overpriced and inefficient.
Has anyone tried this for canyoneering?...
Has anyone tried this for canyoneering? Do the pulleys still work when they get sandy?
Best Answer
these aren't really made to be used as a full function pulley, mostly to reduce rope drag and as a last resort. and i have personal experience with this 'biner from a friend and after a couple gusts of sand at lake Powell the pulley on it wasn't much more useful than a large round HMS 'biner. that was just my bad experience with this and I'm sure many people have had good ones but the desert really isn't where they excelled for me
To awnser your question the carabiner's "pulley" would work in semi sandy conditions and possibly even very sandy conditions but if i were you i would stick with just getting a pulley because from what i have heard the "pulley" is too small and doesnt have enough surface area to be very efficient. I hope this helped.
Idle curiosity forces me to question whether...
Idle curiosity forces me to question whether or not that axle on that pulley can hold up to the full 24kN the biner is rated for and still roll smoothly afterwards. The manufacturer's website definitely implies that they are meant to take a fall, but doesn't state how well it will continue to roll. Thoughts/experiences?
Best Answer
Good question, most likely they addressed this when developing and testing this, I really don't think it would be up on this site if it did break like that. One thing to consider is how well it integrates into the rest of the biner, there is really not a lot of play for it to break. If it did, backcountry.com would replace it for you anyway. Hope that helps.
This was taken strait off DMM's website

"It is also very strong, and the spindle will not deform until a force approaching 10 to 12 kN is generated."

It is unlikley that in a climbing fall you would generate more than 10 kN. And if you did than the broken pulley on your biner would be the last thing you would worry about. So feel free to take some falls on it, thats what they made it for.
DMM also mentioned that if you did exceed the maximum limits and it did deform it operates like a regular standard carabiner. I'm not concerned over deformation and the bearing locking up but I would have a problem if the roller completely broke off. Would it shred your rope or can you complete your activity safely.
Can I use this with my squat rack and...
Can I use this with my squat rack and climbing rope to pull 45lb plates? I have limited gym space and this would be convenient. Would the dry lube bearing hold out on this?
Best Answer
I'm not sure how well the pulley here would hold up, but your bigger problem is going to come from using your dynamic climbing rope to lift weights, most of your range of motion will be expelled into streching the rope. Also, you are putting alot of cycles into your rope.

I would suggest using a dedicated pulley: http://www.backcountry.com/outdoorgear/Black-Diamond-Pulley/BLD0112M.html

and a length of static rope. I don't know how practical that is for you, but I think you will save yourself a lot of headache in the long run if you don't use your climbing rope for this.
how many of these rings do i need for the...
how many of these rings do i need for the tree fort?
I suggest you get a cheap carabiner. If you want a pulley, get one from Lowes or one like this http://www.backcountry.com/outdoorgear/Black-Diamond-Pulley/BLD0112M.html
, ☃bcs_badge_alumni_label☃
great design
If you have ever tried to pull a large person out of a crevasse, you may have encountered some serious resistance, this pulley applied at the right spot could save you lots of effort. The reduced friction is key and I love this biner. Essential piece of equipment in a crevasse rescue kit.
The images for the 'quicklock' and 'locksafe'...
The images for the 'quicklock' and 'locksafe' locking options are incorrect. DMMs website (http://www.dmmclimbing.com/products.asp?pid=3) states the 'locksafe' gates are colored green and have a 3-step release. The 'quicklocks' are colored red and have a 2-step release.

If you look at the pictures themselves you can see (on one side) that the green colored gates have and three stage release and are the actual DMM locksafe gate. However, in the images they are labeled as the quicksafe.

So, my question is, if I want the the 3-step release gate (the actual 'locksafe' according to DMM) which one do I order; the one that is labeled locksafe or the one that has a picture of the locksafe.

Another way to ask this is, did backcountry mix up the images or did they mix up the names?

Thanks for your help.
Best Answer
Try using Chat Now and they will get you an answer since they are in the warehouse. That should help you alot more than us gear heads can.
I chatted with a tech and they guessed the images were mislabeled. I went ahead and ordered one and they were right.

If you want the the 3-step release gate that DMM calls 'locksafe' the order the 'locksafe' from the pull-down menu. Ignore the labels on the images (they're wrong as of 12 June 2009)

thanks
I use this as a haul pulley in a Z-Rig for light & fast mountain climbing. When it's just me and a bud, they're fast & quick. Funky shape makes kind of useless as a replacement in all situations.