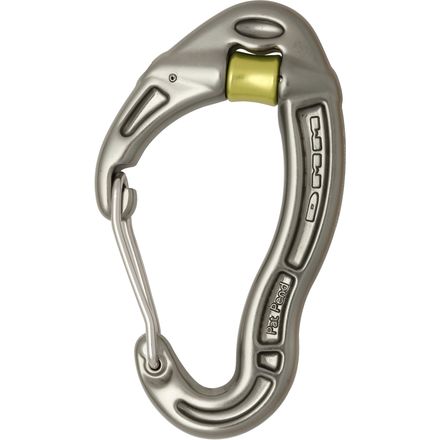 Description
Rope drag sucks. Help your climbs go more smoothly with the DMM Revolver Carabiner.
A small pulley in the basket end the DMM Revolver Carabiner reduces friction as your rope runs through it. This means that you won't feel like you're dragging a tug boat line as you're making the last few moves on your rope-stretching project. The Revolver Carabiner can also be used for light hauling and rescues, making it a versatile addition to any climber's rack.
Crevasse Rescue
Familiarity:

I've used it several times
Great piece to have in your crevasse rescue setup. Pair this with a self cleaning pulley and you will have your partner/gear hauled in no time.
As a High-rise window washer i use the "DMM" for pulling myself under over-hangs of building, 6',8', 12' over-hangs it doesn't matter it makes it alot easier when i'm redirecting my self under these conditions. I'm buying 6 more.
Versatile biner I never knew I needed
This biner really does reduce friction on wandering pitches and I've used it far more than I ever expected to. Now that it's available in a locker, it's also a nice addition to a glacier kit as an emergency pulley. That being said, if you're really planning to use a pulley, you'd best stick with a dedicated device.
how well will this hold up to water over...
how well will this hold up to water over time? i'm thinking of using it for river rescue (z-drag) and keeping it in my pfd where it would get wet all the time
Best Answer
I think it will hold up well, as long as you are in fresh water. Also, check it regularly and if needed, throw some bike chain lube on it to keep it rolling smoothly.
Great for glacier travel and z/c pulley sysytems
I have used these for crevasse rescue and they lower the resistance quite a bit when pulling using the Z / C systems. I think I read where they can reduce resistance 25-40 % vs. standard carabiners in that capacity.