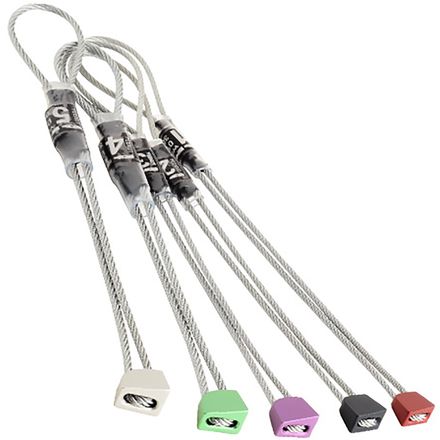 Description
Get yourself a five-pack of tiny DMM Peenuts to protect the thinness when you're on the rock.
This five-set of DMM Peenuts should be on your rack every time you cast off on an ultra-thin aid or sketchy trad pitch. Their color-coded anodized heads make it easy to select the right size, and slightly tapered heads increase security in flaring cracks. These little guys fit perfectly in pin scars, tiny seams, and that little pocket on your project that doesn't quite fit your fingers.
what are the sizes of these compared to regular stoppers? ie will I have an overlap between a size 1 WC rock, 1 dmm wallnut, or BD 3 and the larger sizes of the peenuts or are they usefully smaller? I don't want more of the same nut; I want something smaller and can't find the answer anywhere!
1] 6.5 - 11.5 mm

2] 6.8 - 12.1 mm

3] 7.8 - 12.7 mm

4] 8.9 - 13.2 mm

5] 9.2 - 13.9 mm



source: http://dmmclimbing.com/instructions/PassiveProtection.pdf
Obviously, the size is the same as that of the normal nut range of the wallnuts. The same color means the same size although a different shape because the peenuts are offsets. So the two smallest peenut sizes do not overlap with the normal wallnut set but the three larger do. #1 rock = #1 wallnut = (roughly) a #3 or 4 BD stopper.
When nothing else works!
Familiarity:

I've put it through the wringer
These nuts are amazing! I've used them in a variety of places across the PNW, and they work in a variety of different rock types; and situations. I love them, and they are always on my harness regardless of what I'm leading.
Great for scars
Familiarity:

I've put it through the wringer
These stoppers are key for climbing in places like Yosemite or Zion. They love to fill up pin scars and flared cracks. They are a must have for anyone who deals with flared stuff on a regular basis.
Thin and Awkward.
Familiarity:

I've used it once or twice and have initial impressions
These have some nice bite to them (brass is a bit better), and they fit in super weird and thin placements. As a previous review stated, these are awesome in granite and place well in flared cracks. The construction of these is super solid, and I can tell that they're going to last.
Can you say pin scar?
Familiarity:

I've put it through the wringer
These are a must for the granite climber! They clean up in pin scars and small flared cracks. They fit where other gear cannot giving you the peace of mind needed to fire through a thin crux. I find that in some cases these guys have taken the R out of the routes rating! Get a set of these.
These little guys are the perfect compliment to any set of stoppers. They lock perfectly into pin scars where other standard stoppers might otherwise shift or not feel secure. I highly recommend these stoppers to any climber looking for an advantage when it comes to protecting thin cracks.
Awesome little nuts! I've been using them lately in Yosemite and they fit in perfectly every time!
Totally rad little nuts. I bootied one on a climbing trip and used it on every climb thereafter. Getting the whole set ASAP.