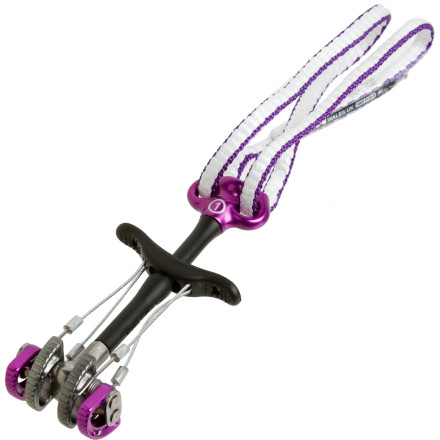 Colors

Detail Images

Videos
Description
More sizes from fewer pieces.
The DMM Dragon Anodized Cams use a double-axle design to provide an incredibly high expansion range that standard cams simply can't match. This means that you have to carry fewer cams to cover the range of crack sizes on a given pitch, and you're more likely to grab the correct size when you're desperately trying to get in a piece at the crux. DMM added an extendable sling to this cam so as to let you adjust length for reduced rope drag on meandering pitches. As one of the most versatile camming devices available, the Dragon Cams are hard to beat.

Double-axle design for extra expansion range
Double axles work as cam stops to add security to tipped-out placements
Doubled sling provides more extension to reduce rope drag on wandering pitches
Careful machining eliminates all unnecessary weight from these cams
Extendable 8mm Dyneema slings keep sling weight low and bulk to a minimum
Color-coded anodizing helps you identify the correct size quickly
Where are the Dmm dragon cams made?
Great cams
Familiarity:

I've put it through the wringer
I purchased a set of these to double up on my C4's and, as mentioned in a previous review, there is no problem mixing them with the C4 color scheme. They rack good and because of the extendable sling you are able to take less slings. I have taken a couple good sized falls on them and they held perfect. IMHO the only advantage these cams have on the C4's is they walk less.
clydesdale approved
Familiarity:

I've used it several times
as a rather large climber, ham-fisting my way up the wall, I certainly appreciate the lack of a finger loop on the dragon's...so much so that i've replaced all of my C4s. In the 20+ years i've been out playing on the rock, i can't remember the last time i got excited about a new piece of gear. I've been looking at these cams for a couple years now, and a few months ago finally had the chance to test a couple out. I was instantly sold and days later my C4s found a new home. No more fumbling around trying to get my fat thumb into the loop or awkwardly trying to palm it. With the dragons it's almost like the cam becomes an extension of my hand when palmed. Easy to place at strange angles without any undue stress on my wrist. Maybe not the right cam for everyone, but between the ease of use and the extendable sling, i'm a believer
DMM Dragon Cams.. The Making
Probably the best free climbing cam
Gender:

Male

Familiarity:

I've put it through the wringer
I love these cams for several reasons:



1. They share color scheme with BD C4. Everybody around know BD C4 color scheme, so there is no problem at all to mix C4s and Dragons.



2. They are low bulk (compared to "the modern gold standard" BD C4s). It really makes difference when your have sever miles approach.



3. Elongated slings. You can cut half quickdraws from your rack. And get even less bulk. Sweet!



The only two concerns are:



A. Sometimes they are tricky to clean when sling is elongated. This is not a World class problem at all - practice on the ground a bit and you'll get an idea how to make it smooth. And clean it from a good stance.



B. I don't like the #6 gray action. It sometimes hard to place (it is hard to align properly). And I do not feel confident with it's rock bite. BD C4 #4 gray is a better piece.



Bottom line. Sizes 00 blue to 5 blue are perfect. They are the best free climbing rack backbone. Especially love them in #0 gray to #3 red sizes. If are not a clean aid climber consider and you are not on a budget they could be better choice then BD C4.
Great Cams.
Familiarity:

I've used it several times
Uber lightweight compared to others and the slings are the bomb. Always the go to cams when racked with other brands.
I like the idea of an extendable sling as...
I like the idea of an extendable sling as opposed to the near worthless nylon loop on C4s, but what happens when you need to replace the sling? Costs? Its not possible to clip directly to the stem with a carabiner right?
No, it's not possible to clip in directly; that hole is too small. And you can't replace the sling yourself either. There are places that will do bar-tacking for you, but it might be easier to replace it with cordelette instead of a flat sling and just tie a good knot. That's a pretty cheap alternative.
Best Answer
Cam companies highly discourage tying your own cam slings, since the sling is so crucial to the cam design and cam strength. Note that a new dragon's sling is strategically stitched and the stiching is protected with a plastic sheath. I haven't re-slung my dragons yet, but I'm sure the company will re-sling cams for a very low price, and get your gear back to you within weeks, which is common practice. See this video for DMMs review of multiple knots tied in dyneema: http://dmmclimbing.com/knowledge/knotting-dyneema-vid/
bomber
Familiarity:

I've put it through the wringer
Bought these cams 00-5 to double my rack of BD's. I love these things and so do my climbing buddies. Everyone has BD's, but its what you choose to double your rack with that matters. These are great cause the colors coordinate with the BD colors so its easy to find. Everyone complains about the extendable slings on these things if anything at all. I have no complaints about anything here and neither does anyone who's climbed on my dragons. Its more like everyone who see's them and uses them says those are pretty epic man where do i get them. Love these things and they are bomber. I should know I have whipped on them a few times time. Def a choice cam for your doubles.
Easily My Favorite Piece
Familiarity:

I've put it through the wringer
The expandable webbing is what makes this piece perfect. No rope drag=happy climbing. The expansion range is also amazing. Every time I have a chance to grab at my rack and find my perfect little purple .5 I smile because I know it will be a bomber placement. Also they are almost always on sale, so hold out if it says anything other than sixty bucks, despite them being well worth more.
Amazing Cams
Familiarity:

I've put it through the wringer
The Dragons are amazing cams. First of all they maintain both color and size to that of the BD C4's, so if you are familiar with the BDs sizing then there is no learning curve to the sizing on these bad boys. Secondly, the lack of a leash loop makes cleaning these cams a bit easier when really buried into a crack. I find that the extendable leash is kind of a gimmick. The stiff stitching will not pass through the leash loop meaning you have to pull on the correct leash side in order to fully extend. This is a pain when placing gear in a pumpy scenario; IMO it is easier to throw a runner on instead. Furthermore, my partner complains about cleaning the route when I extent a leash. They are hard to return to their non-extended state; therefore, they hang down to your knees when attached to ones harness and this is hard to climb with.... another reason to just use a runner! All and all, they are fairly similar to the C4s, but have a few nice improvements!
Contender to the throne?
Gender:

Male

Familiarity:

I've used it several times
The Dragon's give the BD C4's a run for their money. I like the extendable dyneema sling, although it's not that long - you'll still need to put a draw or a runner on it. The lack of a thumb loop isn't really too much of an issue, but I have noticed it a few times, especially on the smaller sized cams. BD has moved manufacturing to China, whereas DMM still makes their stuff in Bethesda, Wales, if that concerns you at all.
One question regarding the KN holding...
One question regarding the KN holding strength of Dragons vs. C4's. It is my understanding that while nylon runners might not be rated to hold as much weight as dyneema, the fact that nylon stretches means that it actually absorbs some of the shock load of a fall which means that cams that us nylon slings actually have less of the force of a shock loading fall transferred onto them, allowing them to hold bigger and nastier falls. Do any of you guys think that this makes a difference when comparing Dragons vs. C4's? I ask because I own c4's and am about to go out and buy two dragons to double up my c4 rack. Thank you.
I don't think you will see any real world difference. My thinking is that sewn dyneema and nylon slings have breaking strengths of around 22kN while the largest Dragons are only rated to 14kN so there would be a cam failure long before there was a sling failure.
Best Answer
Arthur, you appear to be missing the point of the question. Johan is not asking about the slings breaking, it's about whether the nylon can relieve the cams of some force.



If you setup a test scenario in which the cam's sling is clipped to a steal cable which is hooked up to a steal weight, the BD cam will see slightly less force due to the nylon stretching and absorbing more force.



However, in the real world, the harness, human body and rope (that's what dynamic rope is for!) will all absorb a lot more force than the nylon sling. Therefore in the real world, it won't make much of a difference and you should make the choice of DMM vs BD cams on other aspects.
This is one of those theoretical questions that has absolutely no bearing on the performance of the product in the real world. Think less about stuff like this and climb more.
It's actually a good question, because nylon is certain less prone to fail when compared to dyneema if you take a direct fall on it (aka if your harness is directly attached to an anchor by it). But in this case, you have a dynamic rope between the two, so it doesn't matter!
Awesome alternative to C4s
Familiarity:

I've used it several times
I've been slowly purchasing Dragon Cams to serve as doubles to my full set of C4s. After a few months of use, I honestly like them a bit more than the BDs.



Maybe I'm being too conservative, but I rarely clip the rope directly to the C4s. Even if rope drag isn't an issue, I feel like the large nylon sling on the C4s transmits too much of the rope movement to the cam, thus increasing the possibility of the cam walking out. Thus I almost always extend a C4 placement with at least an alpine draw.



Even with the sling not extended, I feel like the smaller and lighter dyneema slings on the Dragons transmit far less rope movement to the cam stems. With the sling fully extended, the isolation seems pretty much complete. Thus, if rope drag allows, I'm often willing to clip the Dragons directly in situations where I would extend the C4s. This is a huge savings in terms of gear and time.



FWIW, the stems are indeed a bit shorter on the Dragons. I have yet to run into problems with that, though. The lack of a thumb loop has yet to bother me, too.



Personally, I love having both. If I have a choice, I use the BDs in situations where I want to extend anyway and save the Dragons for those times when I can clip directly.
Great set cams!
Familiarity:

I've used it once or twice and have initial impressions
These are the first set I personally own. They work great, and they hold their placement. The slings also worked cause they give you the option to extend it.
DMM Dragon Cams - Anodized
This is my first set of personal cams. The quality seems top notch and they're easy to rack and use. The extendable sling takes a bit of practice but it's not too hard really. I also really like spending the money on a company that values quality manufacturing.
Comparable to C4 Camalots
Gender:

Male

Familiarity:

I've used it several times
I picked up the #1-#4 dragons back in July, mainly so I could be different than everyone climbing on Camalots. But almost six months later, I am extremely pleased with the gear for reasons other than satisfying my self-righteous hipster-ness. These cams are very lightweight, very durable, and the features are really practical. The extendable sling in a fantastic idea, and it totally has come in handy on some wandering lines. The pommel grip is cool, although I do prefer the loop on the Camalots. The only issue that I have with the dragons is some of the units I purchased have sticky action. It's not terrible, but the Camalots seem to have a more consistently smooth action. One thing that I think makes the dragons stand out above the rest is the attention to detail from DMM. Each cam goes under more scrutiny than any BD cams, and that gives me peace of mind.



Overall, I love these cams, and i will continue to build my rack with DMM gear.
#5 Blue is a keeper
Gender:

Male

Familiarity:

I've put it through the wringer
I really cant comment on the other sizes, however the DMM #5 blue ie equivalent to the BD #3 blue c4 camalot, is sweet. I really enjoy placing this cam and will reach for it with gusto. I am not sure why, but it just feels good to place and feels very secure. Perhaps its the Klingon looking design of the lobes. I dunno. I like the option of having the extendable sling if needed. I have so many cams, uhh, so much unlawful carnal knowledge with the gear. I need therapy. I have never fallen on this cam
Great alternative to BD Camalots
I love the extendable sling and will be purchasing about 1/2 of these and 1/2 of the camalots in the future. for those that say re-rackign is a hassle, I can tell you that they simply have not climbed with these. The slings are short enough to re-rack without shortening.