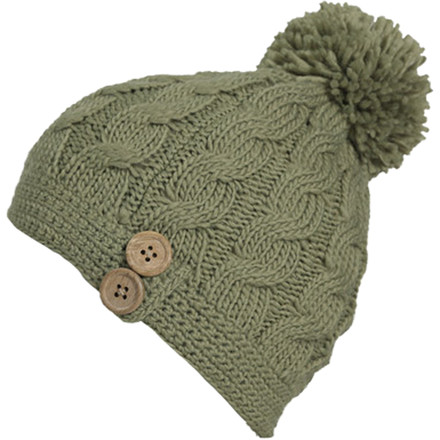 Colors
Description
Baby steps.
This year you're making the big bucks ... well, sort of. Step up your headwear with the Discrete Women's Varmo Pom Beanie. This isn't your ordinary beanie. Its chunky knit weave, pom-pom, and stylish side buttons show you're moving up in the world. No longer do you live in a ski-bum house with ten peeps (now it's down to five).
Unanswered Question
What materials/fibers are used?

Does it have a fleece liner?
Hey busp1002315,



No, this hat does not have a fleece liner.
This is by far my favorite hat at the moment. For someone that usually gets an itchy head from wearing a hat for too long I have not had that problem with this at all. It is probably the cutest winter hat I have owned as well, I may have to invest in a couple more colors before the end of the winter.
Love this beanie. Its soft and warm enough for cold weather. Highly recommend it. Love the button detail. Makes it stand out from the others.