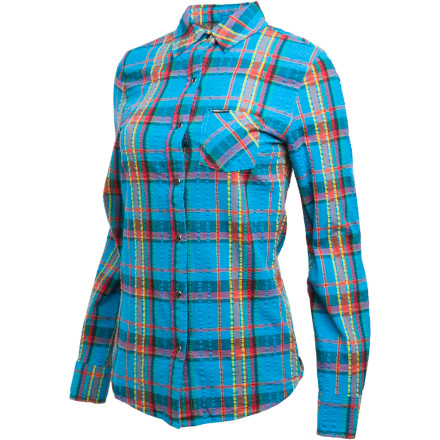 Detail Images
Quit worrying on whether or not it's going to be an awesome season, put on the Discrete Women's Light Delight Shirt, and get moving. You're going to be late for the world premiere of the latest ski movie. And don't bother bringing a jacket as this cozy long-sleeve shirt's fabric will keep you warm.
What do you think about this product?
Have questions about this product?
I really did love this shirt, but I had to return it due to some defective snaps. The fit was great and the fabric was unique compared to most of the other button downs out there. The fabric is a little thicker, which may be why the snaps don't stay in place. Apparently the snaps are easy to fix and strengthen, so if you are really in to this shirt and know how to do that sort of thing, definitely get it!
This was a really hard decision writing this review. I really really like the overall quality of the shirt and the fit and in the long run that trumps anything else. The fabric is crinkly yet thick so the collar doesn't look like ass after a wash or two. I love cowboy shirts & things plaid in general but I had to give this shirt 3 stars because when I took off the shirt after trying it on for the first time I ripped off 3 button snaps. FORTUNATELY, I managed to re attach the clasps to the shirt. I hope they fix this production issue for next years round of clothing because I would buy another discrete shirt in the future. Also, I would have rated this better except for my problems with the buttons.