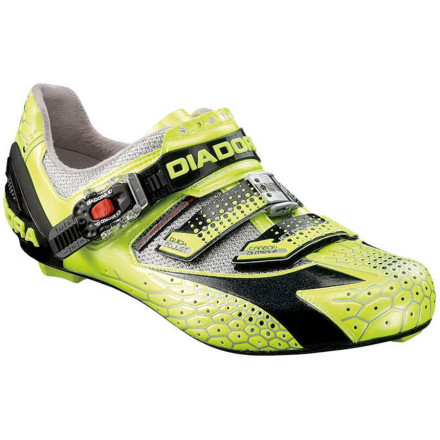 Detail Images

Videos
The name 'Diadora' is derived from the Greek 'dia-Dorea,' which means 'to share gifts and honors.' And while we doubt that Cadel is ever going to share his 2011 Tour victory with anyone other than his teammates, with Diadora's release of the Jet Racer Shoes, you're at least able to share the same shoes that propelled him to the top spot on the podium.
Starting with the uppers, Diadora built the Jet Racer shoes around its Shape Race last. This fit forms precisely to your foot, combining just the right amount of arch support with a solid forefoot and midfoot hold. Additionally, this last works to secure heel retention as well. This comfortable cradle on the foot is achieved using the Diadora's Suprell-Tech and Morpho Cage AM design. Essentially, this is a supple leather/thermoplastic polyurethane (TPU) composite and lightweight mesh 'space frame' construction that supports pedaling motions with its ultra-stable and breathable composition. At the heel cup, Diadora designed the Jet Racer to perfectly contain the rider's foot in its seat by armoring the delicate Achilles tendon with a two-part composition. For structural rigidity, the pre-molded TPU heel cup uses a firm composite around the back, with softer and more flexible plastics along the sides. The result is a light profile that supports the heel down in the cup, while remaining flexible enough to provide the lateral 'give' necessary for out of the saddle pedaling efforts.
The Jet Racer closure system works in complete harmony with this last, as its multifaceted retention system targets specific locations of the foot. Over the forefoot, a single hook-and-loop strap controls the volume lower down in the shoe. Diadora calls it a 'Safety Closure,' as it keeps the shoe from opening in the event that either of the remaining straps fail during a race. Stepping up from that, Diadora added its Quick Adjustment closure. On first glance, it looks like a traditional hook-and-loop strap, that is until you see the mechanical aluminum lever. This represents the Diadora attention to detail in full effect. This buckle closure locks the strap in place, eliminating any worries of rain and mud affecting the strap's retention. Bu, as your race ensues and your feet begin swell, a slight push to the buckle's top releases tension on the strap. This small movement provides an instant, and much needed, relief to your foot.
Underneath the strap, Politech and shock absorbing EVA inserts were added in order to aid in both pressure distribution and shock absorption. Rounding out the closure system at the shoe opening is the Multifit Adjust strap. This patented locking system allows you to further customize the fit of the shoe with respect to the morphology of your individual foot shape. This is accomplished by first selecting one of three strap positioning holes on the inside of the shoe in order to center the EVA-backed strap evenly over the top of your foot. You then locate your desired retention setting with the Micro CL buckle. This micro-metric aluminum closure ratchets to your desired retention setting, yet it simply releases with a raised push-button on the buckle's outer surface. Once again, a simple but effective design. The durable mechanical buckle opens on a rocker for easy cleaning, and it's able to be replaced in the event of a crash.
Diadora chose to mate the Jet Racer upper to its Carbon Technology Racer outsole. This full-carbon platform incorporates its new NET Breathing System, which is a network of synthetic fibers that have been molded around a breathable and waterproof membrane. This patented ventilated design allows an increased capacity of rider perspiration, while preventing moisture, mud, and other external elements from penetrating the sole and getting into the shoe. The design of the sole also keeps stack height and weight to a minimum, while maintaining incredible rigidity for a direct transmission of power to the pedals.
The heel pad is made of a firm replaceable rubber compound known as Duratech, which provides excellent surface grip and high abrasion resistance. Hi-Vent 100% waterproof insoles complete the Jet Racer shoes, giving you maximum support, ventilation, and comfort in all weather conditions.
The Diadora Jet Racer Shoes are available in odd and even sizes ranging from 37.0 to 47.0 and in the colors Black/yellow fluo, Red Fluo/black, White/silver/black, and Yellow Fluo DD/black/silver.
Separated for good...
Familiarity:

I've used it several times
After two seasons (5-6000 miles) the sole of left shoe separated from the upper (see attached image). At this point the shoe was out of warranty beyond which CC suggested I take it up with Diadora directly...



My first pair of cycling shoes were Detto Pietros....with nail-on cleats! In all the pairs I have owned since (including a pair of Diadora's back in the 80's) never had a pair fail me...never!



Won't belabor the point. I am back with Sidi, better fit and, apparently, quality.


Bought on a Whim and Love Them
Familiarity:

I've put it through the wringer
Picked these up on sale and didn't think twice.

Very high quality shoe that I've now put about 4,000 miles into and other than some scrapes on the bottoms, still look brand new. This shoe completely changed the ride for me. I was riding in some entry-level shoes and the jump to these was night and day.

Super stiff without feeling restrictive. I've had issues in the past with shoes creating hot spots or numbing sections of my feet when I tightened them down to hit it. I can make these uncomfortably tight across the top without any hot spots or tingling.

I don't know that I would pay retail for these, but I'd get pretty close. Excellent piece of gear that is, so far, standing up to everything I can throw at it.
Great shoe, stiff and light!
Familiarity:

I've used it once or twice and have initial impressions
I upgraded from the Diadora Aerospeed 2 shoes, which I had for three years and put 5,000ish miles on. I loved my aerospeeds and the Jet Racer is an amazing upgrade; it has superior ventilation and stiffness, and uses three straps to get just the right fit. The middle strap includes a metal "buckle" that helps you adjust the strap while riding and prevents it from loosening. The upper strap is much higher quality than the aerospeed and the ratchet clicks one step at a time. The shoes came with a little bag to carry them in, which is a nice touch.



The color: If you're looking for fluoro you're in luck. These things are BRIGHT. If they are anything like my Aerospeeds the color will fade slightly over the years, but not noticeably.



I normally wear a size 10.5 US shoe, and had a 45.5 Aerospeed, which was a little large. The 45.0 Jet Racer is a PERFECT fit. My left foot is a bit larger than my right, and it has just enough toe box left. In the winter, I may have to revert back to my aerospeeds to fit bulky socks.



I've only ridden approx 50 miles on the jet racers so far, but have had no problems and am looking forward to at least two years of solid use before looking for another shoe.
So so flouro...
Familiarity:

I've used it several times
Admittedly, I'm a Diadora fan boy. I've strayed in the past, but always come back. At the moment, there are three pair of Diadora carbon soled shoes lined up under my dresser.

I've been in the Pro Racers for about a year, and love them. The difference between the PR and the Jets is pretty wide. Like my children, one isn't necessarily better than the other, but they are very different.

The PRs are a Sidi fit. Narrow toe box, tight thru the forefoot. They fit great, but you know they are there.

The Jets fit like my ProTrail 2 MTB shoes. Roomy toebox, yet still very secure on the foot. No slipping, and the tried and true two strap/one buckle set up.

They're LIGHT and STIFF. No flex at all.

Plenty of volume as well. I have insoles, and wedges inside the shoes. No issue. And the soles are dead ass flat, so if you need wedges under your cleats, you can rock them. If not, they don't force your feet into an unnatural position, like certain shoes from a company that starts with S. (Don't want to mention them...might get sued!)

And let's be frank, the flouro yellow is #sopro. Sure, it might be a fad, but for what I paid for these shoes, I'll ride the wave for a while.

We'll see how they wear, but if they are at all like the Diadoras I've owned in the past, I can't see premature failure being an issue.


Hello! I wear a 9, do u think the 42 will...
Hello! I wear a 9, do u think the 42 will fit?

Ivan G.
Best Answer
A 42 will be a tight fit for sure. While this is a killer deal for my favorite shoe, no deal is worth a shoe that doesn't fit.
I saw these and salivated. I had a pair of Diadora mtb shoes and they fit me great. Alas, didn't have my size. After 8 years my S comp elite shoes wore out and a buckle broke. I ended up getting last years Spec Road Pro. Same strap setup as these. 3rd tier in thier lineup, You can get them on the clearance page of the website. They are black patent leather look, probably why they have so many sizes left. $150, full carbon sole. Been riding them a week now (well 5 days on the bike) and I love them. I have an American combination last, wide forefoot and narrow heel. Hope that helps!
Light, comfy, stiff and they look HOT!! The Net Breathing System in the sole is legit...a fully waterproof, breathable sole. The straps and buckles creat a secure fit that makes me feel very connected to my bike. I race with zero float cleats and the highest tension on my pedals, so I like feeling locked in. I've owned Shimano, Bontrager and Sidi shoes and the Jet Racers have been my favorite by far.



Hit me up for any Diadora questions! btowery@backcountry.com
Do SPD-SL cleats work with this shoe?
Do SPD-SL cleats work with this shoe?
Best Answer
Yes these will work with any 3-hole road cleat, including SPD-SL.
Diadora Jet Racer Shoes - Men's