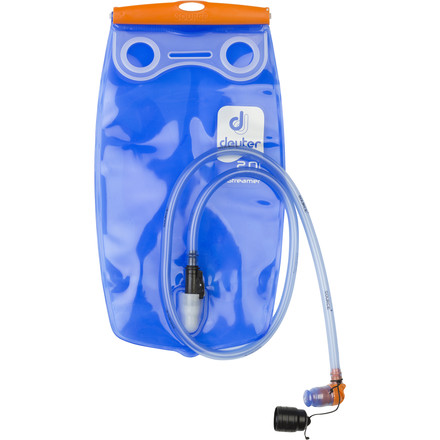 Colors

Detail Images
Description
Funk should be stored externally.
The Source Streamer 3.0 Reservoir will fit in any Deuter pack designed for three-liter reservoirs and many other hydration packs as well.
Deuter has chosen not to make their own bladder, but source their bladder from Source, an Israeli company. Deuter has been working closely with Source to perfect their Streamer Reservoir. The result of this effort is represented with the all new Helix Valve. The new mouthpiece has a water stop tab and is absolutely drip free. Only light pressure is needed to activate the water flow. A spring integrated within the valve ensures instantaneous shut off of the water flow as soon as the valve is released. The Dirt Guard cap covers the valve during transportation to keep things tidy. But regardless of precautions, mountain bike equals dirty, so the Helix Valve was designed to easily be disassembled and cleaned. The reservoir itself is made from a BPA-free polyethylene (PE) plastic that boasts a surface as smooth as glass. Smooth is important because the smoother the surface, the harder it is for bacteria to attach itself. In addition, the surface makes it harder for taste, like old Cytomax, to remain after it the bladder has been washed. Beyond the glass-like surface, there's Grunge Guard, an anti-microbial coating designed to further keep mold at bay. Sealing the system is a bar-and-clip system that allows the bladder to be both opened completely and sealed completely, and is tough enough to be landed on.
Deuter says the reservoir is so well-sealed that if you take out all the air after filling, you can probably leave the sack filled with liquid for a few weeks without growing mold. We don't want to try, but know that some of us are forgetful.
Even when the Source Streamer 3-Liter Reservoir is dirty, washing with mild dish soap and warm water (under 140 degrees Fahrenheit) is enough to clean out the muck. For sterilizing, clean, dry with towels, and leave everything in the freezer overnight. Flush with water in the morning.
The bladder can be frozen, but they do not recommend filling with boiling liquids. 140-degrees Fahrenheit is plenty warm. It weighs 168g.
Share your thoughts
What do you think of the
Deuter
Streamer Water Reservoirs
? Share a...
Does it's job and makes life easy!
Familiarity:

I've used it several times
Deuter is a great brand so getting a water reservoir from them was not a question at all. The reservoir is easy to clean and doesn't leak....at all. A great product for a great price.
Ze Germans
Familiarity:

I've put it through the wringer
I have used this product extensively over the last eight years (yeah I should probably replace mine) and can say hands down that it is the best hydration bladder I have seen. Many other products (see: camelback) are over-engineered and awkward to use. In contrast, the simplicity of the deuter bladder system enables easy filling, easy and reliable nozzle use, and the plastic sleeve that closes the bag even acts as a prop to hold it open so that the bag can dry out once you are done with your ride/ski/whatever.

I will certainly be choosing this product over any other as long as it is produced.

Edit: apparently this is not a german product. My endorsement stands
is there any way to secure the tube to the strap of your pack? for example, i have an osprey bladder and the tube has a magnet on the mouthpiece. you fix the other magnet to your strap so when you finish drinking the mouthpiece just "snaps" into place on the strap and is out of the way.

Easy to Clean!
Familiarity:

I've used it several times
So far I've used the reservoir on a long weekend climbing trip and it's been awesome. I previously had another company's reservoir with the typical screw cap in the middle so this was a change, but a welcomed one. There's been no leakage and the slider top feels secure. I really like the cap on the valve as well - I'm often tossing my back in the dirt and it's really nice to take a sip of water without a mouthful of dirt. I thought it was going to be annoying but it's really no problem at all. The open top is also great for cleaning - I can fit my whole hand in without an issue. As a whole it feels like it will hold up well and will be much more convenient to use. Definitely recommend it.
Great product!
Familiarity:

I've used it once or twice and have initial impressions
I just used this pack for the first time and loved it. It's my first hydration bladder so I'm still getting the hang of it but I was really imressed with how quickly the water came out. As it gets lower in the pack you do have to suck a bit to get water. But I assume that's normal. The hose is the perfect length coming out of my pack to hang down the side of my chest. I was worried that would be annoying but I was never bothered by it. Looking forward to using it in the future!
Highly Recommend!
Familiarity:

I've used it several times
Love this company.! I have one of there packs and I figured I'd try there water reservoir as well. I really like the way it opens and closes. It makes it so much easier to clean. I can get my entire hand in there! ;)

I havent had ANY issues with it leaking either.
I purchased the 3 L size and Im soooo happy I went with that size.

the Valve on is is pretty nice. With past CamelBaks, ive had issues with them leaking but this one has a cap (to keep it clean) You have to twist it and then barely bite down and BOOM your thirst is Quenched! ;)


Better than my CamelBak Antidote.
Gender:

Male

Familiarity:

I've put it through the wringer
I bought a 3 liter version, because I already have a 2 liter CamelBak Antidote. The cleaning was definitely easier because I can stick my hand in it and dry it manually, whereas, my CamelBak I hung it up to dry. The valve for this is also better. There is a lock mechanism and also a cover. This bladder fits nicely in my Deuter AC 24 Spectro. I am quite happy with my purchase. I even bought the Deuter Thermo bag and tube insulator to use this in any season.
Trusty water reservoir
Familiarity:

I've used it several times
I toiled for weeks after buying my Deuter backpack with what water reservoir to buy for it. Reviews for all the notorious brands - camelbak, osprey, etc. - seemed mixed. When I realized that Deuter had their own, which they sourced from the Israeli company source I was intrigued. I was sold on the easy opening full width top, the smooth surface to keep bacteria and mold away, and an overall impression of thoughtfulness, simplicity, and quality. I took the Streamer on a trip to Death Valley and found it not only indispensable but also reliable and incredibly easy to use. Filling, taking apart, and cleaning are all easy tasks. After a week of use without washing no yucky film developed. I experienced no leaks or signs of wear. Granted I've only used it for about a month, my initial impression is very positive. I couldn't tell you yet how it holds up long term but there's every indication it will perform. What a relief after stressing over what reservoir to get. Plus it's BPA free and all that. I highly recommend the Deuter Streamer!
Good resevoir but had a problem
Familiarity:

I've used it once or twice and have initial impressions
First the good points. Easy to fill orange clip easy to install. Heavy duty water resevoir had no worries about tearing or rips. Plenty of water flow when drawing water from tube. Sat well on top of pack. I did have one major issue which made me stop my hike in that the snap in portion of the hose that secures to the bladder started to drip and leak. Pulling the hose out and repositioning it didnt stop the leak and made a mess inside my pack and left me with a lack of water source. However the durability of the resevoir itself made me trade the leaky one in for a second one of the same type and have yet to try it on my next hike. Overall a great reservoir and hoping it was just a bad break.


Replacement bite valve
Familiarity:

I've put it through the wringer
I have used the 3 liter hydration system for a couple of years. When the silicon bite valve needed to be replaced, I had to buy the entire plastic bite valve. All I wanted was a new silicon piece. This company does not sell just the soft silicon bite piece as a replacement item.
Great German ingenuity
Gender:

Male

Familiarity:

I've used it several times
I recently took Deuter Streamer 3 L with me on a 2 day 25 mile backpacking hike on the Manistee River trail loop in MI and I have been impressed with it so far. I use the Streamer with my Deuter Aircontact 55+10 Trekking backpack, it integrates very nicely. The greatest feature of this product is the ease of cleaning! The hose can easily be removed thanks to the snap off hose design, great feature. Also, I'm a huge fan of the slide off clip on the top of the bag, it removes easily and provides a tight seal and does NOT leak at all. This also provides great ease cleaning the inside of the bag and makes air drying the bag simple between uses. I really have no major complaints of this product. The only minor issue I have noticed thus far was that when the mouth piece was turned into the open position, it would leak slowly when you let it dangle. Simple solution is to close it between drinking breaks. The black cap also provides good dirt protection while you are hiking some trails. All in all a great hydration bladder, I highly recommend it to anyone looking to stay hydrated on the trails.
go big
Familiarity:

I've used it once or twice and have initial impressions
I picked one up on SAC for cheap and didn't realize it was only the 1.0 L until it arrived...Too small for me to use for anything but I really like the quality/design and will buy a larger one when I need to replace a current bladder.
Love it, but some flaws
Familiarity:

I've put it through the wringer
I've been using the 2 liter reservoir for a couple of years now, and it's holding up really well. I mostly use it for backpacking, with a Sawyer in-line filter clipped on, so the quick release hose attachment is fantastic. I also really love that it opens completely at one end, this makes filling it from lakes and creeks easy, and it also makes it fairly easy to clean and dry completely when I get home. I love this combo - being able to just fill it up at a water source and drink, not having to pump or treat water. I was a bit concerned about the bar closure being secure, but so far so good. The thing I didn't like was the bite valve and giant cover - they didn't work great and were difficult to manage with the pack ports, etc., plus annoying to pull off the cover every time I wanted to drink. So, I just cut it off and stuck on a plain Camelbak bite valve, which works great.
Streamer Hydration Reservoir
I have the Deuter ACT Trail 24 pack. The two liter bladder was too small for the bladder pouch in the pack. it would either be slumped at the bottom or completely suspended by the velcro at the top. I was afraid that over time the bladder would rip the velcro off the pack. Returned it and got the Platapus 3L zip top, which is taller the it is wide.
My platypus bladder sprung a leak (when I accidentally poked a hole in it) so I decided to branch out and give this Deuter a try. It's easy to fill and clean and doesn't have any strange taste at all. It's also made of a very thick and durable plastic. However, the mouthpiece is huge and difficult to shove through the hydration port in my packs, so for that reason I prefer the platypus.
There are some great advantages to this reservoir. The quick connect hose makes it easy to remove the hose and keep it out of the dirt. While the top takes a minute to get used to it makes it much simpler to get large amounts of water out.
Really difficult to suck water out of this system, also somewhat cumbersome to fill with fully open bag
I never thought I could fall in love with a reservoir but after so many bad experiences with others, this one is the best ever, and I love it. I wasn't sure about the opening, but it has turned out to be a total convenience for cleaning, drying, and filling. I like how the hose clips on and off and there is never any leaking with this reservoir. I wasn't too fond of the mouthpiece cover, it was too big and bulky so I just cut it off. I am really impressed with this and don't think I will ever go back.
This bladder is the first one with a quick connect I've used that didn't leak. It's silly to have to put all your stuff in ziplocs inside your bag because you can't trust the bladder, but that's exactly what we all end up doing. Thanks, Camelbak. This Deuter/Source streamer bladder is slick. The helix/bite valve is rock-solid, and ensures that all your stuff stays dry when you throw the bag in the back of the car at the end of the day. It's not that water will drip out if the helix valve is open, it wont, but it acts as a backup to inadvertent pressure on the bite valve. The fold-over top design is also nice, and a welcome change from the 'i hope it's tight enough' screw caps other bladders use. I dinged it a star because I wish the slider would lock on a little more securely. I haven't had it ome loose or anything, but for peace of mind, I'd like more security.