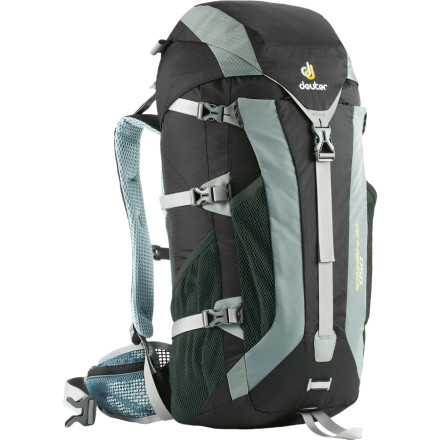 Community Images
Weighing in at just two pounds, the Deuter Speed Lite 30 Backpack helps to lighten your load when you're charging up a fast line and headed for the summit. A U-shaped rod inside the back panel creates this bag's lightweight internal frame and, like the waist and sternum straps, the rod is removable for those who want to really shave weight. Stuff some trail-running clothes, climbing gear, or climbing skins through the large front stuff-it pocket, and take this do-it-all fast-packing bag into the mountains where it belongs.
Aircontact back suspension with Delrin U-frame rod allows warm air to escape and fresh air to circulate between the pack and your back
3D air-mesh fabric lining adds breathability to the contoured, padded shoulder straps
Ergonomically shaped hipbelt wraps body, stabilizing and controlling lateral movements of the pack
Main compartment holds your gear for an all-day hike; two-way zipper on the front allows access to buried items
Hydration-compatible design features reservoir sleeve and tube exit port for on-the-go hydration (reservoir sold separately)
Hip-belt pocket holds snacks; mesh side pocket stores water bottle, headlamp, gloves or sunscreen; lid pocket holds a map, compass or GPS, spare batteries and other small items
Large stuff-it pocket on the front holds rain gear or other bulky items
Compression straps let you cinch down your load for extra stability
Great Trekking Pack
Familiarity:

I've put it through the wringer
I was looking for a light, comfortable, versatile pack to take on the Tour du Mont Blanc multi-day trek in the Alps. This pack fit the bill perfectly. I was skeptical at first that a pack this light and with a flexible frame could offer the required performance, but the Speed Lite 30 was a very pleasant surprise.



The pack is light (1 lb 15 oz on my scale), yet provided just enough support for loads in the 10-20 lb range. The compression straps cinched the pack down very effectively on small load days yet allowed sufficient expansion for multi-day loads. The mesh side pockets fit a Nalgene and my z-poles just about right, and the top pockets are roomy enough for those essentials you want to get to quickly. My rain gear fit nicely in the rear pocket. Most importantly, the Speed Lite carried very comfortably for a pack of this weight (or any weight). The pack fit my 6'2" frame just right.



This will be my pack of choice for multi-day treks. Be aware it is only 30 l capacity, so if you're looking for a multi-day pack to carry all your gear plus a sleeping bag and tent this might be a bit small unless you're going ultra-light. I will not replace my alpine pack with the Speed Lite because of the lack of effective ice tool attachments. But for spring, summer, and fall outings requiring a 30 l capacity, the Speed Lite is my new favorite.


I see the loop on the bottom of the pack...
I see the loop on the bottom of the pack - how does the top of an ice axe attach to this pack? Do you thread the top of the shaft under one of the compression straps or something? The description says it has two loops and I only see one. I am also curious what kind of closure it has under the top pocket - is it one of the extendable double skirts?
I think you're right that there is only one ice axe loop on this model, probably a typo as many other Deuter packs have 2 loops. You would want to thread the head of the axe through the loop and the handle would go through one of the top compression straps on the side of the pack. The closure under the top pocket is described as "a large single compartment with a single bucket lid."
Great Pack
Familiarity:

I've used it several times
I got this pack for my girlfriend to use during the summer hiking season. She loves it. I've also been able to use it on some fast summit hikes and I like the ultralight feel to this pack. Very sturdy craftsmanship and quality. I've also used this back East for some ultralight camping and it works like a charm. Pick one up and add it to your backpack stock pile.
Light but also comfortable
Familiarity:

I've put it through the wringer
I love this pack- it?s super light but also very, very comfortable. It?s got enough support and padding to it that you can carry climbing gear or a stove and not feel it burrowing into your back all day. It can handle a heavier load of gear and still keep the weight on your hips. It has triple external straps on both sides that are great for a foam pad, A-frame skis or snowboard carrying, crampon bag, etc. Also the straps allow the pack to expand to its full width or contract to minimal volume when climbing or bushwhacking. There?s lots of space for a long day or two day outing, ax loops for the alpine, and all the hydration, pockets, and features that you want. The Speedlite 30 is an amazingly versatile, light weight trooper, that isn?t just a flimsy bag with two straps thrown on it..
Great Alpine Pack
Familiarity:

I've put it through the wringer
I love this pack for alpine climbing or single day activites. For alpine it fits everything I need for a day on the side of a rock. Its light so I can climb with it. enough extra pockerts for easy access to snacks water, etc. Big easily accessible front pocket/pouch.



For all the reasons it makes a great alpine climbing pack it makes a great day hiking pack. Its light, can fit all you need for you and a friend in one pack.



This pack also happened to be my around town, creek, and Craig pack!



I highly recommend this pack!
Would this pack compact enough to pack in...
Would this pack compact enough to pack in a larger overnight pack? I'm looking for something that will work as a day pack from base camp. Thanks.
It wont really "pack" down but what I do is roll it and shove it in the bottom, or put it flat behind or in front of my hydration pack so it just kind of acts as an extra wall. But packing it would deform it for a while which me personally am not a fan of but rolling I have found doesn't hurt packs! Hope this helps you:)
I bought this pack to be used as a daypack and have used it on several quick ascents up the Grand Teton and surrounding area. I have also used it as my backcountry ski pack. It serves both purposes extremely well. I have the Deuter ACT 65+10 also and this pack feels almost identical when loaded (which is REALLY comfortable!) It is well made and able to be tossed around without worrying about breaking buckles and tearing. Skis load nicely on the pack as shown below without compromising comfort. I am a Deuter fan! and a Backcountry fan too!
This pack meets all the needs of a daypacker and worked well for me as an overnighter, too, holding a sleeping bag, sleeping mat, four days days' worth of clothes, flip-flops, water bottle, flashlight, hat, mini toiletries, first aid gear, map, journal, trail snacks, etc. (Hiking buddy carried the tent, though.) All the clips, straps, pockets, and convenient mesh pouches you'd need, and very comfortable and secure padded straps and load lifting system. Chest clip and hip belt are comfortable essentials, and these make the bag--even fully loaded (mine weighed about 28 pounds)--feel like the easiest part of a strenuous hike. Hands-free hiking, no shifting, no pulling, no tugging, no aching neck, shoulders, or lower back at all.
I'm an ultralight (20lbs with food and water) backpacker. This pack is perfect at that weight. You can barley feel the weight on your back with the nicely paded straps, load lifter straps, and a really useful and comfortable hip belt. The back breaths well and the packs compression straps keep it very stable and close to your back. If you keep your pack weight below 30lbs this pack is perfect. Also back county.com sent it very fast. That was nice. There is a good review at backpacker magazine thats pretty good. They said its perfect too.