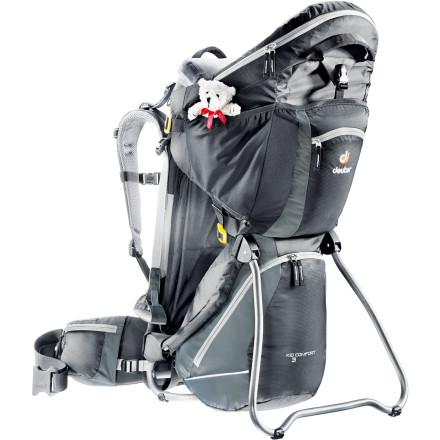 Colors

Detail Images

Videos

Community Images
Description
So big you can almost fit two kids in it ... but don't do that.
The Kid Comfort III from Deuter is a highly engineered kid carrier that provides superior comfort for you and your child on long day hikes or quick adventures in the city. The adjustable back system and pivoting waist-belt on this kid carrier mean you can really go the distance without ruining your back or losing your balance, while the included teddy bear helps your kid go the distance without getting bored. The III is the biggest and burliest Kid Comfort carrier in Deuter's line; while you can't carry more kid, you can carry more stuff along for the trip.
The Varifit adjustment system allows you to customize your fit by making individual height adjustments, which is good for both parents. Aircontact system uses an anatomically shaped X-frame for support. The padded hip-belt and aluminum frame provide support and proper weight distribution. Two handles aid in putting the pack on or hauling it in and out of your car. In case you need to set the carrier down (with or without your kid in it), the fold-out aluminum stand is directly attached to the frame to support the carrier on level surfaces. A large lower pouch and small mesh side pocket are ideal for diapers, snacks, and bottle. Make sure you stay hydrated when you are porting your precious kid by utilizing the hydration compartment.
The only problem with the III is that the passenger might not want to leave the cockpit. The Kid Comfort III keeps your little one protected with its integrated sun roof and rain cover into the high back headrest, which means that your kid stays happy. This carrier has a 5-point harness secures child with cushioned straps and easy-to-use buckle that makes getting the little one in and out easy. The height-adjustable seat permits use with babies and toddlers (babies should be able to hold up head before riding in carrier). You can vary the distance from the frame whether your kid is upright or sleeping with the adjustable shoulder/head pads. The head pad lets your kid sleep soundly and even catches stray drool―there's even a detachable and washable dribble pillow just for that.
Varifit adjustable shoulder harness
Aluminum frame with fold-out stand
Aircontact back system, Veriflex padded hip-belt
Hydration compatible
Adjustable 5-point child safety harness
High back headrest with integrated sun roof and rain cover
Side entry child access
Adjustable shoulder/head pads
Detachable/washable dribble pillow
Height-adjustable seat, breathable seat cushions
Large lower zippered cargo space and small mesh side pocket
Maximum carrying capacity 48.5lb
Ellis Christopher doing some volunteer work with his Dad and our Gearhead Operations VP.
Looks comfy, aye?

With this Volunteering duty it was a lot of bending down and over pulling out some invasive species. This guy was secure and there was no concern of him toppling over. He was set and looked comfy. Apparently enough to konk out, hard.
sleeping baby
Familiarity:

I've used it several times
My kid and I love this carrier. He falls asleep in it all the time and it's comfortable enough for me when he's knocked out. He's even fallen asleep while hiking in the rain and snow. I love the attached rain/sun canopy and the attached bladder pouch. Im not sure if the other carriers have the face guard, but it is crucial for the kid to fall asleep comfortably. My kid gets sick of being in the backpack after two hours--I'm hoping to get 4 hours out of him this summer. I've used it multiple times weekly since this fall--on trail on the weekends and around the block to the top of the hill during the week. Not quit "through the wringer" but more than "several times".
Hiking, check. Backpacking, check
Familiarity:

I've put it through the wringer
Great carrier, more comfortable when active than our Ergo, for both parties.

Once your LO has perfected neck control you're good to go. We used from 6 mos with our son. He was too short at first for the pillow to work well so we would cushion with a sweater or rig some other make shift pillow down below his face.

Came with a plastic mirror that tucks in the hip belt so you can check on your LO without removing the pack.

Lots of cargo space.

Hydration pouch can be hard to get a full reservoir in/out of and will put a good bit of pressure on the pouch.

Carries LO pretty far back so seems to amplify weight just a little bit when compared to equal weight loaded in my normal backpacks but still the best carry option I've tried for hiking/backpacking.

Bulky to store.

Easy to adjust to my wife or I.

(Pictured: my wife and son @ 9 mos backpacking)
Comfort=Key!
Familiarity:

I've used it once or twice and have initial impressions
Man, this kid carrier is SO comfortable for not only Mommy or Daddy, but for baby too!!! I didn't take it on too long of a hike yet, but we did go snowshoeing with it, and it was amazing. It in the right spot on your back/hips/shoulders to evenly disperse the weight so you don't feel too loaded down or top heavy, it is just the perfect feel.

It was so comfortable for baby, he fell right asleep... may have been a little awkward looking position, but hey! anything to put him to sleep :)
Durable and comfortable
Familiarity:

I've put it through the wringer
This pack is our most used piece of gear since having children. The pack has been through literally hundreds of dayhikes and multiple overnight backpack trips and is still going strong. Our kids love riding (and napping) in it and it is comfortable for us to carry (as far as carrying a backpack loaded with a little person can be).
Deuter Kid Comfort III Carrier
That backpack is awesome
Familiarity:

I've put it through the wringer
The pack is great. It is very comfortable and rides well with the kid on board. It is very stable on the ground with the kick stand. My son loves riding in it and it is comfortable enough for him to fall asleep in and he usually can't fall asleep any where but his bed. The pack is very adjustable and fits people of all sizes. I highly recommend this pack.
Yay! Free stuffed animal!
Familiarity:

I've used it several times
Deuter makes one of the highest quality, feature rich kid carriers on the planet. This pack is stable in rough terrain and has a solid loading system, essential for keeping the goods stable when you make the big move. One of the more impressive features of this pack are the straps and hip belt. Very well padded and adjustable.
Best for toddlers post-18 months
Familiarity:

I've put it through the wringer
After having raised one kiddo scaling up mountains in Glacier Natl. Park with a Kelty Kid Backpack from the early 2000s, I was on the look out for the best pack for my second little one years later. We chose the Deuter Kid Comfort III because our old Kelty had a sunshade and big storage capacity, which is key if you are doing anything even 400 feet from the car in the mtns?room for diapers, wipes, change of clothes, warm coat, water, a toy, sunscreen, bugspray. The Deuter iii offers this plus is much more comfortable for the kiddo's bottom than the older Kelty's were. There is a memory foam like seat & pillow to the Deuter iii. Extremely comfortable for the wearer too, like a nice backpacking pack, though of course you'll always feel like a mule hauling a child on your back up mountains & your hips are bound to get bruises/rub marks until you get a bit of a callus. Anyhow, the only negative is that this pack is really too roomy for infants. We tried to hike my little one last summer when she was 10mo.-12mo. and the straps (even adjusted down to their smallest & with the pillow taken out) always seemed compromising to her airway. She'd slump off to the side. We even tried putting things under her bum to lift her, which helped some but didn't feel super safe. Now, we're a summer later, and she's 22mo, 30 pounds, almost 36 inches tall and this pack is absolutely ideal. She's incredibly happy in it, has no problem with the straps now in anyway. We ended up being happiest w/ a Tula front pack for toddlers last summer & over the winter until she was big enough for the Deuter iii. One other bit of info I would have liked if you're new to hiking w/ kids is that you'll need another person carrying a small pack with your food and your stuff, as only some of your own things will fit alongside the kiddo's things even in this bigger pack. If you're in a mild climate maybe no big deal, but in mtns. w/ considerable mileage you'll need more room w/ weather changes.
built in sun roof