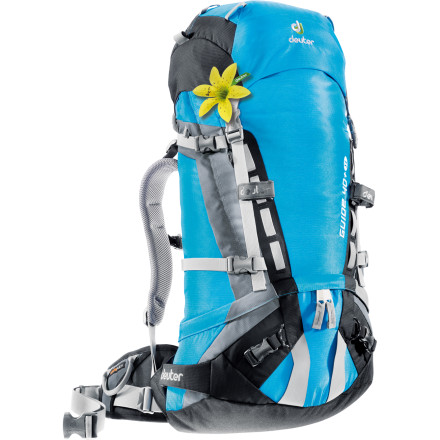 Detail Images

Videos

Community Images
Description
For ladies who ski big lines and climb even bigger mountains.
Designed as the perfect ski-mountaineering pack for female athletes, the Deuter Guide 40+ SL Backpack combines every feature needed for technical climbing and skiing with an SL fit system that is completely tailored to the female physique. The Variflex hip-belt pivots with your body's movements, allowing you to maintain balance while swinging ice tools or making fresh tracks. Wide ski slots make it easy to carry your boards, and the side-access zipper allows you to grab your puffy without dumping everything out in the snow.

Alpine Back System provides the durability and comfort for technical climbing and skiing excursions
SL women-specific fit system tailors the entire pack to fit female athletes
Variflex hip-belt pivots to follow your movements, allowing you to maintain balance while climbing or skiing
Air-channeled foam strips reduce contact with your back for enhanced ventilation
Removable foam back panel can be used as sitting pad
Aluminum X-frame provides the necessary support for heavy loads up to 40 pounds
Top access allows for easy packing
Side-access zipper allows you to get gear without dumping everything out in the snow
Bottom access with internal zipped divider allows you to separately stow wet or muddy gear
Top lid has an optional strap for easy rope storage
Hydration-compatible system allows for convenient thirst quenching (reservoir not included)
Internal lid pocket can safely stow valuables
Hip-belt gear loops keep climbing gear close at hand
Wide ski slots provide a secure vertical ski carry system
New-school attachment points allow you to securely stow leashed or leashless ice tools
Deuter Guide 40+ SL Backpack
Solid pack perfect with a few tweaks
Gender:

Female

Familiarity:

I've used it several times
I bought this pack for my backcountry ski adventures and for shorter multi-day tours after it was recommended by a friend. We both have the same pack actually, and took them out on a three day adventure over the weekend. Overall this is a great pack ideal for ski mountaineering. Here's the break down of pros and cons:



Pros:

-Super water proof, even in the soggy North Cascades

-Really easy access with the side zip for quick access to the guts of the pack

-Easy to pack, zip, and wear

-Perfectly designed ski/splitboard carry

-Durable material with rugged, easy-to-close zippers

-Comfortable-enough carry with breathable back mesh

-Large brain with easily adjustable straps to increase/decrease overall pack size



Cons:

-Lacking in any sort of small, easy to access pouch where you can store snacks, etc. Would love to see something on the hip-belt.

-Both of us had trouble getting this to "sit" properly on our hips. It felt like a majority of the weight, no matter how many adjustments we made, went to our shoulders. The weight limit is definitely around 35lbs.

-The hip belt seemed to loosen itself over time

-My friend added some cord on the outside of the pack for easy skin carriage. I recommend doing the same.



OVERALL ASSESSMENT: Great pack for lighter-weight tours and single-day trips skiing in the backcountry. Would also be a great backpacking or climbing pack for a day on the trail or at the crag. If you can add cord on the backside through the gear loops to hold more gear and find a small pouch to affix to the waist belt you'll be better off.
Is the bottom compartment permanently...
Is the bottom compartment permanently separate or can the two areas be joined together?
An easy zipper separates the compartments, so they can be all one area or divide into two.
I am looking for a bag that is large enough...
I am looking for a bag that is large enough to carry supplies for (easy, as in hostel-visiting, train hopping) back packing through Italy for 2 weeks this summer. I am only bringing enough clothing for about a week or maybe less- i want something that is safe and unlikely to be broken into by hands on trains etc...I am also unsure about sizing since this is of course a womens bag (which is what i'm looking for) but i was also told i'm a size Small in the sizing for bags..would this bag be too large for my body type? also, it doesn't look like it comes with a rain guard..can someone clarify? Thank you!
Hey Chelsea,



With out knowing exactly what cloths and gear you are bringing its hard to say exactly the size pack you are going to need but this 40L pack is probably on the lower end of what I would suggest. My guess would be, especially if you are hauling your own sleeping accommodations, that you could get away with a 50L-60L pack. As far as security goes that's really going to depend on your own attentiveness unfortunately. Fit however is the easy part. I strongly suggest you get your torso length measured (c7 vertebra to the top of your hips) and base sizing off of that. This pack in particular fits a 15-19 inch torso. Finally, this does not come with a raincover so you would have to pick that up separate.
Where/how would you suggest I carry my...
Where/how would you suggest I carry my shovel and probe? Thanks very much.
Best Answer
Hey Sarah,



Without a dedicated avy tool pocket the main consideration here is speed of access. I would likely put the probe alone one of the edges against your back and the shovel with the blade contouring to your back and some spare jackets or clothes between it and your back. The reason being is that the shovel directly against your back can hurt or injure you if you take a hard fall on your back with nothing in between. Lastly whatever orientation you choose for your tools, practice deploying them quickly and calmly in as close to a real life situation as you can find.
I got this pack primarily for single-to-few-day ski tours and ski mountaineering. However, after my first ski tour wearing this pack I think I'm in love and will likely use this for summer backpacking and rock climbing as well. The thing that really stood out for me was how comfortable this pack is to wear. Skiing uphill the pack sat well, had no pressure points or awkward chafing, and the length of the torso and shape of the hip belt felt great. On the way down, it felt super stable and secure, and didn't swing around in the turns. Out of the ~10 outdoor packs I've owned over the years, this one is far and away the most comfortable I have ever worn. Deuter has won many awards for their women's fit, and I can see why.



The construction seems very durable, and the features are thoughtfully designed. I really like the side zip in the main pouch so you don't have to dump out your whole bag to get what is on the bottom, and the separate bottom compartment is also really nice to help keep your stuff sorted. My boyfriend got the Deuter Guide 35+, and he is quite jealous of the bottom compartment in my pack. :)



As for size, it is bigger than you need for a single day ski tour (though it cinches down nicely), and it would be a bit small for multi-day tours if you were carrying a tent. I would say it is the perfect size for single day tour where a rope, rack, and ice tools are required.