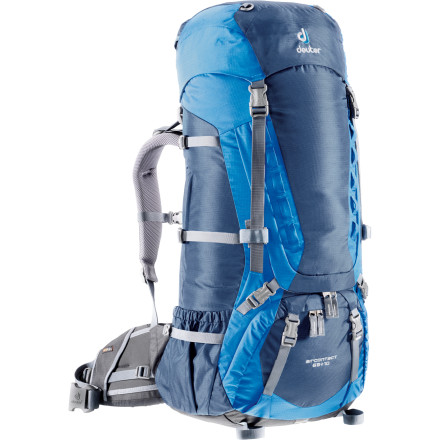 Community Images
Description
A pack that's ready to play hard.
Deuter's Aircontact 65+10 Backpack combines tough construction with intuitive technology for a weekender pack that is as rugged as it is comfortable. Deuter's proprietary AirContact back system manages moisture, pressure, and comfort for extended use.

Aircontact system uses an anatomically shaped X-frame for support
Variquick adjustable shoulder harness helps you quickly find the optimal fit (adjusts from 16-21in)
Ample pockets keep your essentials organized and at the ready
Hydration-compatible design for less stops so you can get to camp in time to enjoy the sunset
Multiple access points help you get at your gear quickly
Integrated rain cover keeps your week's worth of clothes and gear safe and dry
Deuter
Familiarity:

I've put it through the wringer
You know if you aren't into the whole brevity thing.....Most comfortable bag I have ever used. Just finished backpacking through GNP around 40 miles over 4 days and I have never had a better experience with a bag. I had roughly 50 lbs in it most of the time and the sleeping bag was ample enough for my synthetic 20 rated bag and Aircore Sleeping pad. The gear loops work excellent when paired with some gear ties and/or bungee chords. I also got completely dumped on with rain the last night and left the pack OUTSIDE of my tent to test the included rain cover. Come morning, my pack was completely dry and it worked great. highly recommend it.
load hauler
Familiarity:

I've put it through the wringer
if you are looking for a pack that will haul way to much weight and do it as comfortably as possible, this is the pack for you. super suspension, lots of adjustments, great compression. it will take whatever you throw at it or in it, without splitting zippers , destroying seams, or poking holes in flimsy material. this is a pack that will last.
comfortable and durable
Familiarity:

I've put it through the wringer
This backapck is a bit on the heavy side, no ultra light nonsense. Big zippers, durable material. It has an astonishing weight distribution, makes heavy load feel nothing. The hip belt is the best I have ever tried and the whole pack is very easy to adjust to any different body type.

Good to have the raincover, I honestly hate companies that don't provide us with a built-in raincover. The top compartment is a bit simple, I could imagine it with some more pockets inside. Very important detail is that the side pockets are still usable even when the bag is fully packed.



All in all, it is a fantastic backapack, real heavy duty stuff, very comfortable, very well designed and guaranteed to last for years and therefore worth the money very well.


Hi. I'm looking to buy a Deuter backpack...
Hi.



I'm looking to buy a Deuter backpack but I'm worried about the fit. I'm 5'7'' and 121 pounds. My torso length is between 17'' and 18'', and my waist between 28'' - 29'' (yeah... quite skinny). I've had problems with backpacks before because I wasn't able of tight enough the waist belt. I'm a climber and mountaineer so I have to carry a considerable weight for several hours.



I would like to know if this pack can fit me (especially the waist belt) or if at least the Deuter's "SL" line would do it better. If not, What other backpacks similar to this one would you suggest? Something like Osprey or Arcteryx?.



Thanks.
Some (perhaps even most) backpack companies will send you a replacement waist belt if you simply call them and ask. So you might consider identifying which pack you're interested in and then call those companies and see if they are willing to switch out the belt. That way you can pick the pack you want, in the correct torso size, but still know you can get the right belt size.
DEUTER Aircontact 65+10 Backpack
Familiarity:

I've put it through the wringer
It held up really well, the straps were great and the hip belts works really well we hiked an average of 70 miles in 11 days. but the sleeping bag compartment was to small and hard to get the sleeping bag in. could of have a little more extra pockets. All in All it held up great for my son's Boy Scout Trek to Philmont Boy Scout camp.
Good pack for Medium loads
My cousin let me borrow his bag for a few weekend backpacking trip to try it out before I bought one. I liked the bag for a number of reasons. First it's probably one of the most comfortable bags I've used. The padding on both hips and shoulders are great. It also has awesome storage options to stay organized. Third is the expandable top that adds the extra 10L which makes this bag more versatile. What I didn't like was that it became pretty awkward when carrying more than 40lbs. The weight doesn't sit as well as other bags that I've used. BC claims that the max weight for this bag is 65lbs and that must be the absolute limits of the suspension. The other thing is that it's pretty heavy, but that's probably from all the padding which makes it such a comfortable bag.
This may be a silly question but is cc the...
This may be a silly question but is cc the same thing as cu in in terms of backpack size/space?




There is a BIG difference between cubic centimeters (cc) and cubic inches

1 cubic centimeter = 0.0610237441 cubic inches

1 cubic inch = 16.387064 cubic centimeters
Excellent Pack
Gender:

Male

Familiarity:

I've used it several times
I tried one of these packs out at a conference where Deuter had a demo stand and fell in love with it. I"ve had it for 6 months now, used it on several week long and weeekend trips and couldn't be happier. Its held up great, good amount of storage pockets, easy access into the pack, and the included cover works great, keeps everything dry. I've tried several different brands and makes of packs before, and this is by far my favorite and most comfortable. Definitely recommend.
Can I lock this pack up w. luggage locks...
Can I lock this pack up w. luggage locks like Master makes? I hope you know what I mean. This looks like a great pack. I had to return an Osprey because there's no way to lock the zippers together.

Thank you,

daethyme@gmail.com
Sorry to say, I don't think you'll be able to do so. This is, however, a great bag, but maybe it's just not what you're looking for.
I've used previous generation of this pack (2007/2008, it had single daisy chain).
All I can say... It is good, but this one is MUCH better:
http://www.backcountry.com/deuter-aircontact-pro-7015-backpack-4271-5186cu-in#review_200161994