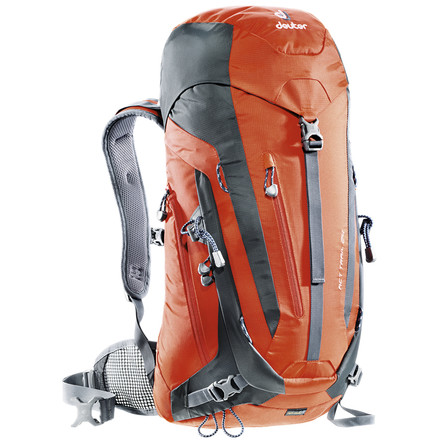 Description
Deuter's all-around adventurer.
Deuter's ACT Trail 24 Backpack follows you on any outdoor adventure whether you're hiking, climbing, skiing, or touring. Its AirContact Trail suspension system evenly distributes gear across your back. It also features stabilizer straps, a flexible frame, ventilated channels, and breathable 3D AirMesh padding at the shoulder straps, waist belt, and back panel.
There are two access points to the ACT Trail's main compartment, one at the top for packing and another at the front for getting gear quickly. Deuter also added a sleeve for your hydration reservoir, a compartment for dirty clothes, and a rain cover that you can remove for sunny days. There are multiple pockets inside for organization as well, one on the side for a water bottle and another zippered side for security. The loop at the bottom stores ice axes, trekking poles, or a helmet―whatever your adventure calls for.
AirContact Trail suspension system
Top and front main compartment accesses
Hydration system compatibility
Wet laundry compartment
Detachable rain cover
Lid, front, internal, and side pockets
Loops for ice axes, trekking poles, and helmet
Nice day back
Gender:

Male

Familiarity:

I've used it several times
At 6'4", I usually have trouble with small day backs since their frames tend to be too short to allow any hip support on my torso. Consequently, I usually have to carry the weight completely on my shoulders. This day pack is better than most with much more attention given to the hip straps. But as you can see in the pic, the pack still has to ride a little low on my back to make it work. So overall it is definitely the best day back I've used as far as hiking comfort, but I don't want to oversell it for anyone over 6'1" or so. The pack itself is well designed and features an easy to U-type zipper for accessing gear anywhere in the main compartment. Really nicely done day pack.
Fits like a light glove.
Gender:

Female

Familiarity:

I've used it several times
I have the women's version of this, but the main difference is just the shape of the straps, so I thought I would review it on the men's, as well, since there aren't any reviews, thus far.

I've been really happy with this pack. I think the mesh belt is a big stand-out. I loved how well the mesh belt breathed and kept me from getting too sweaty. You sacrifice not having pockets there, for easy access, but it's worth it to me, especially in hot weather. Reaching up over my head, to the top pocket, for my camera, was not a big deal, at all.

Here are some more features that I found really great about this pack:

1) Easy Access to Everything.
It has zippers all over the place, so you can get to the items at the bottom of your pack, without having to take anything else out.

2) Adjustable chest straps.
You can slide the chest strap up and down, so can place the strap where ever you want.

3) Rain Cover.
Of course a rain cover is a plus!

4) Hydration compatible.
It has on interior mesh pocket for a large bladder, and one exterior pocket for a large water bottle.

5) Stays put.
My adventures always take me to rock that I need to climb up. This stays right in line with my body, and doesn't swing, lean or fall forward, throwing me off balance. The water bottle never slips, either.

6)Active Shoulder Straps.
When I moved my shoulders, either by walking or scampering up rock, the pack will stretch ever so slightly, with you. So, you don't feel like there is the weight, resisting you and pulling you back. That will also help you keep in a more natural and healthy posture.

7) Easy to use and secure trekking pole holders.
I put my GoPro Selfie stick on there, since I didn't have trekking poles, and it was very secure.

8) Roomy.
I took a fleece hoodie, rain jacket, sunscreen, lunch, 3L hydration bladder, water bottle, portable speaker (which is pretty big, 7x 3.75 x 2.5 in) and I still had plenty of room for more. I didn't even pack my jackets nicely. I just stuffed them in.

In summary, it's a very comfortable and useful pack. Hit me up if you have any more questions:

Emily Jenson
Expert Gearhead
801.746.7587
ejenson@backcountry.com