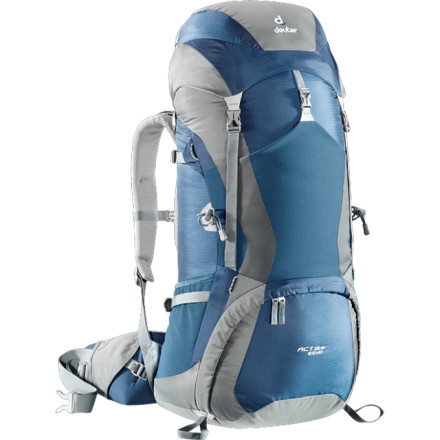 Videos

Community Images
Description
Another excuse to take a long weekend.
The Deuter Act Lite 65+10 Backpack's Aircontact Lite system supports heavy weekend loads while providing continuous airflow and a comfortable fit. The anatomically shaped X-frame distributes weight equally on your shoulders and flexes with your movements, so you can focus on the hike instead of your pack.
Contoured shoulder straps cushion and support
Vari-Quick System adjusts for a customizable back length
Bottom compartment access with internal zip divider keeps your stuff organized and easy to access
Hydration sleeve lets you drink without slowing down
Pockets on the front, side, and hip belt allow easy access to extra layers, sunscreen, and water bottles
Share your thoughts
What do you think of the
Deuter
ACT Lite 65+10 Backpack - 3970cu in
? Share a...
Hi everyone! I'm from Argentina, Bs As. I´m traveling next year to nz, Australia, South Asia, for like a year at least. I'm 1.72mts, 60kg, do you think it would work right for me? What about the size? Would you recomend it for a year trip? Thanks a lot!
oh, and i'm a women! size would be okay?
I just tried this pack on in a store today! I'm a bigger gal ( 5'10" and solid rugby player). I'm about to buy this pack to go out to Montana for a conversation corps. I really liked this pack, it sat really nicely on my hips and had a lot of solid padding for the back and shoulders to endure carrying a lot of weight for an extended period of time. It's one size fit all but I was able to adjust it to my torso length and have it feel sturdy. I definitely think this would be a wise investment for a 1 year excursion abroad, it seems like it can take a beating and still hold up.
Buy this backpack
Familiarity:

I've used it several times
This pack is sweet. I have a 40 L Deuter pack and I was looking for some extra space for longer trips. This pack is huge, super comfortable, and ultra stylish. Only bummer is that it does not come with a rain cover like other Deuter models. Get this pack and #takeahike!
Deuter ACT Lite 65+10 Backpack
First big bag I have bought
Familiarity:

I've used it several times
And I love it. I bought it for going away on weekends to make sure I had enough room but I honestly mostly use it for one day or two day climbing trips which it is great for. While you can certainly use a smaller bag (around 40 liters?) for all your climbing gear I like this because when we are moving around at the crag I can just throw it all in and it easily fits and I don't have to carefully pack it to move ten minutes away. If it is under pack, I just tighten up the straps and the bag is so light it's no issue. I have yet to find a situation where I did not have enough room. I can easily fit a sleeping bag, my hammock, climbing rope and all climbing gear with plenty of room to spare.
Does it need a pack cover? The material...
Does it need a pack cover? The material seems highly water resistant, and all zippers are covered well. As long as you're ok with stuff in the 3 mesh pockets getting wet, seems not needed.
Best Answer
A pack cover would help keep things dry inside but, in a rain storm its going to be wet inside the pack somewhat. I think its better to skip the cover and make sure everything inside is in waterproof bags. Everything that needs to be waterproof of course, the sleeping bag needs that but not pad, etc.
My first pack since Boy Scout days.
Gender:

Male

Familiarity:

I've used it several times
I am 58 years old and I started backpacking last summer. I hiked through the White Mts of NH. I visited four huts and one 5000 ft peak over four multi day hikes. This pack held all my stuff. Hydration bladder, sleeping bag, stove/ cook pot, extra clothes, lightweight shelter, food and you name it. It was not easy hauling 25 to 30 lbs up and down the trails of NH at my age but it was not that bad. This pack has a comfortable and adjustable suspension system. I never felt off balance . Not even while climbing the four steep scrambles on the Old Bridle Path on the way to the Greenleaf Hut . I like the one big compartment with the bottom sleeping bag door. The lid has two large pockets. I wrapped some shock cord through the eyelets on top of the lid. This held my hat when not in use.The water bottle pockets are better at holding hiking poles or tent poles.The centerline expandable mesh pocket will hold all sorts of stuff. I used it for my rain jacket. I recommend this pack to anyone.

Is this pack a true 65 liters + the 10...
Is this pack a true 65 liters + the 10 liters on top of the pack=75 total liters? Or is it a 55 liter pack + the 10 liters on top=65 total liters?
Best Answer
65+10 always means 65 liters without the lid. the lid is the plus 10 liters.
Spent 4 years on the road and trail
Familiarity:

I've put it through the wringer
I hobo'd and hiked from Northern Utah to Florida in this bag and it was my road dog. I'm 150 lbs and regularly carried 70 lbs. There was some serious wear on the face, the fine mesh wore through, and I find the prongs on the clips a little under built, I lost two on the road to minor bumps and had to tie my straps. The fully zippered bottom compartment is a feature I found Unbelievably useful for wet, muddy, dirty gear/clothing. The back is very good in super hot weather. The bag was stolen, and I replaced it with the exact same model.
What is load limit for this pack, how it...
What is load limit for this pack, how it would be comparing to Osprey Aether 70 in view of load transfer/rigidity/durability.
Hey Tim, the load capacity on this pack is 50lbs, while the Aether 70 will be around 60lbs. The Aether will have a more burly internal frame and a low profile back panel. The ACT Lite has a breathable mesh back panel that is adjustable. That being said the Aether puts you closer to the load and should be more stable. As far as durability goes both use similar materials in their construction and have a lifetime warranty should anything fail.
Best Answer
Dug, hi!
At the moment I have Lowe Alpine 55-70l ND TFX-10, which I found very comfy for big loads(tried with upto 30kgs), but pack is overloaded with features useless for me and therefore weights 2.65kilos, I would be happy to replace it with similar lighter pack of little bigger volume (75l is quite good for my needs) with less features. It is my workhorse for winter trips (loads are 15-25kgs). What I want is a lighter pack with vertical load, made of hard dynema, posibly watertight, with good rigidity and suspension/cusion, constrcuted for heavy loads upto 25kgs. The only options at this moment are:
1)Lowe Alpine TFX Expedition 75-95
-suspension is same damn good TFX10 which I know well and sure that it will take any load I can demand from it, however I will not ever carry again 70lbs, capacity of 55lbs is quite enough for my needs.
-lack of Osprey's pockets
2)Osprey Aether 75.
-all these front/down entrances not needed, this pack could be lighter
-not same durable dynema
-like pockets
-not sure it can easily handle 55lbs comparing with TFX frame

Are there any alternatives to above LA TFX Expedition pack? Regret that Osprey doesn't make "simple" packs with one entrance, made of dynema.
My go to pack for extended trips!
This is a very comfortable backpack with TONS of storage. It has served me well on many trips. Air flow on the back is good. Suspension easily handles heavy loads.
Great pack
Gender:

Male

Familiarity:

I've put it through the wringer
Pros: Comfortable
Good air on the back
Great, sturdy fabric
Plenty of room - that is compressible

Cons:
Side pockets are unreachable (at least for me) while it is on
Only one hip pocket

I had the opportunity to try this on before I bought it, and that saved me from spending more on a less comfortable pack. As soon as I put it on I knew it was the one. The adjustable harness gets it sized perfectly and will allow me to hand it down to my son when he gets older. Would be even better if their was one more hip pocket and if the H2O hose opening was of to one side - it tends to poke me in the back of the head right where it comes out of the pack.

UPDATE......................................
I've got about 100 miles on this bag now and I love it even more now. Has held up perfectly, still fits great, and is very compressible or expandable depending on how much I'm carrying.
Can I ask are the top of the shoulder...
Can I ask are the top of the shoulder straps fairly wide apart as I am a bit of a large chested broad shoulder guy. Many of the packs I see are made for skinny lanky guys although they may be tall their shoulders are not as broad as mine. I find most packs the shoulders straps a bit narrow on me cutting into near my neck muscles as apposed to riding more on my shoulders themselves. Could any one give me a measurement of the shoulder straps distance between the two straps at the top? Greatly appreciated.
Best Answer
The straps at the top are 11 inches apart

Is the sleeping bag compartment separate...
Is the sleeping bag compartment separate from the main compartment?
Best Answer
yes, there is a zipper allowing to open and close
My father uses this pack, but I have no shame in borrowing it either. This pack can fit a very large range of bodies. It's very adjustable and much easier to do than say, my Osprey Aether 70 (awesome pack). I would say that this pack is just as good as my Aether 70 but for a lot cheaper. I like the hip-zip-pocket on this bag too.

However, one of the straps did rip off on the first trip. I'm not sure if it was Dueter's fault here or mine, but I'm not too upset.
took this bad boy on a backpacking trip over labor day and it was great. stuffed a whole campsite in it pretty much, including the mallows and grahms. the adjustable back strap is pretty clutch too
This pack fit great (I'm 6'1, athletic, and used the second-to-highest setting). It was really easy to adjust, and the sleeping bag compartment made it really easy to get to items at the bottom of the pack. The feel was balanced and the padding made me barely notice my shoulder straps.

This was the first Deuter pack I've carried, and I'm definitely a fan now.