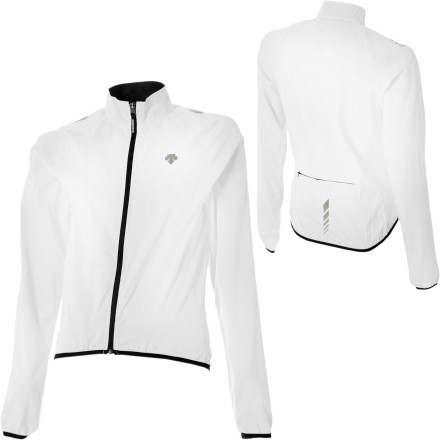 Detail Images
Carrying around a bulky jacket after the afternoon sun heats the day is a pain, so drop the bulk with the Descente Velom Jacket. Weighing in at a lofty 3.5 ounces, the Velom is like carrying next to nothing until it's time to keep you warm, and this jacket won't only do that; the Velom is water- and wind-resistant and won't flap in the wind on your 50mph descent either.
Fleeced interior collar adds warmth and comfort on chilly rides
Extra long sleeves won't slide up to your elbows when you're hunched over in the drops
Contoured waist prevents the Stay Puft Marshmallow Man look
Got this jacket in black (size S) and I really love it. The fabric is excellent; it's lightweight but warm, breathes pretty well, packs away easily, is water-resistant, has a very large (self-stow) pocket on the back, has nice reflective chevron details, looks great on. The collar and cuffs are well-fitted so provide superb wind protection, and the zippers are very good too. I wear this a lot, both on and off the bike, and have gotten lots of compliments on it.

It's got a bike-specific fit, so it's snug and as with most of the Descente cycling tops I own, it's a little short in the torso in front. I'm 5'4'', 120-25 with a 20" torso and am normally a size S even in European bike clothes, but this jacket does just fit me in the torso (lengthwise), and I could see it being narrow in the hips/short in the waist for some, so if you are curvy or long-waisted you might want to consider sizing up in this. It's a great little jacket, and it's versatile as it looks very smart for casual rides/commuting as well as on longer training rides when you need that extra lightweight protection.
It's a wonderful jacket, it just didn't fit me. It's definitely a fitted product. I am a small/medium in most cycling tops and ordered the small. It was definitely too small for me.
Just got this the other day and tried it on; make sure to size up as the bottom elastic around the hips is unusually tight. The chest and arms are fine, but the bottom of the jacket is cut weird.
Write your question here...ciao! vorrei...
Write your question here...ciao! vorrei sapere i tecnici carrateristi del descente velom jacket-women's, e in addizione i gradi di respirabilita e l'abilita di fermare il vento, il caldo, e l'umidita. grazie!
I sure hope this is a correct translation!

La maglia Velom è impermeabile, antivento, traspirante, elastico ed estremamente comprimibile. Pesa meno di 3 1 / 2 grammi e ha un collare imbottiti.