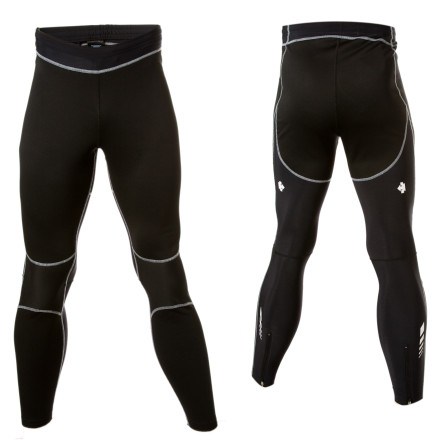 Detail Images
Get protection from winter's wrath with the Descente Shelter Tight. Lined with Thermal H2Zero fabric, the Shelter Tight traps body heat while expelling moisture. The gusseted crotch prevents blowouts and provides a comfortable fit, and the ankle zippers save you the embarrassment of asking your riding partner to help you peel your tights off.
Drawcord waist keeps tights at a comfortable level
Share your thoughts
What do you think of the
Descente
Shelter Tight - Men's
? Share a...
Seems like the initial description of this product got mixed up with another product. Originally it was listed as having a bib. But I could see in the pictures that it didn't. It was also listed as having a chamois. I didn't see any pics detailing the chamois but I still thought there would be one. But when it arrived I was a little disappointed that there wasn't one. After the initial disappointment though I decided to keep them anyway because I wasn't dead set on having some tights with a chamois. And I've got to say I've been pretty happy with the actual product. I'd just been making due with some leg warmers but decided I needed to break down and actually get some real tights. It's certainly a lot thicker than the leg warmers I was using. I was a little worried about the zippers at first. The first time I wore them I had a hard time getting the zippers to zip up. But I think they were just a bit stiff. They're on the back of the leg compared to being on the side with the leg warmers I have. More aerodynamic but it is a little bit harder to reach. But since that first use I haven't really had any problems. I haven't had any chances to use these below freezing. But I've used them with temps in the upper 30's and they've kept my legs nice and warm. So I've got to say I've been pretty happy with these. Because of the initial description I had been ready to drop the star rating down. But to be honest it's not really any fault of the equipment itself. So I decided to give it a four star rating anyway.
Posted on
Looks like I've found another 'flub'. In...
Looks like I've found another 'flub'. In the specs it's listed as having a 'stealth' chamois. But having just received this I can say there isn't any chamois.
Responded on
It's there, it's just "Stealth".
Responded on
Lol, yeah I thought that at first too. But no seriously there isn't any chamois there. Just didn't want anyone else to be surprised when they order it like I did. Anyway the specs were changed so it doesn't say there's one now.