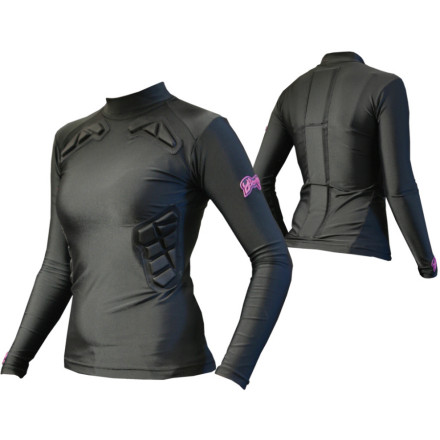 The Demon Snow Women's SKINN Impact Top is high-performance wicking outerwear taken to the next level. Not only does it fit snugly and wick moisture away from your body to keep you dry and comfortable, but it incorporates collar bone and rib padding to protect you in the event of a fall.
What do you think about this product?
Have questions about this product?
A Little Skimpy for Impact Protection
The good - This is a very lightweight skin-type top.

The not as great - The padding is only over the ribs, the collar bone, and down the spine. Nothing at elbows and shoulders.

The equivocal - The padding is very low profile, so it fits under clothes well, but doesn't offer a whole lot of protection.

The fit - a little on the large side, unlike other Demon Snow women's items I've tried.

Since I want to use this for mountain biking, too, I decided to go with another Demon Snow item with more robust protection.