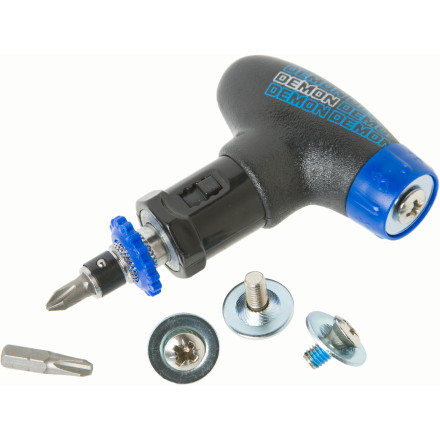 a little large when riding but other than that a must have. great removable screw heads of different sizes, I needed both on my Cartels. easy to use and the extra bolts washers for the bindings is awesome!
first fancy tool i bought. Works good but why not just use a screw drive works just has well.
Unanswered Question
I have one, but I'm not sure how to keep...
I have one, but I'm not sure how to keep the screw head in the tool, any ideas?
Dont leave home without it
standard ratchet driver, but with like 5000x the tourqe, great leverage too when you have to really push down on a stripped screw. only bad part is that the bits rattle around like crazy inside the thing, and that can get annoying.
This is the best designed binding tool. It gives you way more torque than a standard screwdriver, includes diff size phillips heads, fits easily in a pocket. Get one. Every body should have one. Note, this same model is made with lots of different brand names. They are all the same.