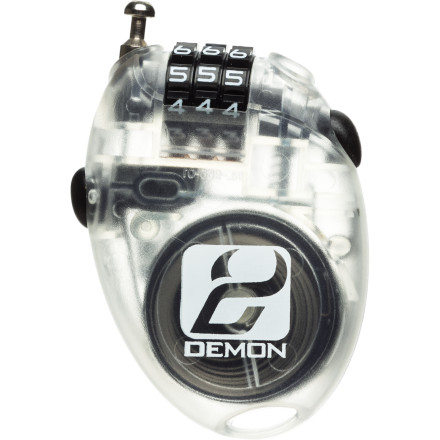 Detail Images
You've saved up all summer. Well, 'saving' might not be as appropriate as 'endlessly toiling' to be able to purchase some new gear, including the crown jewel of your year's purchases—the snowboard. Now, the last thing you want is for some idiot without a conscience to come and swoop it while you duck into the lodge for a condiment salad. That's where the Demon Mini Lock comes into play. The low-profile Mini Lock fits in your pocket without weighing you down, so you don't really have an excuse for not protecting your board.
keeps honest people honest
lets face it. If someone really wants to steal your skis or board, they are going to. But i think that is rare. If they are temped by your brand new gear not locked up, thats a different story. seeing this lock will keep most of the folks who would normally steal your stuff moving on to someone else's unlocked gear.
Good product great price
Familiarity:

I've used it once or twice and have initial impressions
I got this because my friend had his board taken. That is not going to be me. I can lock 2 boards together and then to the rack. This will just be a deterrent so the thief will move on. But it is small and it takes almost no room in my pocket. Worth having. Good buy
how to crack the code if you forgot the...
how to crack the code if you forgot the combination???????????
Buy a newer, cheaper one.
$20 for a lock of $500 for a new board?
Had the Burton version of this - basically the exact same thing but with different logo - for 4-5 years. Worked great, just enough to make a board-snatching dbag move on to the next one that has no lock. It finally crapped out on me, partyly because I believe I mashed it one to many times riding / falling. Of course, it decided to not releases the lock when I had it chained up with my and my bro's boards. Two well placed heel stomps on it busted it loose. A couple people gave us looks, but only because we did a lil dance after freeing our boards.
Does the job like a car-club: why F with a locked board when there's 1000s of unlocked ones lying around? Worth it for sure.