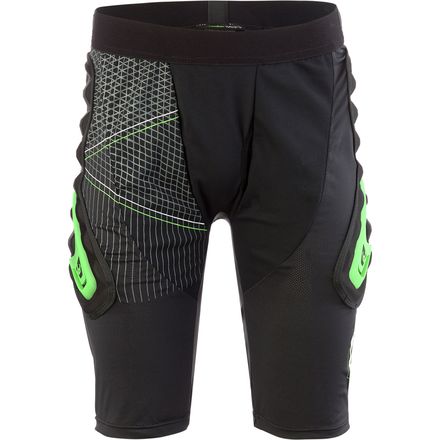 Detail Images
Description
Four-season flexibility with protection on impact.
Insure yourself against the high price of gravity in the Demon Snow Flex-Force X D30 Short Body Armor. Thermoform flexible foam padding on the thighs and hips and heavy-duty D30 material hardens on impact, extending from the tailbone up onto the lower back, so you get protection on impact and flexibility at all other times. Lightweight, snug-fitting Lycra with mesh panels accommodates all four seasons, a rugged elastic waistband keeps them on through the worst crashed-out contortions.
Lycra with mesh panels
Thermoform foam padding
D30 heavy-duty padding
Extended lower back protection
Elastic waistband
Unanswered Question
THE FLEX-FORCE PRO SHORT BODY ARMOUR IS ONLY AVAILALE IN (XD 30 )SMALL, EXTRA SMALL AND XXL. when are you going to stock the XL?
is this the latest version?
Thanks
i believe this is the latest version



http://demonsnow.com/store/Lower-Body-Protection?product_id=265
My back is covered
Familiarity:

I've put it through the wringer
I can't believe it has taken me this long to pick up a pair of pads. While I don't have any other pads to compare them to, I wouldn't regret getting these again.



The S fits me perfectly (~140#, 5'9", 30" waist) with room for a base layer . Like Theo said in the other review, the thigh hard pads are noticeable, but not annoying. The tailbone protector just disappears until you need it. I am a fan of the D3O material. I took a pretty hard fall on my tailbone one day fooling around off a rock on to fairly firm snow and it felt like I fell on powder. I was able to get up and keep going like nothing happened. Where if I wasn't wearing the pad I would have been hurting bad.



The overall profile is on the slim side. I have a pair of S Norrona pants that are slim fitting and the pads take up just the right amount of room. I just have to undo the elastic fasteners on the waist and I am set.



While it isn't cheap, I like the peace of mind of not having a sore bum and being uncomfortable sitting down after taking an unplanned fall on the tailbone. Highly recommended!
Knowing that you're protected, shred!
Familiarity:

I've used it once or twice and have initial impressions
This review comes after trying this, the under armor football padded short, and RED padded shorts.



I find that the d3o pants fit well (S; 130 lbs, 5' 9", 28" waist). Despite feeling the pads on the back of my thighs, I don't feel that it affects my mobility - I've tried jumping, running, and falling onto my butt without noticing any loss of flexibility. Furthermore, I do not feel the presence of the tailbone extension, but I'm sure I'll be glad it's there on the mountain!



The mesh material feels good, the elastic is sufficient to keep it on my hips, and is not too warm, which is perfect, so you can choose the thickness of your baselayer to regulate your heat and not be stuck with whatever the armor has. Unlike the demon snow pants, it does feature a gusseted crotch for comfort :)



The peephole is a tad small for my taste, but you can't have everything.
Demon's New V2 X D30 Shorts