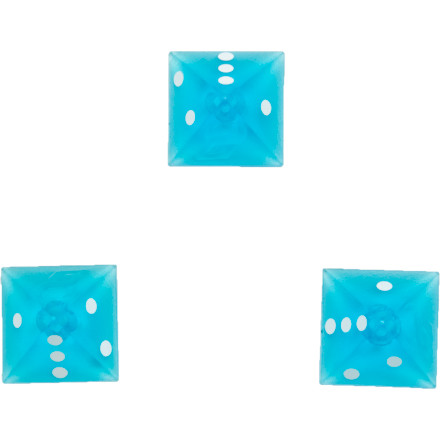 Share your thoughts
What do you think of the
Demon United
Dice Stomp Pad
? Share a...
dude... first only 3??? comon that sucksss... i put these on my board. and within 5 mins 1 fell off.. 1 already fell off AT MY HOUSE IN MY ROOM... and the 3d fell off while i was riding..

sucky sticky stuff on the bottom...
if you can find a way to make them stick with epoxy or something go ahead this look SICK
I put a set of these on one of my son's boards. They're... ok. Probably wouldnt buy them again. There's better stuff out there, but these will work if you are looking for the minimalistic look.
I threw these on after boarding for 3 years without a stomp pad. They're quite big--they're almost an inch tall each, and very sharp tipped--not rounded at all. The height seems to limit the amount of pressure i can put on my edges while skating around. If you're just worried about slipping off when you get off the lift, they'll do well--but look elsewhere if you want to be able to steer with them on.
they suck they fall off quick
i'm pretty sure they fell off on my first run.
Just to let you know you don't get to choose what color you get. I ordered the Dice thinking I would get the white dice but was sent black dice with white dots which didn't look the greatest with my board, but overall the product is great, no slipping.