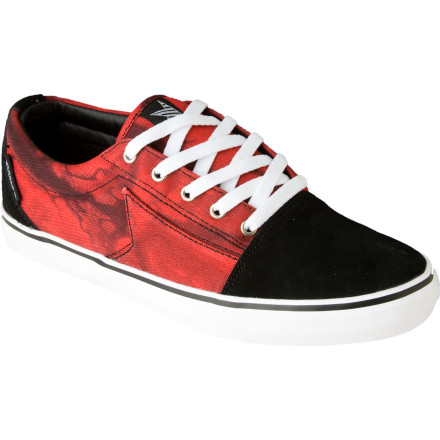 Detail Images
Lace up the Dekline Men's Belmont Skate Shoe, and take the bite out of crime—shred crime, that is. Shoes these days have so many gimmicky air bags, gel liners, and turbo-leveling-sole-adjusters … it's nice to roll in the comfort of rugged cotton canvas and simple vulcanized rubber. Rent-a-cops, cruising fuzz mobiles, and neighborhood bullies can try to rain on your parade, but you'll stay stylish and on point while you Mach around town in a kick with timeless style bred for delinquency.
I grabbed a pair of these because I was tired of skating through vans in a week and I wanted something similar that would last longer. The Belmont is made of the stiffest, most durable canvas I've ever seen on a shoe. Once you break them in they're really comfortable and they last forever considering the material. The sole is good and thick for being vulcanized and still gives you great board feel. I wish there was a toe bumper but that's a minor issue. Overall, the Belmont is a great shoe that I will keep coming back to.
Don't sleep on Dekline, they make solid shoes that are durable and look good. This shoe has held up as good or better than any pair of Vans I've skated in.
These are pretty much the only shoes that I skate anymore. I skate these and I skate my Blye's. Dekline is where it's at! They are super durable and have great board feel. Finally learned how to stomp trades with these shoes. I don't want to buy any other shoes.
The Dekline Belmont is, in my mind, the sleeping giant of the skate world. This shoe is actually really good and comfortable. The single construction toe gives it clean board feel and the sticky gum sole allows your feet to stay on your board. They offer a great fit but you may want to think about sizing up a half size if you like your shoes to fit loose. The one thing I really like is there is no toe bumper so they have a clean look to them. Break them in and wear them out to give them a old school look. These are great if you are looking for something that isn't that canvas shoe everybody seems to be wearing (you know what brand I'm talking about). Snag up a pair. These are great.