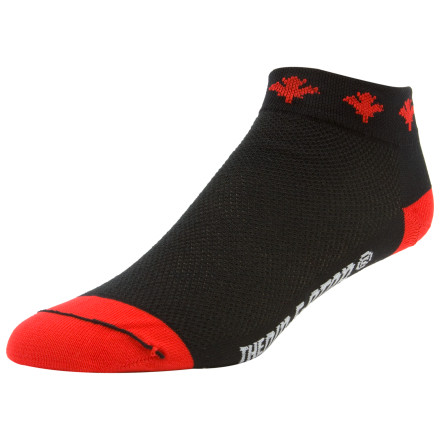 Detail Images
The Defeet Men's SpeeDee Bike Sock wraps your feet in a snug and comfortable shell for your long-distance runs or bikes rides. Defeet gave the SpeeDee sock a close fit to hold your foot firmly in every direction, and its Aireator mesh on the top of the foot to help your feet stay cool and dry. This ultra-light sock dries quickly when you ride through water or rain, enhances airflow and won't bulk up your shoes on your long distance excursions.
a little small on the feet, but defintely a quality riding sock for a great price!
I got a size too small, but they still work fine. They are cool casual socks (I didn't get the I <3 biking ones) and are light for these warm San Bernadino afternoons, when I am not barefoot. I honestly bought them to reach $50 for shipping, but will move them into my sock rotation, because they are a quality product.
Do you only get one pair or two?
Do you only get one pair or two?
, ☃bcs_badge_alumni_label☃
They are sold as just one pair.
I love speed-e socks, always have. I actually have not worn them yet, been wearing my warmer socks.