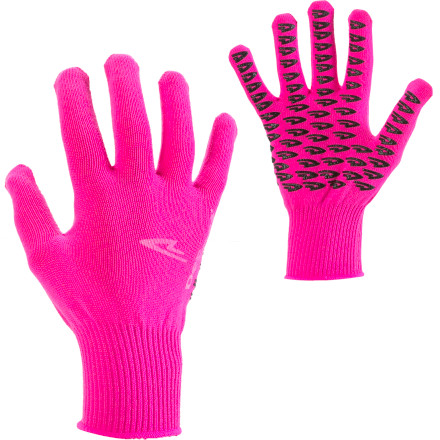 Detail Images
Behold the knit cycling glove. Modest in countless ways, yet popular the cycling world over. DeFeet's DuraGlove isn't blazing a new path the way their socks did, but it is an update on a classic.
Yes, you've seen the glove before. But that doesn't mean you don't have a reason to have a pair. They're inexpensive, durable, and versatile. The knit stretches and the rubber grippers on the palm holds on tight. These gloves can protect your hands from the point of a light chill down to the low 40s Fahrenheit. Some will put on a liner first, the DuraGlove over, and ride these into the 30s. Wear them for running. Wear them walking or even driving.
The DuraGlove is constructed with the classic DeFeet dual knit; CoolMax on the inside, Cordura/Lycra on the outside. The composition is 40% CoolMax, 40% Cordura nylon and 20% Lycra. DeFeet recommends washing the DuraGloves on cold and tumble drying on low, but the big no-no is bleach. Bleach on DeFeet accessories is a bad idea. The gloves come in four sizes -- Small, Medium, Large, and X-Large. The glove sizing works off the measure of the circumference of your hand just below the knuckles. Small is 7-7.5" (18-19cm), Medium is 8-8.5" (20-21.5cm), Large is 8.5-9" (21.5-23cm), and X-Large is 9-10" (23-25cm). If you possess long fingers, you might want to size up. While the gloves stretch, a tight fit is neither comfy nor terribly warm. The DeFeet DuraGlove comes in Black and White.
surprisingly these are still warm even when wet! Maybe not comfortably warm but better than other options... I wear these all the time now and seem pretty durable, breathable, and not prohibitively padded. The grippers are a nice touch. The fingers are very long on these and occasionally get in the way, maybe the gloves would be better one size smaller, but excess space is also where the warmth is.
Nice to Take the Edge Off
These are more style than substance. I have a pair of neon yellow which I wear in the dark early hours with a matching shoe cover and arm warmers. Great for visibility and they look cool. their is no cushion in the glove and great for 47-55 degree cool morning to take the cool edge off.
Day glow is the new black
Unanswered Question
Approximately how thick are they? I'm...
Approximately how thick are they? I'm looking for a pair of gloves that are slightly thinner and more breathable than a regular pair of socks (by comparison). I plan to use them over the summer and need them to be thin and still be able to hold up to usage and washing.
gloves work great for 40 degree weather or more. Hands still felt a little cold, but it's not uncomfortable.

it loses 2 stars because the fit is really weird. the fingers are good (I have long fingers so they don't fit perfectly, but i'm abnormal), but the palm is ridiculously big. it's a little annoying to have palm move around so much.
These gloves are great. Really warm for the weight. I just throw a pair in my jersey pocket on cooler days and know my hands wont get cold. Don't restrict your hands at all, so you can still whip all your buddies in the town-line sprint (or vie for the world championship, http://bit.ly/3Vlgz). Mine have lasted for 3 years so far, and I ride a ton.
good + descent fer the price
cheap, feels nice, good for 35+ degree days. i did wear them in 20 degree weather. cold but not unbearable. not gonna kill the wind and def no gortex but still better then ur basic cotton gloves.
Unanswered Question
The gloves in the photo appear to be the...
The gloves in the photo appear to be the DeFeet WOOL Duraglove, which are dark gray. But the description states DeFeet Duraglvoe -Black. So, is the dark grey wool version available or not?
These are great down to about 40 deg.
I was super skeptical of these gloves. However, they are very nice on those, "not quite that cold" but chilly days. They breath very well, so no sweaty hand syndrome. If it is cold enough to see your breath, you may want to grab another heavier pair for cycling. Super good until it gets down to about 40 deg. Below that they are not the best choice. All in all these are my "go to" for those "swing season rides" in the sun. If you are still in knee warmers then these are the bomb, if you really have to wear tights for a hard ride to stay warm, then these are not warm enough.