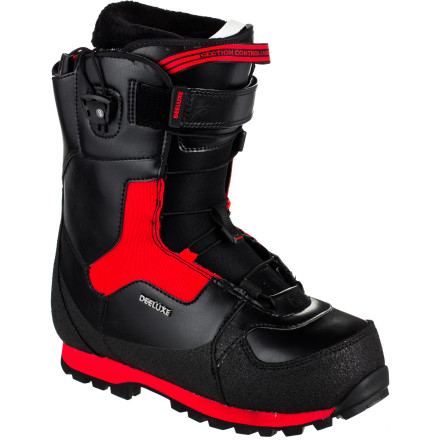 Designed for splitboarding and backcountry touring, the Deeluxe Spark Snowboard Boot is a serious backcountry tool for the serious backcountry snowboarder. The Spark's Vibram outsole looks and performs like it just came off a mountaineering boot. Deeluxe's ergonomic flex zones work with your foot, ankle, and calf for all-day comfort, and unique features like Section Control Lacing, the optional TPS shield, and the hook-and-loop Power Strap ensure a perfect custom fit and feel.

Section Control Lacing lets you lace the boot in three separate zones–forefoot, heel, and calf for a precise fit and easy adjustment, even in bindings
Full-length EVA padding absorbs shock and vibration to reduce fatigue
Dupont Surlyn Highback adds stiffness and support; stiffness can be adjusted with the use of additional included reinforcements
D-Tex waterproof membrane and sandwich construction team up to make absolutely sure that your foot stays dry all day
Vibram outsole designed specifically for hiking, splitboarding, and backcountry touring; no more slipping and sliding on bootpack trails or rocky climbs
Lightweight, thermo-moldable liner with j-bars to draw your heel in and hold it in position
Asym-Flex zones provide support without the boot bulging during flex, and a natural, comfortable feel
TPS Shield (provided as a separate accessory) can be used to strengthen the tongue to provide added support and a stiffer flex
Are the liners to these boots actually heat moldable? Everywhere I look, to include the manufacturer's website have been confusing as to the liner that is included with this boot. The local shop hasn't been much help either as they refuse to even try to heat mold them since they don't carry deeluxe brand.


I have the spark summit and they are heat moldable. Heat molding works great to get that initial shape of your foot, but I reccomend several hard days of use before the boot will start to break in and feel like home.
Unanswered Question
What is the size of these attachments:

http://www.sparkrandd.com/gear/bindings/afterburner/

need for shoes size 28?
Best (only?) option for splitboarding
Familiarity:

I've put it through the wringer
These are (along w/ their next-gen counterpart) the most versatile, durable option for soft boot splitboarding available. I don't ride lifts any more, and I'm just starting my third season in them, which means I've put close to 200 days on them. This is at least 100 more than any other pair of soft boots I've ever owned. They have handled every type of splitboarding/split mountaineering situation I've thrown at them with ease, including miles on dirt trails for late spring/early summer Beartooth missions. After 2 full seasons, there's nothing more than normal wear and tear to them and I believe I could fully get another full season out of them (but I scored a deal on the Spark XVs, so I have them waiting in the closet!).



Only notable difference is that the XVs have a welted heel so you can put a hybrid crampon (i.e. the Black Diamond Sabertooth) on them, and potentially climb steeper ice. If this feature isn't important to you, save yourself some money and get a pair of these!



I downsized about a half size, but like others have said, heat molding the liners (or even just riding them out of the box for a few days like I did) will get you a perfect fit. Also don't think it's necessary to have large calves like another reviewer said... I have very slender legs and it's never been an issue or even a thought.
Unanswered Question
Just curious how much this boot weighs. ...
Just curious how much this boot weighs. I'm sure the vibram sole will make it heavier than most boots (I'm coming from some super light 32s), just wondering how much.
Mega Calves: Spark Boot Review
Familiarity:

I've used it several times
I gave the Deeluxe spark boot a go, figured with the bell to bell resort days, extensive spiltboard suffer festing, mountaineering, and snowmobiling this boot would do it. It looks burly, has a Vibram sole AND is used by Xavier D.....so they gotta work for what I am doing. See the breakdown from below:

Thermoflex Liner, all boots are heat 'moldable' so why Thermoflex? Cause it ACTUALLY molds to your foot. This is not a do it yourself plug and play boot heat set up. Find a shop that does ski boot fitting, pay the 40 bucks, and have them get you dialed with pressure points and the like. Thermoflex liners are amazing, they offer excellent conformity to your foot for support and comfort.

Lacing System, the lacing system is standard pull/lock set up. I found that holding the clip and pushing down on it as you relieve tension on the lace was the best way to get the hold. They hold well, didn't break free, partially due to the power strap at the top taking the majority of pressure away from the actual laces.

Power Strap ? the Deeluxe boots are suited more for people with LARGE calves. If you have a skinny lower leg profile, stay far away from these boots. Reason being, the boot will need to be closed far too much than it is designed for, causing a loss in effectiveness of the power strap, ultimately leading to lace slip. If you are mega calves man, this is your steez.



Stay safe and keep it going,



Tiny Monks.
Mega Calves: Spark Boot Review
Familiarity:

I've used it several times
Vibram Sole, look at that beast, wicked aggressive sole. Pretty awesome if you are going to try and cheese grate them on a snowmobile running board, or plan on doing a lot of mountaineering. I was able to toe into a pretty significant ice layer when boot packing, something most snowboarders would leave a skier to do in hard boots. Furthermore they fit crampons well, so there is no drama. There is however a little down side, well or upside?..depending how you look at it. The sole stops short of the heel, toe and the sides. The actual soft boot kind of hangs over the sole, but why? Leverage, on a skin track you will be able to hold a better sidehill/traverse for sure. Consider it like a binding riser on a ski binding, the taller the binding, the more leverage. Same principal with this boot, however I found that when stomping landings the boot had a tendency to roll forward in the binding. So it actually like pivots/rocks a little under high stress. It is not the worst thing ever, something you have to decide is worth all the other benefits, but the first time it happened I almost went over the bars. Cranking down your bindings will not resolve this?? Trust me. Oh almost forgot, centering the boot is a little tricky because the sole being smaller than the actual boot, but just take your time.

Sizing, I measure a 31 mondo, I rocked a 30. Size down one full size if not 1.5?? The boot will pack out half a size anyways.

I think that is it, the boot has a large profile, seems to be on the fatter side, but they last. Just make sure you are looking like sasquatch below the knee and you should be all set.



Stay safe and keep it going.



Tiny Monks.


Anyone know if these run big at all? I'm...
Anyone know if these run big at all? I'm a US13 and typically a mondo 31 but it appears Deeluxe boots only go up to 30.5.
Best Answer
I normally wear a 9.5 street shoe (translates to 27.5 mondo) but I'm rocking the 27 mondo spark boot and it works just fine for me. The boot was pretty snug to start but this is a good thing as the boot will pack out as you ride it or if you heat mold the liners. I find that when buying snowboarding boots it's best to put your foot in the smallest size that you can fit as they will always loosen up over time.



That being said, as far as mondo point translation goes I've found them to be a little tight. In ski boots I'm wearing closer to a 26.5 in most brands but I don't think that I would be able to fit the 26.5 in the Sparks.
Thanks Chris! I ended up ordering a pair of 30.5 to try on. They were much too tight so I ended up returning them. I contacted Deeluxe and confirmed 30.5 is as large as they make so I'm SOL on the Deeluxe boots. It's a curse to be 6'5" with big feet let me tell you! :)
Down size one whole mondo.