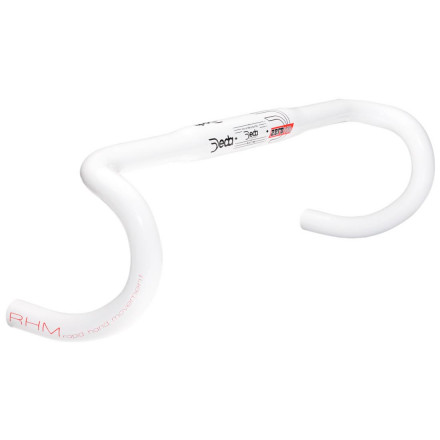 Now available in a luscious gloss white, the Deda Zero 100 handlebar is the go-to aluminum option for folks intrigued by Deda's Rapid Hand Movement (RHM) design initiative. Deda noticed that more pro riders have been raising their saddle in relation to their bars. As a result, it seemed that riders were spending less time on their drops. So, rather than raise the bars, something a rider might be loath to do because she likes the position of the tops for climbing, they shortened both the drop and the reach of the bars. Shorter than a traditional shallow drop handlebar. The position is designed to allow for a super quick change of hand position from the tops to the drops.
This bar is an iteration of RHM that appeals to traditionalists. The drop is a fairly round curve, though the radius of the curve is tighter at the top and increases as it goes down. It isn't quite a traditional even radius that you'd find on Deda's deep or shallow traditional-style drop bars, but it is still fairly round.
Like all Deda road bars, the Zero 100 can have aero bars mounted on the center section. Deda only recommends use of their own aero bars, but others can fit. Deda would prefer people use Deda stems with their bars, but the warranty isn't contingent on the bars and stem being from Deda. They also say that even though Deda measures clamp area of the center section of their bars as 31.7mm, it is essentially identical to other manufacturers' 31.8mm (save manufacturing tolerances). Both are 1.25", just Deda takes the metric fraction 31.75mm and rounds down, while everyone else takes the same fraction and rounds up.
The Zero 100 has 128mm of drop and 75mm of reach. Both are measured outside-to-outside. The bar comes in 40, 42, 44, and 46cm widths, measured outside-to-outside. And, by the way, we also carry the matching white Deda Zero 100 Servizio Corse stem.
The actual weight of the Deda Zero 100 Alloy Handlebar: 40mm is 246g. 42mm is 254g. 44mm is 261g. 46mm is 268g.