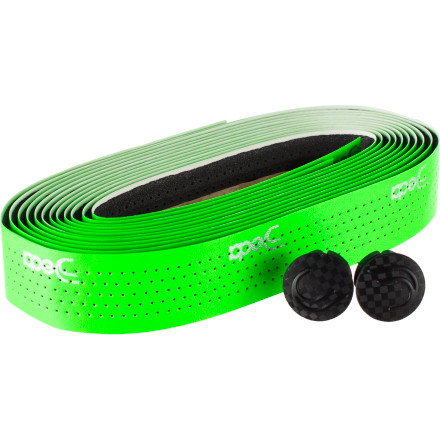 Colors
Description
Undeniably Italian.
Whether your aim is that of safety, pushing the buttons of good taste, or replicating Vini Fantini in any way possible, the Deda Elementi Fluorescent Bar Tape will achieve your objective. And aside from looks, this bar tape features the best that Deda has to offer. It's been constructed from its newest material, Mistral. This fabric is finely perforated and retains a 'skin-like' feel on the hands. So, a secure, non-abrasive level of grip is guaranteed, while your declaration of style will be undeniable.
The Deda Elementi Fluorescent Bar Tape is available in one size and in the colors Green, Orange, and Yellow.
Share your thoughts
What do you think of the
Deda Elementi
Fluorescent Bar Tape
? Share a...
Taped a glow stick to my bars
Familiarity:

I've used it several times
I snagged the green bar tape for my fixed gear. This tape is bright! Insanely bright. It throws off a creepy green glow in my garage. It gets a little slick when your hands are sweaty and it might not be the best for long rides (because its not very plush) but for the price you can't beat it. The length was fine for me, I could have / should have double wrapped to make it a little more plush.

Good tape, not long enough
Familiarity:

I've used it several times
I love the color and the tape itself. Not high end plush, but comfy enough and seems like it will hold up. The only issue I have is that the tape is not long enough to comfortably wrap my bar with adequate overlap. I really had to use every last inch.
Yellow Fluo!
Familiarity:

I've used it once or twice and have initial impressions
Whoa, put this on yesterday (yellow fluo) and it is everything I have dreamed of. Truly hi-viz, not some weak-sauce "bright yellow". The guy at the shop doing the wrapping was very impressed as well. FYI, Tape is thinner than your standard padded rubber tape - sort of a "leathery" feel .
Bright, reaaaaal bright
Familiarity:

I've used it several times
Great bar tape with a touch of that vintage look due to the perforations - reminds me of dad's old tennis racket. Not as padded as some bar tapes, but the color, oh dear lord the color! Bright is an understatement. The attached photo was taken with my dumbphone in a dimly lit room and it still glows like a Fukushima tuna.
Shield your eyes...
Familiarity:

I've used it several times
Glowing is a bit of an understatement for the orange. Flouro on EPO? Hi-Vis on hi-test? In all honesty, it's just as all Deda tape is...pretty good. Plenty long enough, even for double wrapped tops, and big hooks.
As appearances go, it's insane.
When I wrapped the bars, I tried to get a picture to illustrate the color to some riding friends.
I used THREE different cameras. Two point and shoot, and our digital SLR. None took a shot worth a damn. The orange just KILLED the metering.
I guess I'm an early adopter in this town, as three of my ride partners have ordered it since seeing mine. Bandwagon jumpers...
Wish there was a hi-vis red, so I could throw it on the road bike too.
Between this tape, and my hi-vis socks, armwarmers, shoe covers, and helmet, I should be ok on the night rides.
If I get hit, they were trying...


I put this tape on my wife's commuter. Her bars now appear to be glowing.