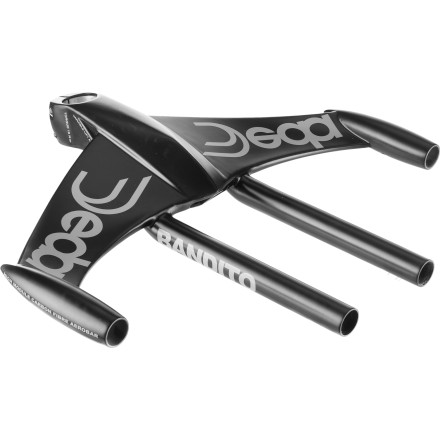 Detail Images
Every now and again, a component is developed that shakes us to our very core. Like, for example, when we saw the Deda Bandito integrated handlebars at Eurobike last year; we weren't the only ones in the room scooping our jaws off of the floor. The Bandito looks like it's authorized to use lethal force; when armed on your time trial bike, it will certainly annihilate the competition. More aerodynamic than a Predator Drone, the Deda Bandito is a svelte game-changer that will turn heads and give you an aero advantage that wins triathlons and time trials.
The Deda Bandito's name says it all -- with these bars, you might as well be stealing the competition. The Bandito is shaped from a Monocoque carbon fiber composite that's one part lightweight, two parts aerodynamic, and a million parts awesome to look at. But, at only 540g, the Bandito proves that its stealth shape isn't just for fearsome aesthetics, but necessary to its aerodynamic performance. To begin with, the internal cable routing allows the smooth bar surface to remain uninterrupted by drag. The elimination of exposed housing also provides greater arm comfort over long rides. Next, Deda implemented an air vent system to both reduce weight and maximize airflow. The new hollowed-out design forces air through the front vent and out the sides of the stem. Deda's logic behind this is to control the behavior of drag instead of letting drag control the design of the Bandito. Everything from the streamlined top cap to the recessed stem bolts have been purposefully designed to promote a smooth airflow and shave seconds off of the clock.
The Deda Bandito features an integrated bar and stem for maximum rigidity and efficient aerodynamics. To stack more innovation on top of innovation, the Bandito also utilizes a new Adjustable Lift Angle System. This allows variations in the stem's positioning angle from 73 to 76 degrees. This advancement will excite any triathlete that alters his or her position as the season progresses.
The Deda Bandito has a 42mm width, and is available in 100mm, 110mm, and 120mm stem lengths. The Bandito comes in the color Black, and is only compatible with 1-1/8in steerer tubes. Please note that the Bandito is not UCI-approved.