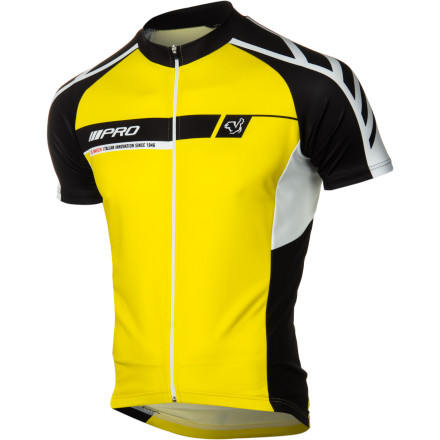 Detail Images
If you're like us, your heart bleeds more Pink than Yellow. In simpler terms, there's just an undefinable attraction towards the panache and bravado of Italian cycling's heritage. Well, we guess that it was undefinable until pieces like the De Marchi Pro Short Sleeve Jersey came around. Now, there's something that you can touch, hold, and use that represents the best quality of Italian cycling: Dedication to detail.
The Pro jersey represents the latest evolution in De Marchi's warm-weather cycling line. Made from the Dry3 Micro fabric, the Pro is lightweight, airy, and highly breathable. And not surprisingly, it owes these attributes directly to the Dry3's composition. This material features a hollow-core fiber construction that not only promotes rapid moisture management, but as you would expect from something hollow, an extremely light overall weight. Additionally, the open knit design of the fibers makes the jersey an efficient thermo-regulator. This means that the more that your core temperature rises, the faster excess heat is evacuated from jersey. And if you feel like your heat's not escaping fast enough on an HC climb, the jersey has a full-length front zipper for heat dumps.
For the fit, the Pro jersey features one of the most sophisticated and legendary design patterns in the business. De Marchi calls this its Contour Technology, but you can call it perfection. Contour is essentially a three dimensional design process that accounts for both your body in motion and, more importantly for fit, in the cycling position. Basically, this has been achieved through a rather amazing amount of paneling and cooperation with the fabric's limitations and stretchable qualities. So, you can expect the same degree of support, stretch, and coverage regardless of if you're climbing on the hoods or buried in the drops. And for added piece of mind towards your precision fit, every De Marchi piece is Oeko-Tex quality control certified and handmade in Italy from 100% Italian fabrics.
For the storage of your ride essentials, De Marchi has provided three ample rear pockets.
The De Marchi Pro Short Sleeve Jersey is available in six sizes from Small to XXX-Large and in the colors Blue, Neon, Red, and White.