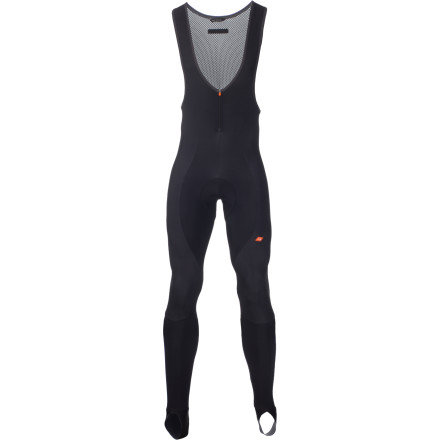 Detail Images
Just like having the right summer tight can make or break a long, weekend 'fondo ride, having the right winter tight is absolutely critical to getting in those valuable pre-season base miles. The De Marchi Contour Bib Tights are the Italian label's cool-weather essential that will take you from late Fall to early Spring in complete comfort.
The tights are made from Thermolite Roubaix, which is the next evolution in the vein of the superlative Italian fabric Super Roubaix -- only this time, Thermolite Roubaix remains exclusive to De Marchi. The benefits of this fabric in the Contour Bib Tights are clear; the core of this toasty fleece-backed fabric is made from hollow Thermolite fibers which reduce the fabric's overall weight while enhancing its thermal capacity. The face sides of the fabric are then treated with a protective Teflon application which helps better shield you from wet spray or mud stains.
The Contour Bib Tights are built for serious winter miles. As such, they boast the subtly revised C12 Elastic Interface Technology (EIT) pad. The streamlined, unobtrusive profile of the chamois consists of two half-moon sections sonically welded together for a flat, almost undetectable seam. The multi-density foam pad is perforated for optimum ventilation and is topped by a wicking, bacteriostatic waffled micro fiber fabric. Just like a good base layer, the chamois wicks moisture away from your skin and transfers it towards the shorts' exterior where it can evaporate so you won't find your seat area soaked in cold sweat for the duration of your ride.
True to the tights' name, De Marchi cuts the panels for a naturally contoured fit that allows you to move and warm up effortlessly -- especially clutch on those days that require a big effort just to get started. You'll benefit from less effort in another small, but important way. De Marchi has also included a short zipper in the front of the bib uppers to facilitate getting them on and off and for the all-important nature break at the roadside. The De Marchi Contour Bib Tight is available in sizes Small through XXX-Large, and in the color Black.
What do you think about this product?
Have questions about this product?
Unanswered Question
warm, fit great, chamois is comfy..rode...
warm, fit great, chamois is comfy..rode 20 miles in 25 degree temps...all good.
i need the xxl becuase of my chest size...
i need the xxl becuase of my chest size 44 but i am only 6'0 tall? will the tights be too long for me?
ordered the XXl ...should ave them saturday..thx