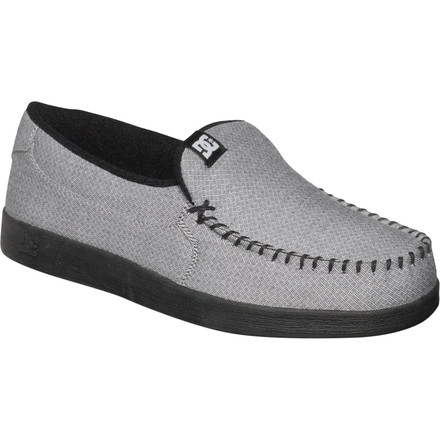 Detail Images
Slip into the DC Men's Villain TX Shoe and get on with your daily list of villainy. Arch your left eyebrow and stroke your favorite four-legged pussy as you check off your dastardly deeds. This cozy, pinstriped slip-on sports a lightweight textile and mesh design favored by bad-guys everywhere.
comfortable
Familiarity:

I've used it once or twice and have initial impressions
Shoes are great, easy to slip on and are really comfortable. Got the jet black ones, really like em, the color and style are nice. Might even get me another pair..
Awesome but not tough
Familiarity:

I've used it once or twice and have initial impressions
Very comfortable, love the look, got the heathered battleship. Only Problem is the stitching on the side broke after only a few times of being worn. Had to restitch it, and good as new.
Unanswered Question
if u send to Malaysia how much the prize?and...
if u send to Malaysia how much the prize?and how long estimate day delivered to Malaysia?
There's nothing I like more than slipping into a pair of the villains in the morning and cruising to class, BUT that only lasted a few months. I definitely overestimated the mileage these shoes could handle. I made the realization that their main purpose in life is for chillage and i'm content with that. Just be nice to your villains cause bad guys have feelings too.
I have several different patterns of this shoe. I have loved them for more than a couple of years now. My only complaints are that they make your feet sweat and smell, also, they wear out fast if you use them a lot. Also, this pattern specifically is difficult to keep clean. I find that I only wear them when i will be indoors, and not walking around a lot. the comfort level is as good as with any loafer or boat shoe, and support is better than a sperry slider. great shoes, just don't wear when around mud or snow.
I was super excited when I got these in the mail. They looked sick and looked really comfortable. But, when I tried them on, they were a full size too big even though they there the 11's I ordered. It was constantly slipping off my heel and my foot was moving around. So these 11's were more like 12's.
the shoes get dirty very fast, and make walking akward. Also mine started to tear apart with in 4 months, they litterly started to fall apart. I say buy it if you got the money and you get board with shoes fast.
these shoes are comfy and very dressy at the same time. though the inside lining on the bottom may get messed up after a while, especially at the toe area and may be a pain to fix since there is no tongue that moves.
great shoes! very comfy and look great. HIGHLY RECOMMENDED.
Comfy shoes, good for mellow stuff, and pretty damn cheap, too. Don't wear these in the rain. I did once and it reminded me of the time I found a dead body in the lake.
I bought these for my brother's birhtday, he loves them. They fit well and are very comfy.