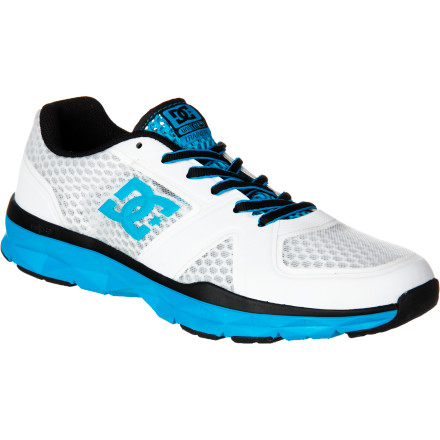 Detail Images
Let's face facts—staying in shape means you'll ride better, get injured less, and feel awesome in general. The DC Unilite Trainer Shoe helps you make it happen without cheating on your favorite shoe brand.
Unilite technology offers lightweight, effective impact absorption
No-Sew upper further reduces weight by eliminating unnecessary materials
Breathable mesh tongue and upper improve airflow
OrthoLite sockliner for comfort and support
Hi. Do you ship to hungary? i would pay...
Hi.

Do you ship to hungary? i would pay for everything,i mean:( wasting time in the post office,tickets for metro or parking fine,mail box,travel charge) so everything that you feel it deserve to you to ship it!

please write me as soon as possible. and thanks for read my letter!
Hi Miszter,

We can ship to Hungary, but unfortunately not all brands including DC. You can find a full list of our restrictions here:

http://sales.liveperson.net/hc/s-9551721/cmd/kbresource/kb-471017740014147893/view_question!PAGETYPE?sc=120&sp=94&sf=101133&documentid=239527&action=view&VisitorProfile=BCS2&MESSAGEVAR!home=yes&MESSAGEVAR!cookie=no&MESSAGEVAR!docid=239527
Received the shoes. I wear a 10.5 in DC's Smith 1.5. This Unilites 10.5 are big on me. A 10.0 would work.
When i first put them on they fit a little tight, but i am used to loose fitting skate shoes and i got used to the feel of these shoes. They are very comfortable to run in and are pretty quiet as well, my last pair of running shoes were loud and slapped the ground when i ran, these are very quiet and smooth. Great buy, i only wear DC unless I am in dress shoes or snowboarding!
got these in red fits true to what it says, its way light, GREAT parkour shoes i could not reccomend any other shoe above this these are what ive been looking for. and i will not buy any other parkour shoes. the soles have "uni light" base which makes for a super soft cushy landings its pretty much foam. but only thing i dont like is how the foam can kinda get torn up
Great shoes, fit true to size
really comfortable

glad i bought them