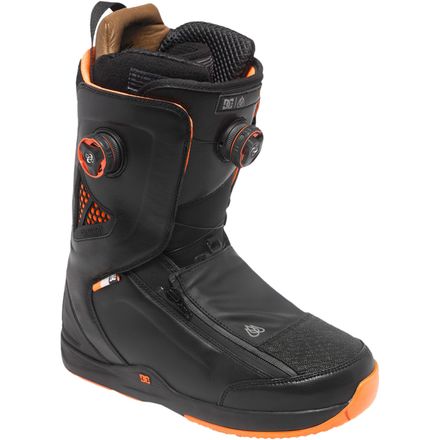 Detail Images
Description
Razor-sharp precision.
The DC Men's Travis Rice Boa Snowboard Boot offers a stiff, highly responsive flex, with technological upgrades to keep your feet happier than ever when you're slaying steeps, sending monstrous booters, and surf-slashing powder. New for this season, the boot's asymmetric articulating cuff locks in powerful support on the lateral side, with a bit more freedom along the medial side to really tweak-out grabs with style.
The Boa Focus closure independently tightens the upper and lower zones for the utmost in responsive energy transfer. The beauty with the Boa Focus system lies within its ability to lock down your heel during high-speed riding. This is great if you're often lacking support, due to a skinnier heel shape. It also works great for anyone desiring the quick-turning convenience of separate upper and lower Boa dials. Additionally, this specific Boa Focus uses stainless steel laces to prevent corrosion and breakdown, which is especially important for riders like Travis who spend countless days deep in the backcountry.
Loaded with DC's top-shelf Black SE liner, this boot comfortably wraps around your foot without pesky pressure points or weird hot spots. Its thermo-moldable foam conforms to the shape of your foot and ankle over time. You can heat mold 'em straight away for a great fit or simply ride a few sessions to achieve the same foot-conforming fit. Moreover, you'll appreciate the supreme cushioning of the Impact S footbed when you're sending massive jumps like Travis (well, we can try anyway) or blasting over choppy chunder.
Another big upgrade for this year, the Asymmetrical Anti-Drag sole shaves off key areas along the toe and heel to eliminate drag, especially when you're carving on steep terrain. This asymmetric sole blends grippy rubber with DC's feathery Unilite foam for a balance of sure-footed traction and lightweight feel.
SuperFabric upper with waterproof Storm Flap
Asymmetric articulating cuff
Boa Focus closure with H3 Reel
Boa Black SS laces (stainless steel)
Black SE Liner with Aerotech Ventilation
Internal ankle harness
Impact S footbed
Asymmetrical Anti-Drag outsole (rubber + Unilite)
Not as good as they used to be.
Gender:

Male

Familiarity:

I've put it through the wringer
Once upon a time, DC made a great boot called the Status. Then they changed the name to the Travis Rice Status in 2013 and the last couple seasons its just been called the Travis Rice boot. Since they put T.Rice's name on the thing the quality seems to have gone downhill. I had a pair of the 2014 model which I returned because the sole on the right boot was coming unglued and the stitching on the toe of the left boot was coming apart. They warrantied the boots and gave me the 2015 model -" props to DC, and at the time I was stoked. Upon receiving the 2015 Travis Rice boots I noticed there was a design change with the addition of a fabric flap secured by a small zipper over the lower zone of the boot. I didn'™t see the reason for this flap as the fabric isn'™t heavy-duty enough to protect the Boa from resting your board edge on it (if that'™s what you do), and the small zipper seemed like it would get clogged with snow/ice and be damaged. Somewhere between 5 and 10 days into last season my fear of the zipper issue became a reality -" the zipper on the left boot got kinked and I could only unzip it halfway. I cut the flap off and even thought it looked hokey it worked fine as the flap is really unnecessary. By spring of last season, the stitching on one of the Boa guides on the right boot started coming undone -" just poor quality. This is the second pair of these boots that has crapped out on me in as many seasons. Where the old Status boots would last me 2 -" 3 seasons, the Travis Rice boot can'™t even last one season -" makes me wonder how many pairs Rice himself goes through in a year... Anyway, I'™m done with DC and have moved on to a different stiff, two-zone Boa boot made by another brand. Looks like they kept the cute but pointless flap for 2016 and I don'™t trust the quality anymore. See photo of my 2015 T.Rice boots with the cut off flap (foreground, L boot) and Boa guide stitching coming apart (background, R boot).
Unanswered Question
I'v been riding a pair of 2010 Burton Ions, and the "shrinkage" on the boot's footprint size helps a lot. If you were to compare a same-size 2016 DC Travis Rice boot with the 2016 Ion, sole to sole, how do they align? Thanks!