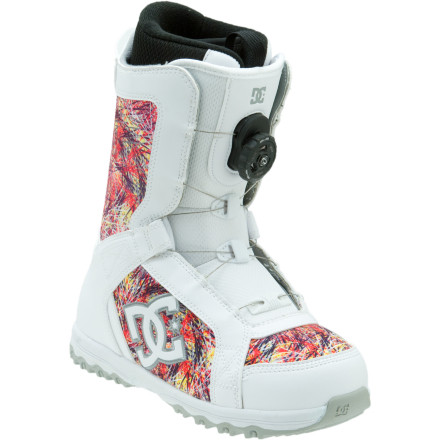 Detail Images
What do you think about this product?
Have questions about this product?
Once you go BOA, you will never go back!!
These boots are amazingly comfortable and the BOA lacing system makes sure they are snug on your feet for maximum response on turns. I had a pair of Burton beginner boots for my first season on a board and they were so uncomfortable (not to mention time consuming to lace!) so I decided to venture out and grab some BOAs and I can honestly say I will never resort back to buying lace-up boots again! When I would arrive at the base of Snowbird, I was so stoked to put on my boots, strap in and GO! But the lace-up boots would take me FOREVER to lace and I would usually have to re-do the lacing 3 or 4 times during the day because they would become loose and I was losing response.

When I first put these DCs on, I never wanted to take them off and now when I get to the base, I jump in my boots, turn the knob and I'm off! And if throughout the day they start to get loose, a few twists is all it takes to make 'em snug again. And I dont have to use every muscle in my body to try and make them snug like I did with my lace-up Burtons! Completely reccommend these to everyone...Beginners and Experts!