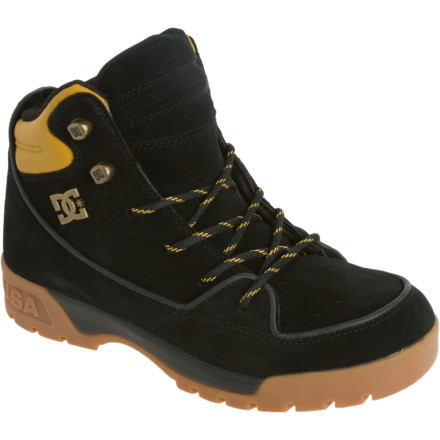 Detail Images
warm and look good,only negative things are that they get lint on the heel very quick and the sole glues to the snow at the toes because of the material.
These look awesome and a super comfy and warm, I haven't been able to really trek through snow yet cause the season hasn't been the best. but the traction and comfort is great!
Just got these boots today, and love em! Looks like super durable material, and they fit awesome! My dogs lovin it, she got about 6 walks today, because I couldn't resit troppin in the snow with them. If your on the wall definitely snag up a pair!!
Unanswered Question
What's up with the snow white camo?
What's up with the snow white camo?
Unanswered Question
Are they slip resistant or and oil resistant...
Are they slip resistant or and oil resistant or no?
Write your question here...what size are...
Write your question here...what size are they
We have a few different sizes in the DC Rover. If you click on any of our items, shoes, clothes, socks, watches, whatever, you will find the size and color options available in the drop down menu located to the right of the item. It is a small white bar with type and a small arrow pointing down. Click on the arrow and it will tell you everything available for that item by color and price. If you don't find the size you need try some of the other DC boots. We have a few different ones available on sale.
been rockin' mine for 2 years now on the mountain and in the town.. they have good as grip on the snow and ice. i kinda wanna strap in a snowboard with them on..
I liked the look of these boots and after reading the reviews and finding them on sale here, I ordered a pair. They are awesome! I have worn them almost every day so far this and winter and they;re always comfy, warm and dry! I took the advice of one of the previous reviewers and went a half size up, and they fit great! (normally wear 10.5US shoes, got 11US of these boots). Another point is that they really don't look huge when you're wearing them, like some boots do. Basically, if you like how they look and want your feet to stay warm like biscuits...get these boots!
They look good, keep your feet warm, and give you good traction. Plus after I bought mine my brother and two friends ended up ordering some cuz they liked them so much. Definetely worth the money!



I have had these since 2008 and still wear them. Super sturdy boot that holds up to abuse.
These boots are even better in real life than I thought after falling in love with them on the internet. So comfy and easy to use and they look amazing!

I had found them on the DC website, but couldn't find them anywhere, including DC shops in NYC! After finding them on this site, I was very excited and was able to get them delivered.

I also had a problem with my delivery in terms of the date needed to be moved, I called DogFunk and they were extremely helpful in sorting out my issue. It all worked perfectly.

Thank you and Happy New Year from a v.happy customer and DC Rover Boot Wear-er!!!

ANdy T
x
Very Comfortable and Warm!!
The boots are really warm and comfortable. They were a little stiff when you first wear them, but that could be the case with any boot. It takes about 3 days to break them in with normal day activities. I would get 1 size bigger than what you normally wear because they run a little small. Great arch and ankle support. In very cold conditions (-5F*), my feet never sweated or became wet. They are breathable, but kept the water and snow out, making your feet dry and toasty. I recommend to anyone who wants a boot to keep your feet toasty & dry with the support they need for a great hiking/walking experience.
I ordered for my nephew for Christmas. Received in about 3 days. Didn't know if he would like them or not. He took them out of the box and put them right on. They were exactly as pictured. Everyone asked where I purchased. They were even featured in the month's complex magazine. So I did good!!!
These boots are really great. I don't think I'm ever gonna fall on the ice. They're also so warm and look freakin' sweet. They're big enough that my looser pants don't drag across the ground or get dirty, but they're not so big as to make your feet look huge (and I wear a size 13). I highly recommend these and Backcountry's the place to get 'em.
They're awesome! Way better than any pic can show. I live where it's cold and snowy for 8 months out of the year and there's no more slipping on the way to university. They keep the feeties warm and dry and happy all day!
These DC's not only look great but are comfortable and do exactly what is says on the tin. Even if you have big feet, they look deceptively small when on. Definitely recommended.