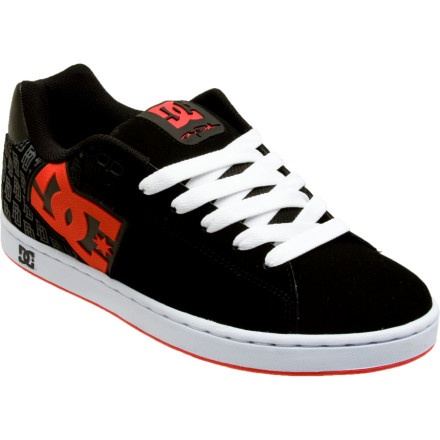 Clean lines, a rounded toe, stupid-sticky grip, and a million bucks … that's what you get when you sport this DC Men's Rob Dyrdek Skate Shoe. Ooops, we mean that you'll 'look like a million bucks' when you flip, spin, pop, and drop out of your mind and back into reality. Slip on his signature skate shoe, act like a fool (in total control) on your own cable show, and roll around the world with hordes of ladies looking to lasso you; do that and you may just get a taste of what it's like to be Rob Dyrdek.
To make this short, they are comfortable and so far have lasted longer than my previous skate shoes (Etnies, Fallen, etc.)

Also... they look cool.
Unanswered Question
hello please whats the price for ship and...
hello please whats the price for ship and andling for the france europe
these shoes are super comfortable and supportive. also its not a big deal but with DC's i usually have to go up a half size
Thank you for all the help you gave the goins family. These shoes weren't for us but for a young man who goes to the church I pastor. His dad got laid off and all he ask for was a pair of DC shoes. His mom gave us the wrong size. We had to send them back. The on-line person was so as helpful. Both people that we chated with were great and resourceful. Thanks. What great people to work with. Rev. jonathan and shelby goins
These shoes are pretty fly. They just came in today and I am stoked to have em. Laced with Meaty and MiniHorse and feelgood tread. Whats not to love?