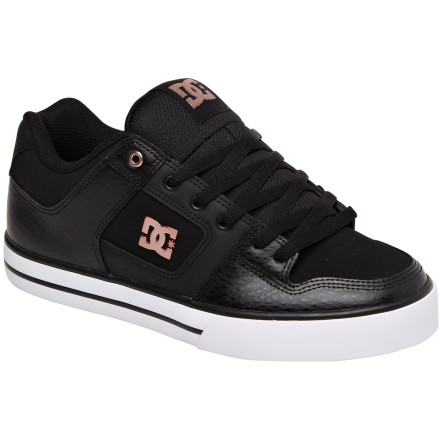 Detail Images

Community Images
Have had better DC shoes
Familiarity:

I've used it several times
The Pure SE has some good looks and I have gotten some comments on them. Yet there is something up with the stitching on the inside. There is a section of the shoe around the first eyelet that rubs against my right foot. Shoe is not too tight nor are the laces.... My girl had the same issue with a pair of DCs that she owned at one time. I have other DCs (both highs and lows) and this is not an issue. Fluke in the shoe? Not comfortable...
Nonchalantly throwing down a 5'0 at school.
i only have one pair of dcs and im sure...
i only have one pair of dcs and im sure there not skate, how do i know?
Are you asking how to tell if your shoes are meant for skating in or not? Well the easiest way to tell would be to try skating in them. Do your feet slip off your board constantly? Do your feet feel like they need more cussioning after a big drop? Does grip tape turn them into dog toys after your first session?
If you answered "Yes" to these, they prolly weren't for skating in.
these shoes are dope as F**k the gator style even better gets peoples attention they ask if it real im like dude its DC! of course SLAP YOURSELF!!
DC FOR LiFE!
These shoes will definitely keep your feet warm, not so great in the summer. Definitely not my favorite pair of shoes from DC.